Ammo Grotz A Work In Progress
---
Well while I'm waiting for the basing materials for my last mini to arrive I thought I would get on and make a start on this, to be honest I've put this off for far too long and I still have another commission to do once this one is done, that will take alot more effort than this so I put this one as priority.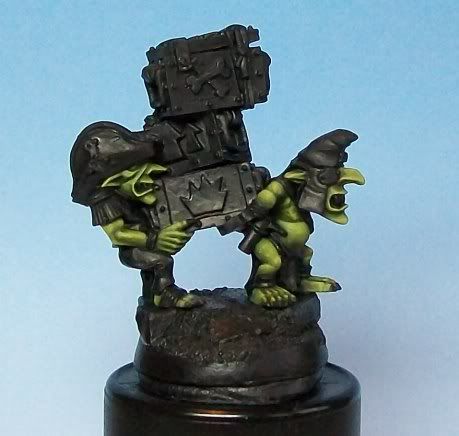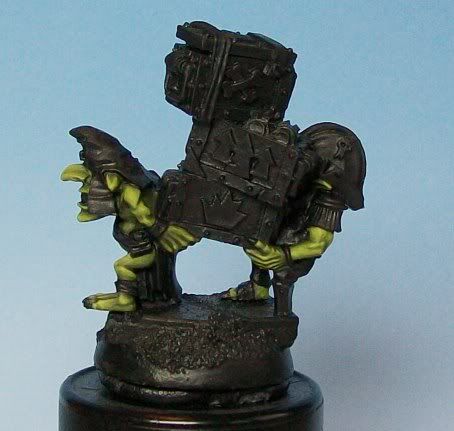 It is funny how just turning the mini around to tkae a different shot gives a whole different look to the colour as can be seen in the first two photos, but the colour is even all over the mini and the first picture gives the truest representation of the look.
The good thing about taking WIP shots is it helps me to see areas that needs more work like the top of the ear on the second photo.
Anyway hope you like it so far.
---
Good skin tones..., good start!
Angryman
Join Date: Aug 2009
Location: A wretched hive of scum and villany. Actually PNG. Goddamn this place is a shithole.
Posts: 4,304
Reputation: 22

---
I am no expert but the fist has it right. Those skin tones really jump out at you. Nicely done.
---
Sanity is for the weak.
'Evil will triumph because good is dumb.' Dark Helmet,Spaceballs
According to LUKEVALENTINE's test i am a diciple of khorne. Figures really.
---
You've made an excellent start Tim. The transition between the shades is excellent. Like the colour too.
---
---
Thanks guys these little minis are proving alot of fun to paint.
Lower Navigation
Ammo Grotz A Work In Progress