Space Wolves test marine
---
Hi Heretics,
I had a bit of free time at work last night so I thought id whip up a test scheme for my future Puppies army.
The grey is a mix of Astronomicon Grey and Fenris Grey, shaded with 50/50 mix of Shadow Grey and Schorched brown.
Im not totally happy with the red id like it like the red in the codex they use, any tips on that would be cool.
Also what do you all think?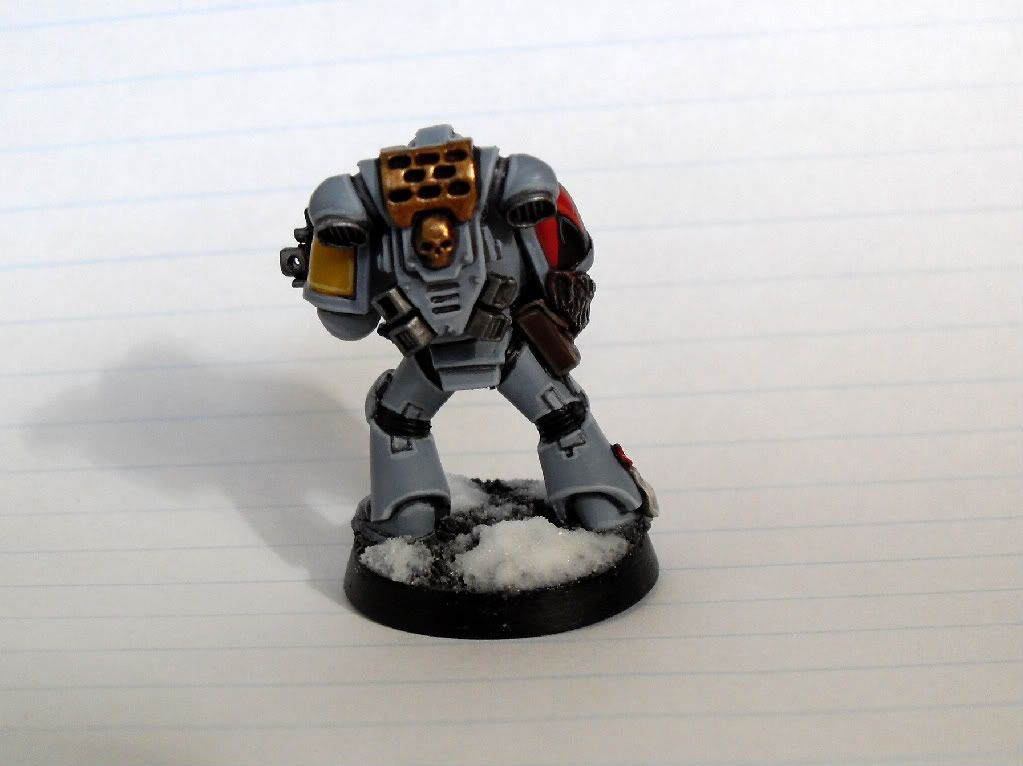 ---
IF YOU LIKE WHAT YOU SEE HERE PLEASE VISIT MY BLOG FOR MORE EYE CANDY!
---
looks tight son!!
---
Army strong Cav tough! Stay Cav live the legend!
If your in it u get it.
---
Very nice. Can't see what you need tips for. Can't see anything needs improving.
---
Personally I liked all red backgrounds with black decals on instead of the red/black markings... I thought it gave them more character (although I did mark GH vehicles with similar red/black markings as you have used here).
---
---
Do the same black markings on the yellow!
Nothing sores my eyes more than plain yellow...
---
94% of teens have moved on to rap. If you are part of the 6% who still listen to real music, copy and paste this into your signature.
95% of teens would cry if they saw the Jonas Brothers at the top of a skyscraper about to jump. Copy and paste this if you are part of the 5% that would yell "DO A FLIP!!!"
---
Clean and tidy as usual. Only thing I could suggest is adding a couple of extra highlights (which I'm sure you will considering the quality of the blue of your UM commissions).

I always think battle damage looks good on SWs too.
---
---
---
HUGE BITZ RESTOCK NOW ON
---
Very nicely done, colors are clean and work well together.
---
Quote:
i would thin the high light to about half thickness or feather in a mid tone so the contrast between base and highlight isnt as stark on the grey,other than that it rocks,neat ,clean and very wolf.
Said much more eloquently than me!
---
Lower Navigation
Space Wolves test marine