Join Date: Nov 2009
Posts: 32
The Iron Dragons so far.......
---
Well I don't know if this is the right spot to put this, but seeing as I'm new to the site I thought I'd introduce you all to my chapter, the Iron Dragons.
Now I've not come up with much for them fluff wise as I've not played any 40k before, but I'm loosely basing them on the salamanders (until I can come up with something better!) Anyway enough of my rambling here's some pics.
---
Welcome to Heresy online.

This is certainly the right place to be putting this sort fo thing. Some nice models there, and I like the gold polarised eyes, very effective.

These do like like well weathered marines.
---
Your toast has been burnt and no amount of scraping will get rid of the black bits.

---
Good to have you here!
I agree with Hum..., I really like the effect of the gold eyes. They look like cool sunglasses.
---
They look pretty awesome! love the visors, how'd you make them like that anyway? really makes them stand out a bit. And were you going for a master-chief look on your terminator, or did it just turn out like that.
---
PubHammer Brisbane
It's all in the name.
Looking for a club in Brisbane, Australia? Come and enjoy a game and a beer at our friendly club in a pub, Sunday nights from 6:30. All brisbanites welcome, don't wait, check out our
Club Page on Facebook
for details or to organize a game. We play all sorts of board and war games, so hit us up if you're interested.
Update:From the 25th of May 2014 we'll be Meeting at The Junction pub in Annerley, opposite Ace Comics and Games
Still playing 40k, Warmachine and board games of all sorts!
Join Date: Nov 2009
Posts: 32
---
It was an idea someone else had used on another forum I use, for the marines. You just slice across the top of the visor level, then into the bridge of the nose and carve it out to shape. The terminator is on it's version 2.0, at first I just cut a slit through the eye lenses but it was only a couple of mm thick and didn't look right, so in the end I just pretty much cut off the nose up and levelled off to give the fuller faced effect. I'm really really pleased with how the visors turned out, they just have a really cool glow to them. As for the masterchief look, it was by accident but I quite like the similarity. Makes them stand out from normal SM's without having to do anything drastic, which of course can be saved for the good stuff.
---
I like the banner, the flames are very well done.
---
Aerith/Aeris Gainsborough: "The current system of servitude is barbaric and inadequate for today's generation. We appeal to the leaders of both the Imperium and the Coalition of Hateful Assholes and Organised Sin to seek to change this for the betterment of all its citizens"

Lorgar: "Guess there was one plot thread we forgot to erase ..." Mortarion nods in agreement, while Ahriman looks on suspiciously.

Aerith/Aeris Gainsborough: "We feel trapped, we feel oppressed. And we urge our governments to release us from these metal boxes-"

Lorgar: "Oh shi-"

Firraveus Carron: Leaping to his feet. "METAL BOXES?!?METAL BOXES!!!THEY RIDE IN METAL BOXES!!!"

-Labor Unions

All credit goes to Lastie on Warseer, for writing Primarchs (available in a 647 page Microsoft Word document)
---
i like the visors...gives them the Master Chief Halo look to em.
---
Thought for the Day: Be just and fear naught
Join Date: Nov 2009
Posts: 32
---
Ok so this is an extremely rough, very very basic mock up of a potential heavy flamer for my terminators. I know the barrel is to long but it was the first piece of pipe I could find at the time. What's peoples thought's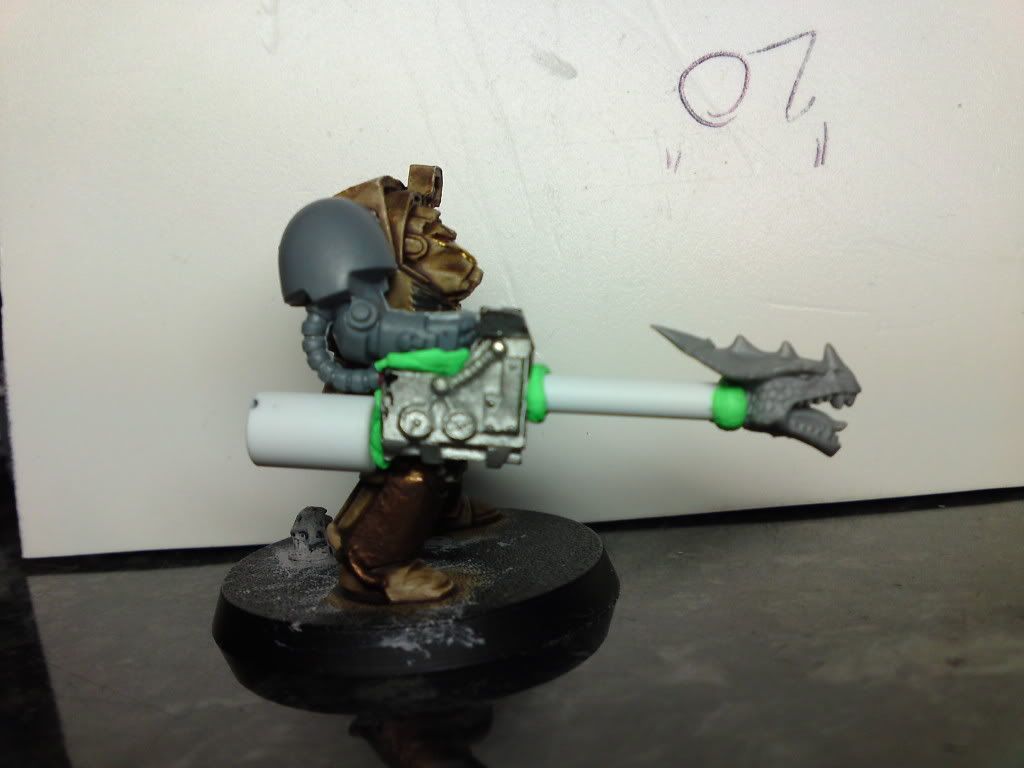 ---
Your dragon on your banner looks a lot like a doodle I did back in high school of a rock wyrm. I like the dragon head on your flamer, its a nice touch, just got to have a bit of flame spouting out to finish it off. IMHO that is.
Join Date: Nov 2009
Posts: 32
---
Thanks, but I'm still not sold on the flamer head. Hopefully it'll grow on me while I'm working on it more.
Lower Navigation
The Iron Dragons so far.......