---
i would try painting it...maybe giving it a metal color would work
---
Thought for the Day: Be just and fear naught
Join Date: Nov 2009
Posts: 32
---
I think I'll do it like my other flamer nozzle in a bronze colour then add scorching, I just think it looks to fantasy that's all. For some reason I don't think it works as well as what I did on my dreadnought.
---
Could we see a frontal shot? I imagine the head would be pretty wide compared to the gun. Sideways on it looks pretty good; just a shorter barrel needed, as you say.
---
Join Date: Nov 2009
Posts: 32
---
The head is wide but works with the chunkyness of the terminator. That said I'm going to file down the cheeks a little as I don't like the "chipmunk" shape it has. I'll do that tonight as I'm stuck at work at the minute!
Join Date: Nov 2009
Posts: 32
---
Ok so here is the 2nd incarnation of my flamer, it's still in a rough draft kind of state as I was just mocking it up but it show's what it's going to look like when it's finished.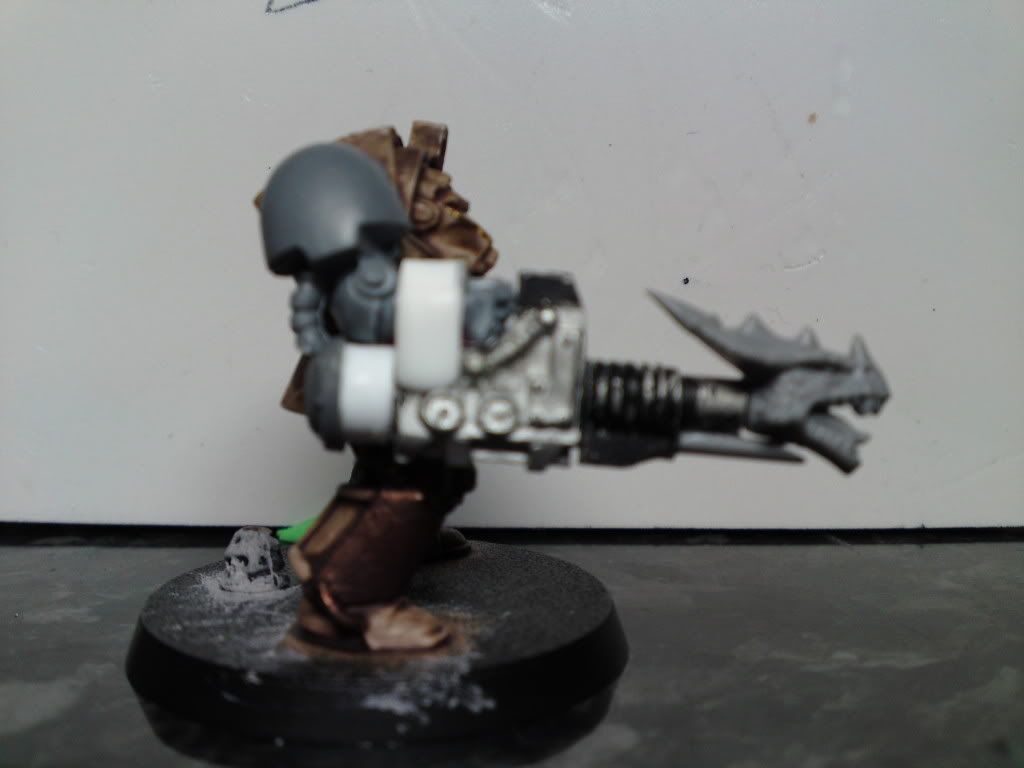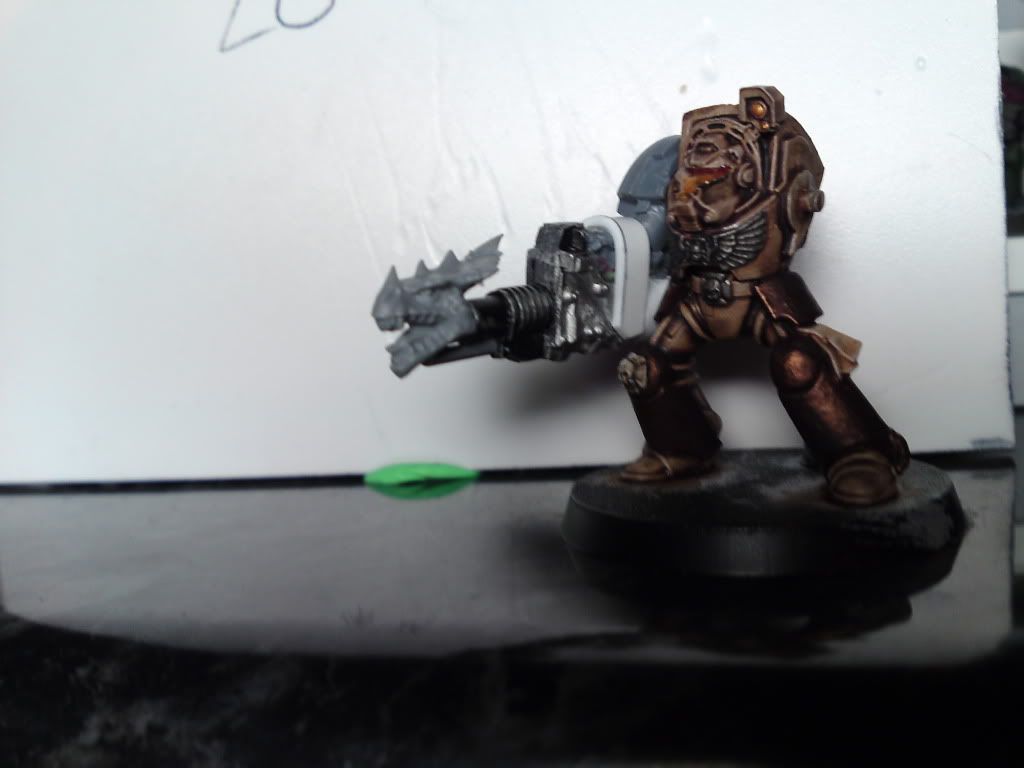 Senior Member
Join Date: Apr 2009
Location: Australia
Posts: 249
Reputation: 1

---
The only problem I can see is that the dragon head is placed slightly too highly - the pipe looks like it is attached to where the dragon's tongue is, not quite the back of its throat.
If you agree that it needs changing, I'd consider shaving down the tongue instead of moving the head - it doesn't very much of a difference, just a mill or so, but the pipe below stops you doing that easily otherwise.

However, the overall effect is very impressive, that's a well done flamer! Nicely painted marines too, with very unique visors.
Senior Member
Join Date: Oct 2008
Location: Down the road from Marty's fishing store
Posts: 529
Reputation: 1

---
wow nice work mate i quite like the painting... just wondering, does the flame look that purplely because when i got the bigger pic it looks like it a purplish tinge to it
---
Q:What is the most Ironic death do you reckon ?
A: Umm probably having a hospital land on you
Join Date: Nov 2009
Posts: 32
---
Er..... no purple on my models, must be the picture. But thanks for the c&c.
Join Date: Nov 2009
Posts: 32
---
Well I've slapped some paint on the flame thrower, but it's missing something. I think there's just a bit to much red on it, I may do the cylinder on the back black/yellow chevrons any other idea's? Please excuse the shocking photo's they were taken at work.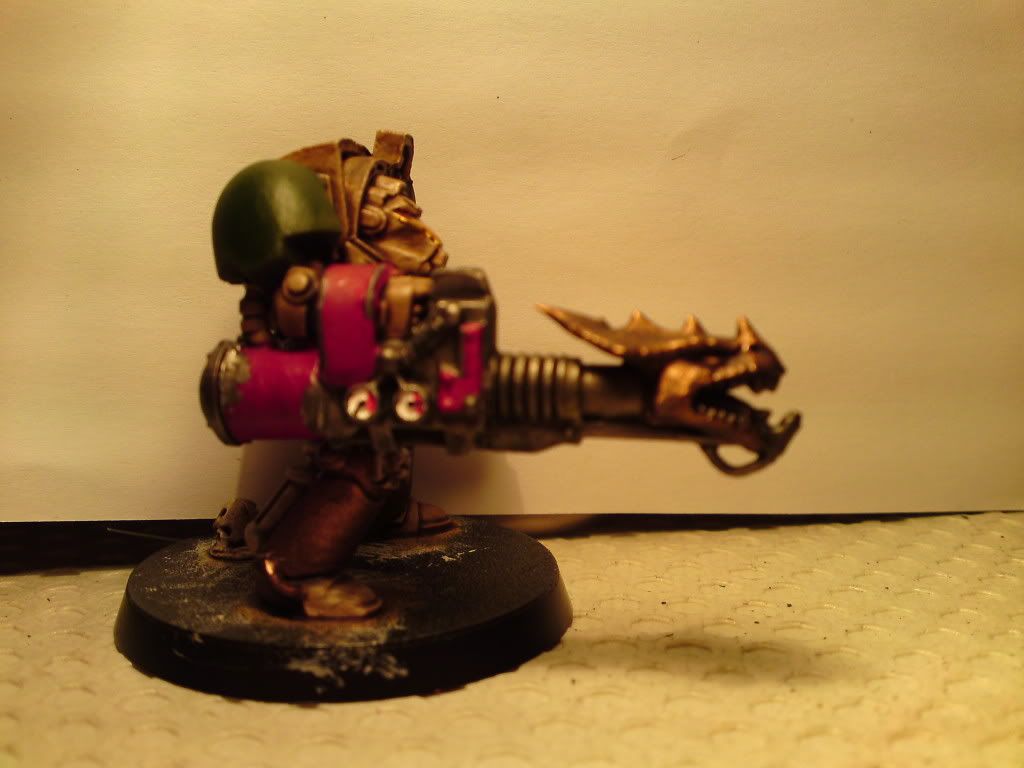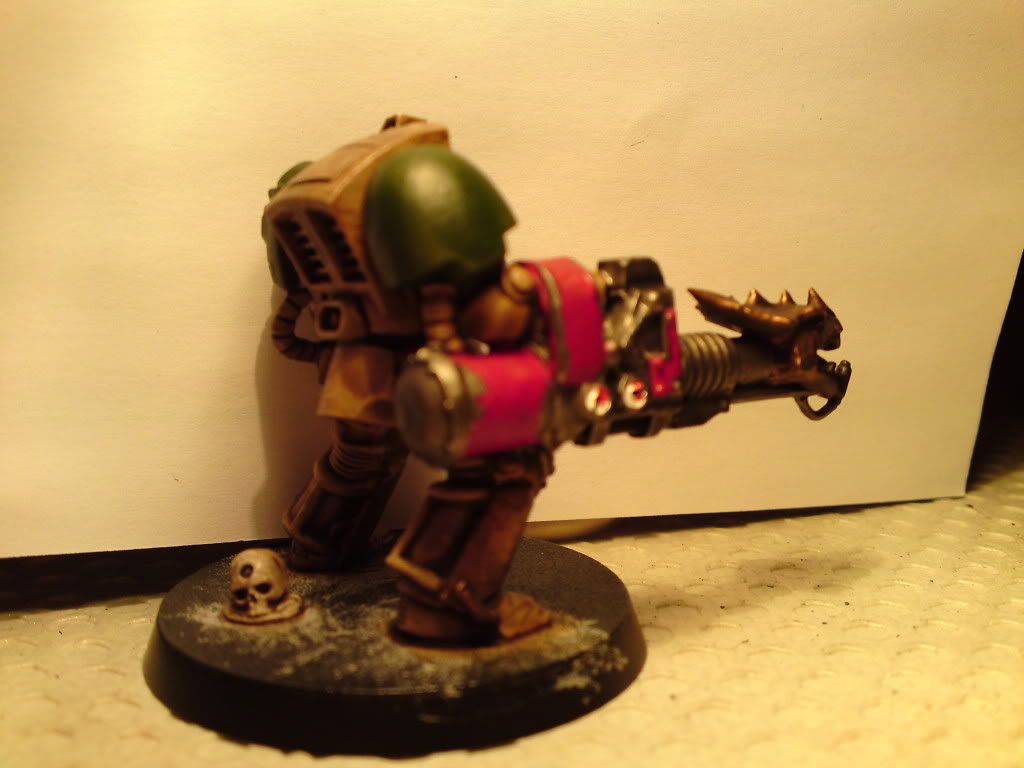 ---
Last edited by Tallxiii; 11-06-09 at

11:44 AM

.
---
Definitely too much red on it. I'd probably make the gas cylinder all one colour (i'd go with black) and then dull the red up a bit on the rest of it.

The actual flamer head looks bitchin' though, mind if i steal the design in the future?
---
My Salamander Logs & Army Showcase:
The Ashbringers 3rd co.
:::
Into the fires of Battle
:::
Army Showcase

Currently Painting:
Landraider Redeemer
Lower Navigation
The Iron Dragons so far.......