Salamander Test Model
---
I painted this guy up last night to see what I could come up with for the greens for the Salamander's chapter. Obviously, this is not a display piece as there is no weathering, or lighting effects..., etc. It was just a test for an idea I've been playing with. Tell me what you think as far as the "greens" go and the "theme" for the Salamanders.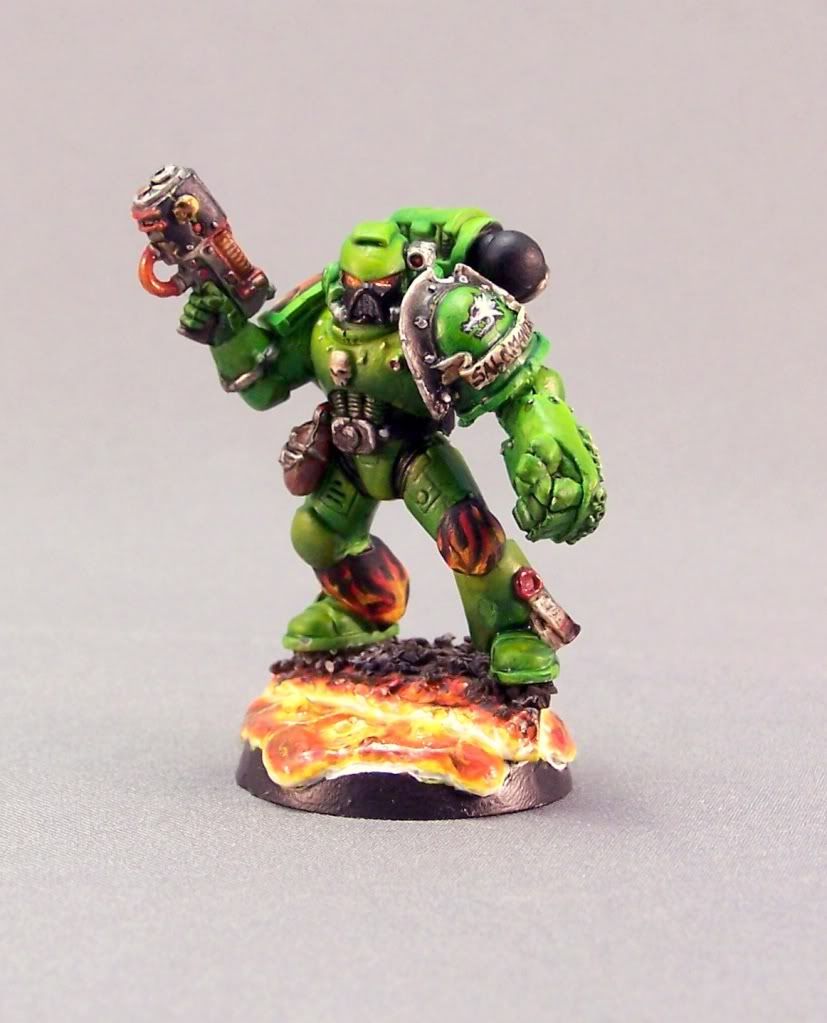 (NOTE: I chipped the shin pad when I was attaching him to the base so I have to finish fixing the damage and blending it back into the rest of the guard)
I'm looking for C&C so feel free to post you opinions!
---
Lava base looks amazing and i like the techy look of the plama pistol, very fitting for sallies fluffwise. Chapter markings are very tidy, and i love the way you have done the salamander head for the symbol. Don't suppose you feel like painting 40 or so shoulderpads for my army?
On the negative side, the green looks a bit too light. I do tend to paint my sallies rather on the dark side, but that is a bit light even by my standards. The blending is brilliant for a test mini, i just think it needs dulling down slightly. Also i prefer a bit more black on the model overall, and i tend to favour gold trim rather than silver against the green.
Hope this has been helpful, will look forward to seeing some salamander painted up to the same levels as in your project log (though i will be adamantly jealous)
---
My Salamander Logs & Army Showcase:
The Ashbringers 3rd co.
:::
Into the fires of Battle
:::
Army Showcase

Currently Painting:
Landraider Redeemer
---
As Varakir said, might be a little on the bright side but for a testy its a stunning job.

I have 'finished' troops that dont look anywhere near that good, guess they aren't as finished as I thought.

Look forward to seeing more.
---
prefer the light green to the dark angel rip-off green, more individual, and would contrast nicely with marines without helmets coal black skin, if any are included later
---
---
Not much to add but the base is quite impresive and so is the model painting is very good but the colour isnt like a salamander should be, but if it wasnt a salamander it would be amazing
---
"In the morning I will be sober but you will still be ugly"

Also known as lt_sparky
---
Very nice fist. But you starting salamanders?
---
Thanks for all the input.
Fluff-wise..., these HAVE to be Salamanders.
The reason is that I am thinking of painting up another rhino for Games Day next year and I want to make sure that I set the model apart from all the others but not so much that it doesn't fit the fluff (I've been heavily criticized for that in my past entries) Therefore, I wanted to experiment with the greens but still make them easily identifiable. So what you guys say is VERY important. If it doesn't work- I'm not doing it.
Thanks again
---
Im glad our opinion for what its worth matter so much fella.
On the green I think that you could get away with a darker shade in the recesses, treat the green like"green fire" if you catch my drift. Did you ever drop that stuff into a bunsen burner at school to get a green flash.......copper something I think?
---
IF YOU LIKE WHAT YOU SEE HERE PLEASE VISIT MY BLOG FOR MORE EYE CANDY!
---
I like the Scorpion Green it looks great I don't like the Darker Salamander's
Lower Navigation
Salamander Test Model