---
Okay enough BS; after seemingly endless planning and failed starts I managed to cobble together a reasonably acceptable facsimile of my intended faithful reproduction of a FW Warhound with fully pose-able legs and feet.
Only after I saw the photos was I fully aware of the obvious discrepancies. The hip cylinders were too small, The leg components weren't sufficiently massive.
A side by side comparison of my hound's leg to a FW leg showed the areas that needed rebuilding.
The toes were too long and the joints were too large but they were fully poseable which was a good start.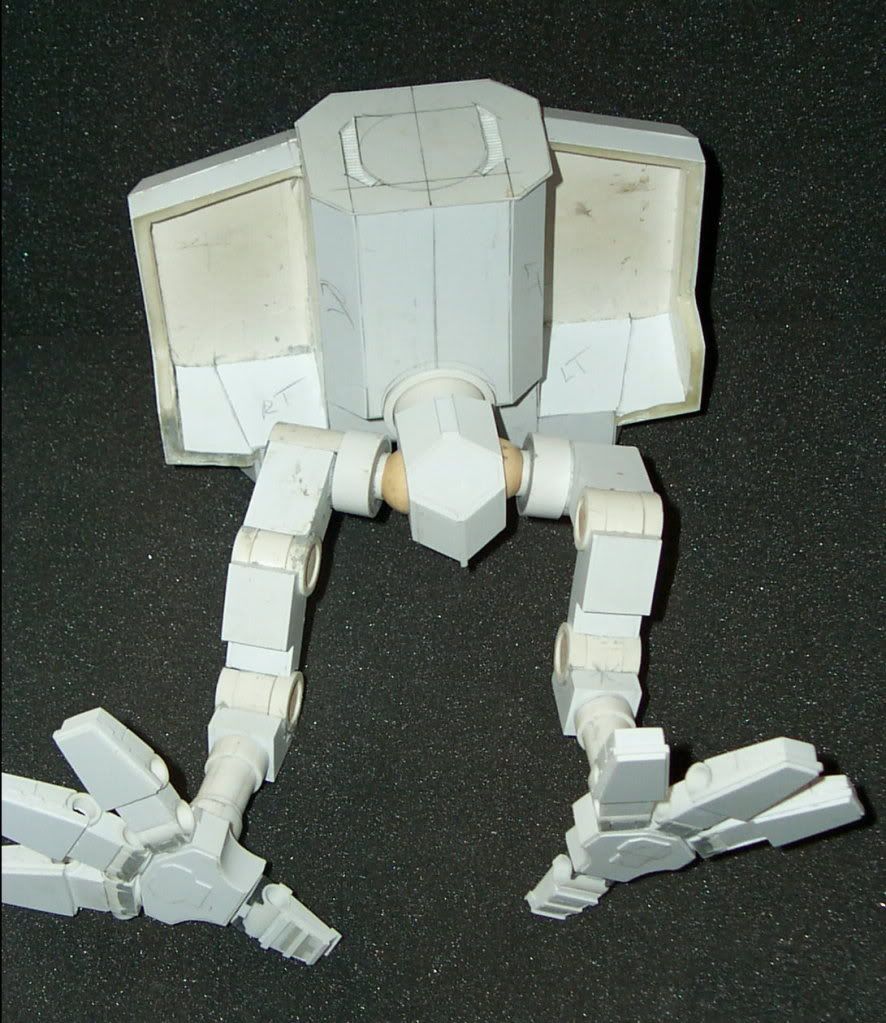 The bottom view revealed the waist was not large enough.
The body pivot axle was placed too far aft.
That's why it pays to have scale drawings boys and girls,
Blackadder
Join Date: Jun 2009
Posts: 101
---
Besides the changes you have pointed out, it is absolutely fantastic work!
---
Thanks for the reply Son of Russ,
One picture is worth a thousand words and in this case a thousand errors of perception. Working without any plan or measurement I have made numerous errors in scale and one digital photo revealed them. So after an all night rebuild here is the result plus I managed to attach the head as well. Incidentally all the leg and hip joints including the feet and toes are fully movable and posable at this point and I made the neck connection movable as well. Try that one FW:D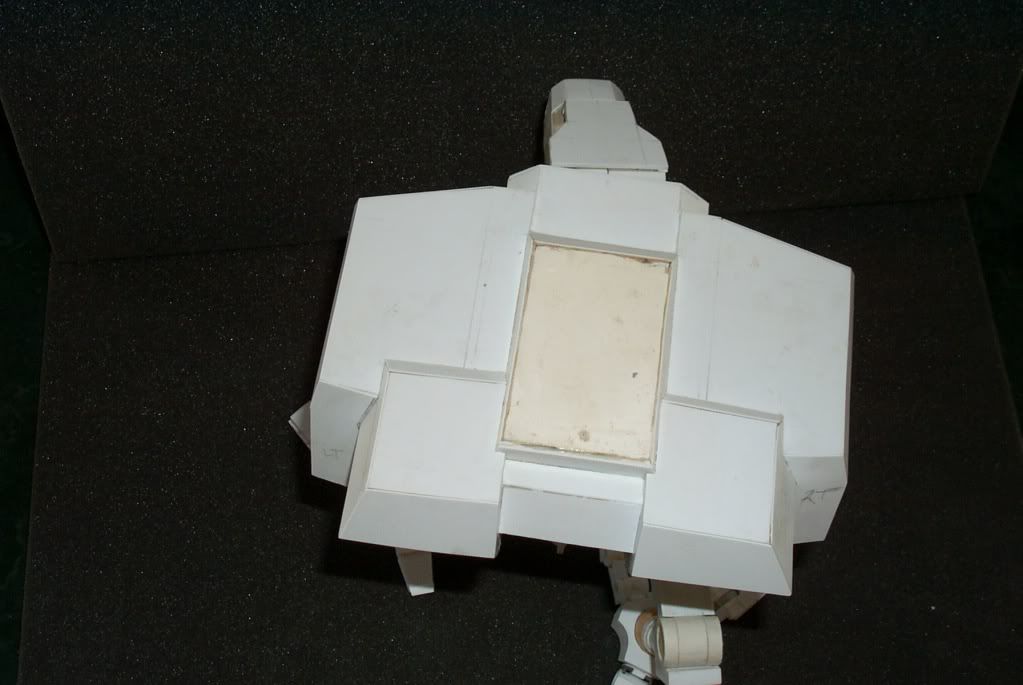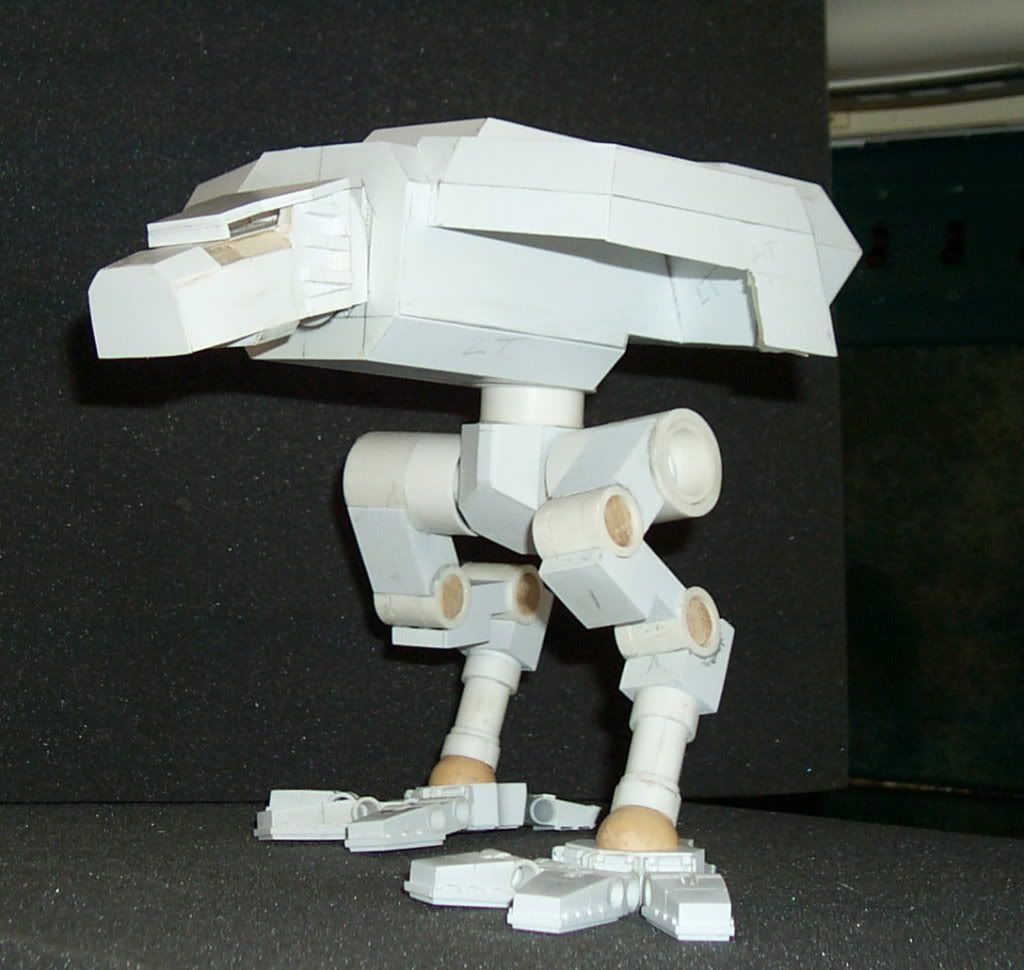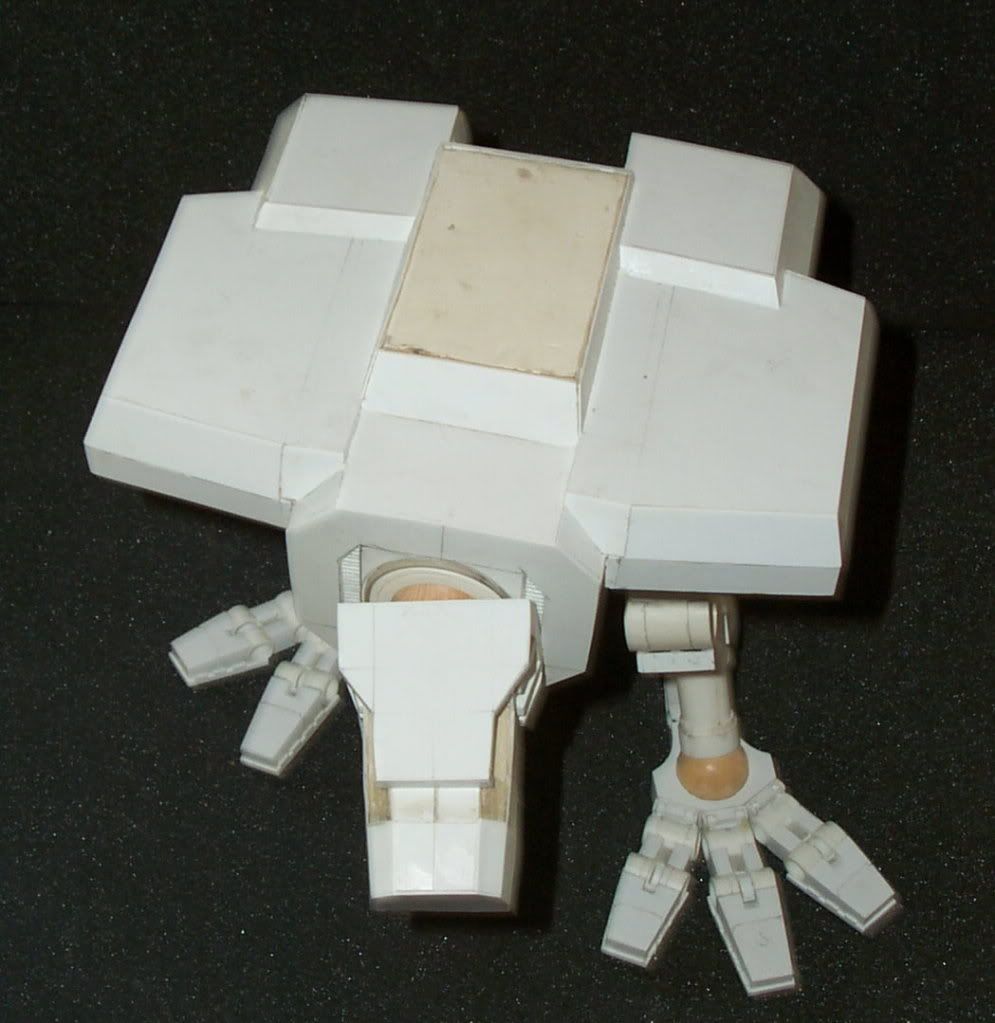 Whew,
E. Blackadder
Constructive critiques and comments would be greatly appreciated,
EB
---
Looks like way to much work you should give up, and start your own football team called the underdogs that will one day win the super bowl... or you could keep at it in hopes of owning one of the most interesting appoc units in the game.
---
Building models is a form of relaxation to me. I'm not into watching organized sports on the telly which would indeed be an insurmountable chore.
Thank you for the kind words regarding how my 'hound would be received on the battle board.
EB
It has been my intention to post further developments in the building of this project after receiving replies so here is the next installment of the building progress.
Since last I posted I've made some extensive changes to the way the head is mounted and to the head in general. We'll start with the overall model as it stands right now and it does stand wonder of wonders and seems to be stable in various stances so I must be doing something right or I made the feet too big. :D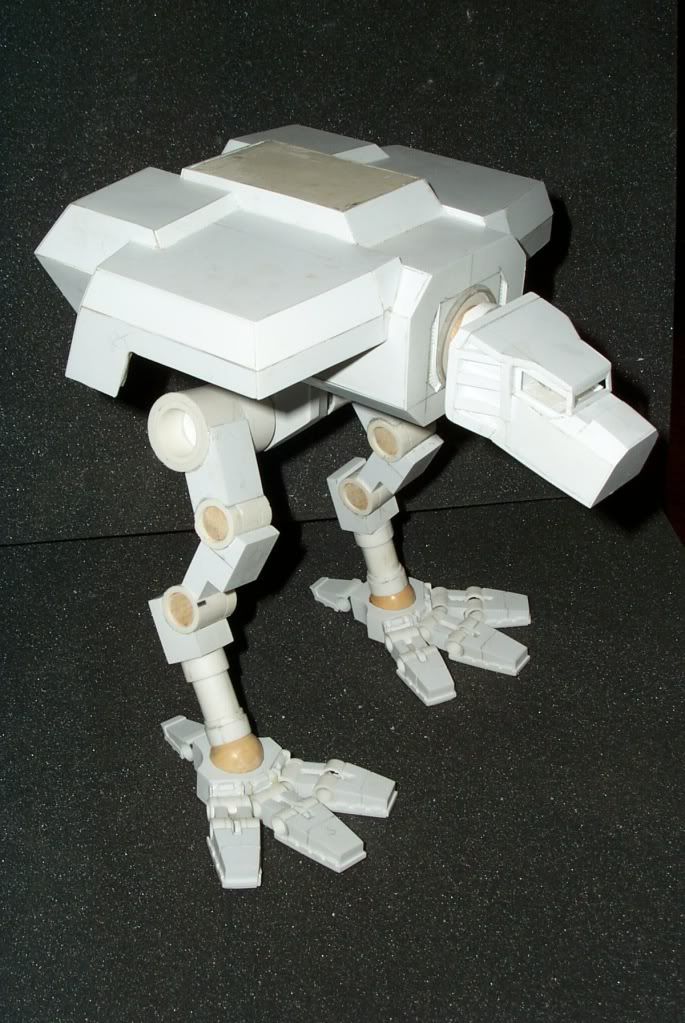 Blackadder
---------- Post added at 21:30 ---------- Previous post was at 21:17 ----------
first of all I bored a huge gaping hole in the front wall of the hull and routed it out as big as I could to accommodate the neck gimbal mechanism. I wanted to be able to move the head in all directions!!! Why you say? because the FW model can't says I, LOL
Then I found a discarded paint roller and used that as the sleeve for the neck gimbal
A 1.25 inch wooden drawer pull knob provided the orbit sphere and a 1.0 inch pvc 'Tee' fitting provided the housing for the gimbal joint. I carved down some 1.0 inch pvc tubing to make some races for the sphere to ride in and
voila
a fully articulated head that can be adapted to a FW Warhound if you're willing to sacrifice the interior detail.
Believe me it took a lot of guts to cut that hole.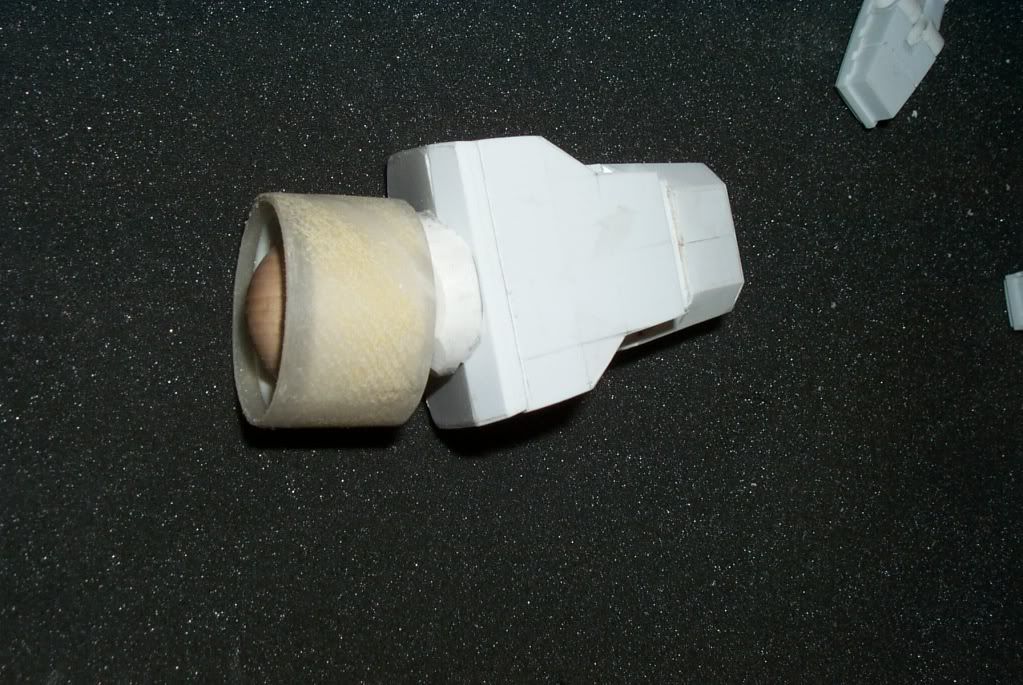 The neck mechanism top view.
Bottom view...........
and the component parts.
If anyone requires any information on how I constructed the various components they need only ask and I'll be happy to oblige.
Blackadder
---
Brilliant work. As has been said, you can't give up now.

The only (mild) critique I have is the body pivot being too far to the rear, it makes the model look off balance. But you've already identified this yourself. Beyond that it's one of the best scrach built titans I seen. +rep.
---
First of all thank you to: Khorne's Fist, Someguy, Graf Spee, and Chocobuncle for the rep points.
There's a few discrepancies in my version but not enough to change what I have. Right now the head armor is a bit too thin. and the angle of the fore to aft run of the base of the muzzle is not extreme enough but it will have to do as you can see by the posted image of this dates work the armor is in place.
Onward and upward as they say.
Blackadder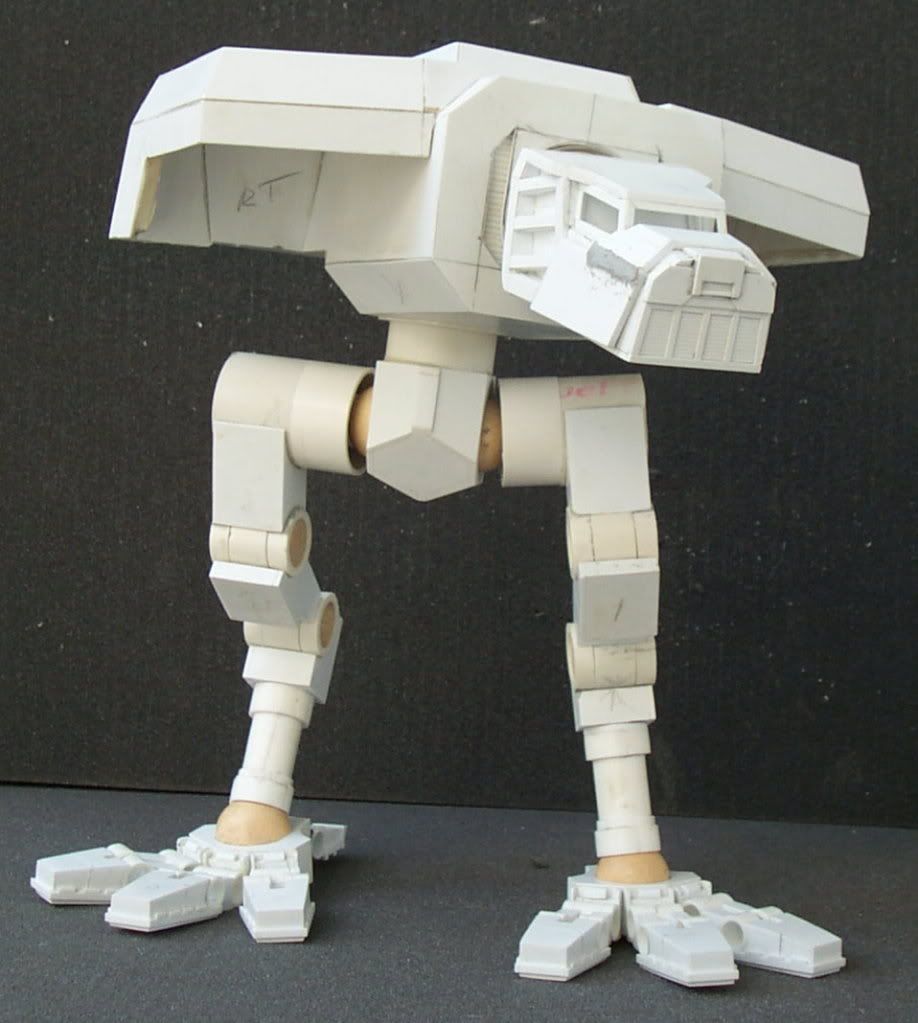 This image may look a little strange because the legs are in full extension. It will not be able to do this when the hydraulic cylinders are installed.
The waist pivot point still has not been moved forward in this image.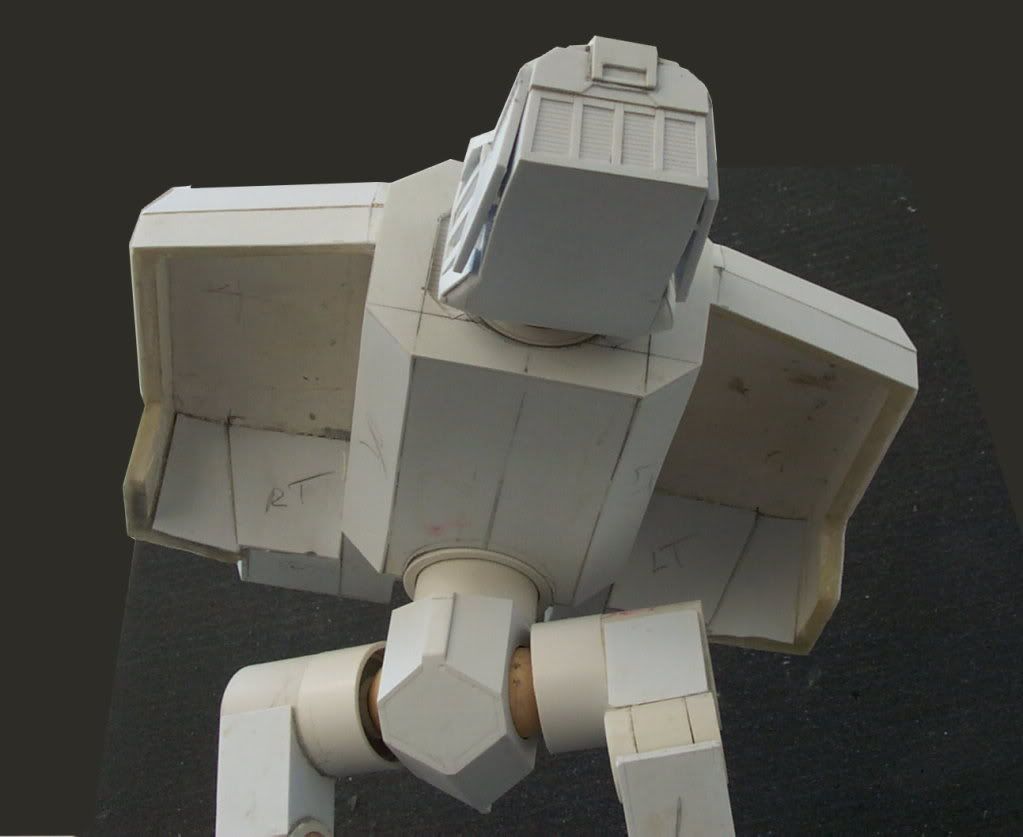 If you were a grunt This is the last thing you would see!!! :D
The Blackadder
---
I'm not too sure whether its too late to help, but I have a set of templates that were made specifically for scratch building the titan, if you want them, just PM me. They could be helpful for creating the weapons, Honk.
---
"Let the galaxy burn!"
Banned
Join Date: Jun 2009
Location: Vancouver
Posts: 5,108
Reputation: 8

---
Awesome work man! +rep!!
Also i officaly hate forge world as well, my vampire hunter's hull is warped in the one spot that takes a heatgun to fix with only a 75% chance of destroying the whole model
---
Quote:
Originally Posted by
Honking_Elephant
View Post
I'm not too sure whether its too late to help, but I have a set of templates that were made specifically for scratch building the titan, if you want them, just PM me. They could be helpful for creating the weapons, Honk.
I appreciate the offer and would like to see them.
The only templates I have is the one that has been making the rounds on the internet.
http://rapidshare.com/files/261517668/DIY_...__Templates.pdf
These templates will give you a very rough representation of a Warhound that probably be quite satisfactory with proper detailing to someone who is not a pathological manic obsessive such as I am.
E. Blackadder
I found an excellent manual on how to build a FW Lucius pattern Warhound and how to reinforce the joints with metal rods so you don't continually have to rebuild it.
http://rapidshare.com/files/261518014/BUIL...ITAN_MANUAL.pdf
This was an invaluable guide showing hitherto unseen (by me) parts of the Warhound.
And the FW assembly manual for which they should be shot by one of their own Plasma cannons so incomplete it is for a $450.00 dollar model.
http://rapidshare.com/files/261519085/warhound.pdf
Early in the construction planning stage I did do some drawings pictured below but how to download them in scale I do not know.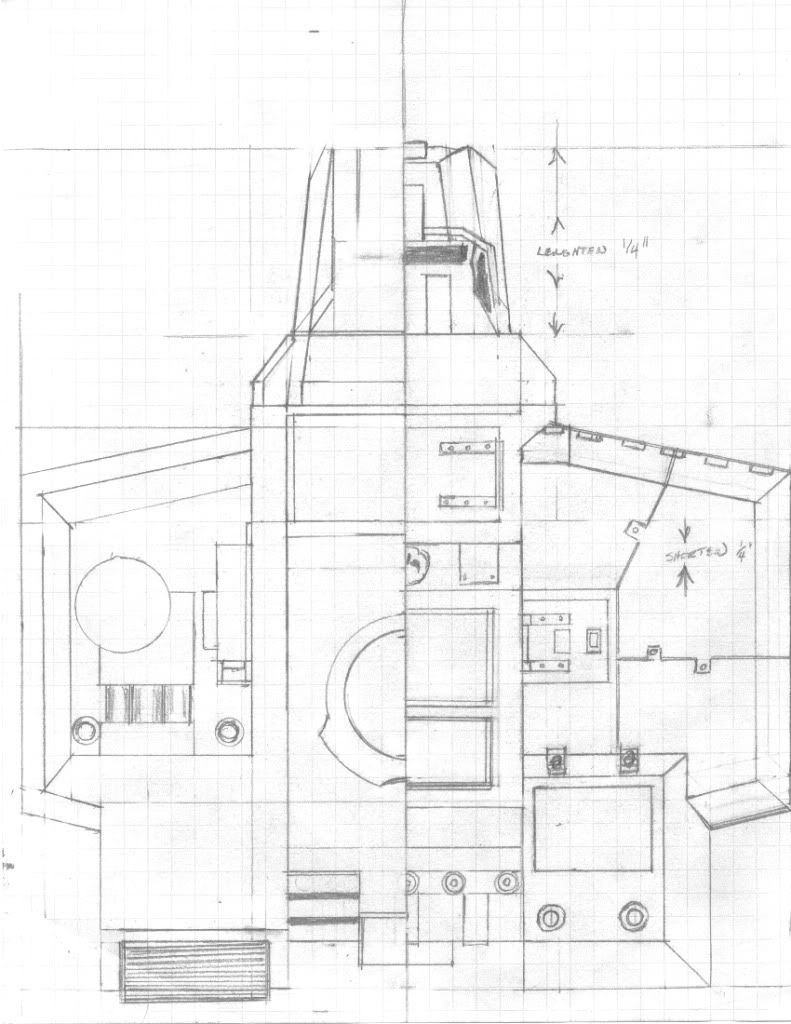 Be forewarned that some of my estimates on these drawings are in error such as the width to length of the engine vent fan housing. Other areas such as the Void shield generator housings I altered to suit my ideas on how it should look.
Other than that what I shall be posting in the coming days will throughly document my perception of the numerous components to this model and how I went about replicating them in my trial and error manner.
Edmund Blackadder
Lower Navigation
Blackadder's Lucius Pattern Warhound Titan