Firedragons
---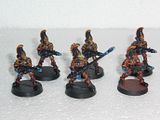 These are my "old" firedragons. I'll be adding My new ones to theses to make full size squads when i get them painted up
Join Date: Dec 2006
Posts: 47
---
Wow, those are some sweet models! Those masks have to be the coolest idea I have seen in a while.
---
thanks mate, i can't wait to do the new exarch. its my favourite model in the whole range
Join Date: Dec 2006
Posts: 28
---
Your panting is always sweet. CAn't wait to see the whole squad.
Join Date: Dec 2006
Posts: 10
---
Those are nice mate keep it up, I wish I had a digi so I could put some of my models up
---
They look good
---
Violence is never the answer, it is the question, to which the answer is, yes

---
Nice paint job. I'm the opposite in that I insist of basing my miniatures before painting them.
---


Heresy grows from idleness.
---
LOL, I always intend to base first, but it very rarely happens that way
They are actually based now, its an old photo. When i get the new ones finished i update the pics and especially the exarch with dragonsbreath flamer
---
I always base models last
---
Violence is never the answer, it is the question, to which the answer is, yes

---
I love them!

The blue on the weapons really goes well with the blue eye-slits.

One thing though--They blue eye-slits on the Exarch are a bit big.

11/10! :D
---

Lower Navigation
Firedragons