My first use of MIG powders
---
Hi people I thought id post up a step by step look at my first use of Mig weathering powders, i bought the rust and smoke set which includres the following:
Industrial city dirt p039,
Vietnam earth p031,
Standard rust p025,
Light rust p024,
Black smoke p023,
Ashes white p022,
I used p039, p025-p023 for this test.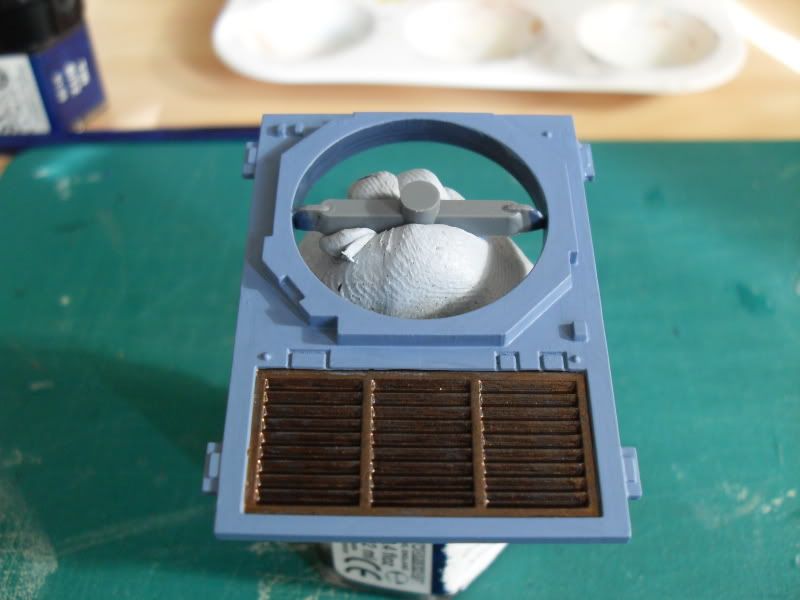 First a suitable bit of vehicle was found in the bits box and undercoated with my custom Spacewolf grey and tin bits.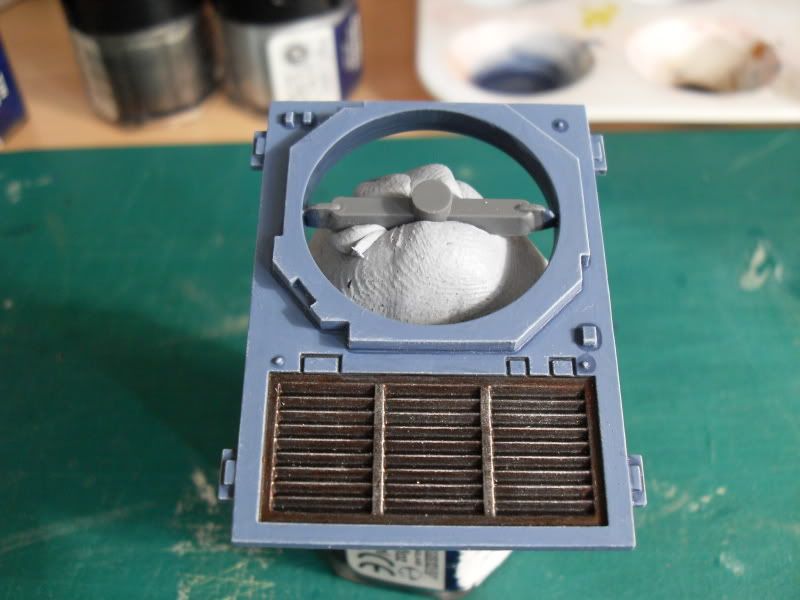 Then some shading was done with fenris grey and watered down Badab black wash, then spacewolf grey was lightly brushed on the edges for a highlight and the metal was drybrushed boltgun metal and finally mithril silver.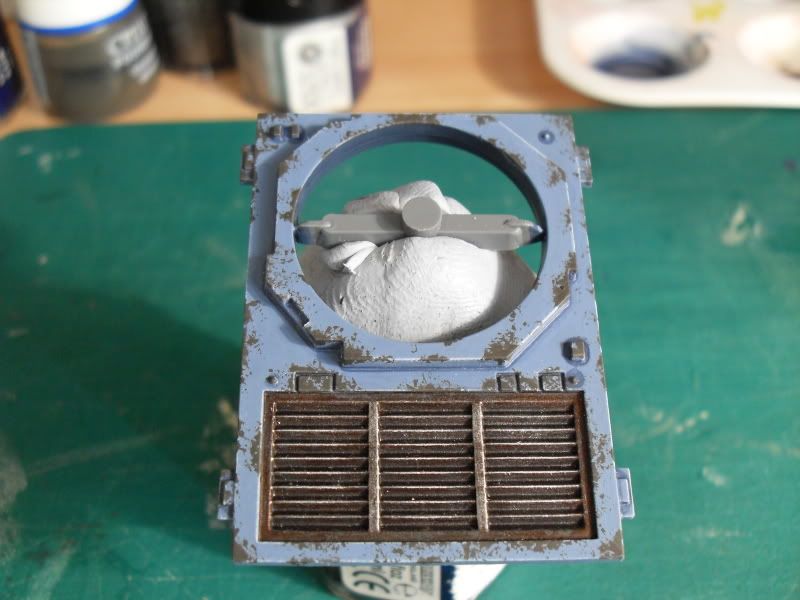 Chardon granite was dabbed on with a small piece of sponge as a chipped paint effect on the corners and worn out bits.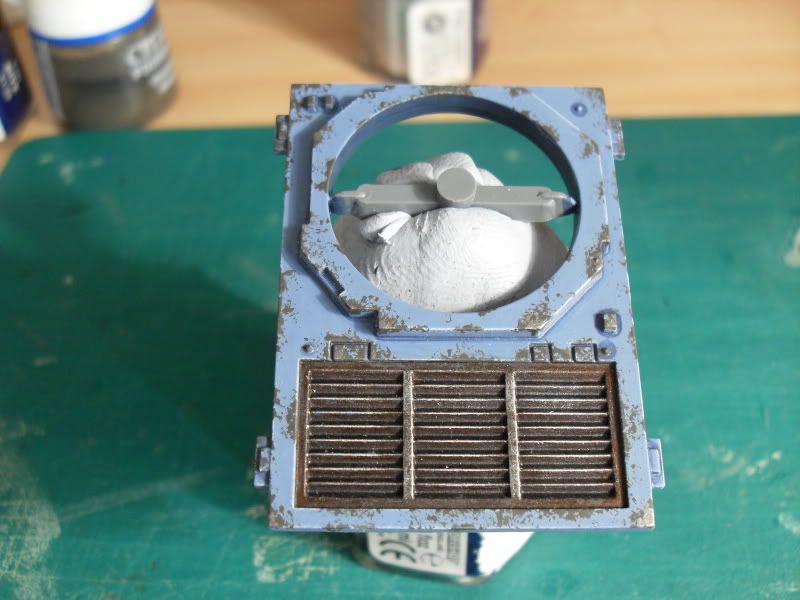 Then a few chips of metal were painted on with boltgun metal.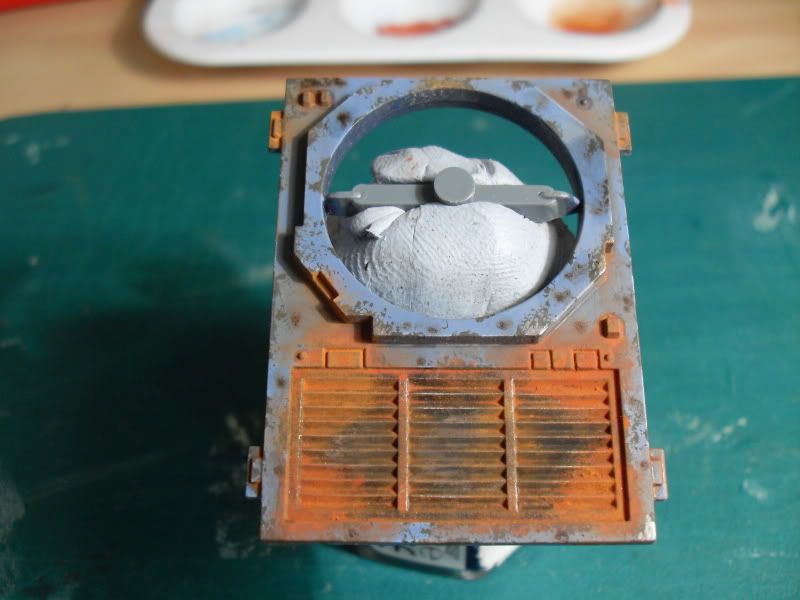 And finally I applied the various rust powders with a small brush, a word of caution a little powder goes along way believe me. The powder was poked and brushed about to give the effect seen here I also used some black smoke on the metal grill for a burnt look.
What do you all think? anything you would change? I am all new to this so any advice for the future would be greatly appreciated.
Cheers munky
---
My only suggestion would be maybe not as much powder, especially the orange. However this is not saying its bad, just a bit too whethered for my tastes, but if thats the look you're going for, stick with it, its looking good.
---
i think it looks good but less is definetly more with the orange one.
kinda looks like some1 attacked it with a pack of whatsists/cheetoes/cheese puffs
---
"Do You know What They Call Me In The Ancient Legends of The Dalek Homeworld? The Oncoming Storm"
"Never Forget Doctor, You Did This. I Name You Forever, You are The Destroyer of Worlds."
---
With migs and weathering, less is definately more! i've used these pigments fairly regularly in my modelling and I know a few tricks to use with them. One thing for sure is the mixability of the MIGS. Take some smoke and dab it around where the exhaust is. Also watch how you handle the model, and don't use them on actual game pieces. Reason being is they actually take your fingerprints and you'll have a big fingerprint smudge wrecking your hard work! Rust is always over done and is done so on your model to be honest. If you dab the smke around the rusty areas it'll tone it down. Be prepared if you dull coat your model to lose all you've done. It tends to disolve with the flat coat. One trick with them is to thin it down with some paint thinner, the Testors variety in the smaller glass jars work well. It'll become a wash and dry chunky, this will create a texture for the rust and such. That seems to be something that is lacking when people weather their vechiles... texture is important to realism, which is what I think you're going for, especially if you've sprung for MIG's. Good luck with them, they really are awesome!

OHHH and don't use them on metalics because they really only effectively stick to flat paints...
---
---
Last edited by HorusReborn; 03-17-09 at

10:17 PM

.
---
Thanks for the comments guys, all taken on board
I will try and use a lot less next time and work from some reference pictures rather than guesswork.
I will have to see what happens after varnish it will be a shame if varnish ruins it
---
I wouldn't use the orange on space wolves. But the step before that looked alright.
Quite impressed by these actually.
---
I have a bit of MIG pigments, but i have no idea how to use them. Some u apply as the powder and some with turpentine. Is there a site with techniques on how to use them?

I like the paint chipping technique, It looks good on light colours but what colours should i use on black and a dark red?
---
"The strong are strongest alone." Lufgt Huron, Tyrant of Badab.

The Blood Reaver. Master of the Red Corsairs. Lord of the Maelstrom. Huron Blackheart.
---
I tried some purity seal on em with a coat of humbrol matt varnish to take the shine off and it made the powders darker and more like a wash than the gritty "powdery" texture before.
That said you could apply a little powder after the varnish to bring out detail, that way you get protection and a cool looking model?
Lower Navigation
My first use of MIG powders