BA Venerable Death Company Furioso 2
---
Well, after a lot of faffing about deciding on a pose and head for this guy I finally got round to painting him. I spent about 3 hours on him last night and a few more this morning. I think I spent more hours converting than painting.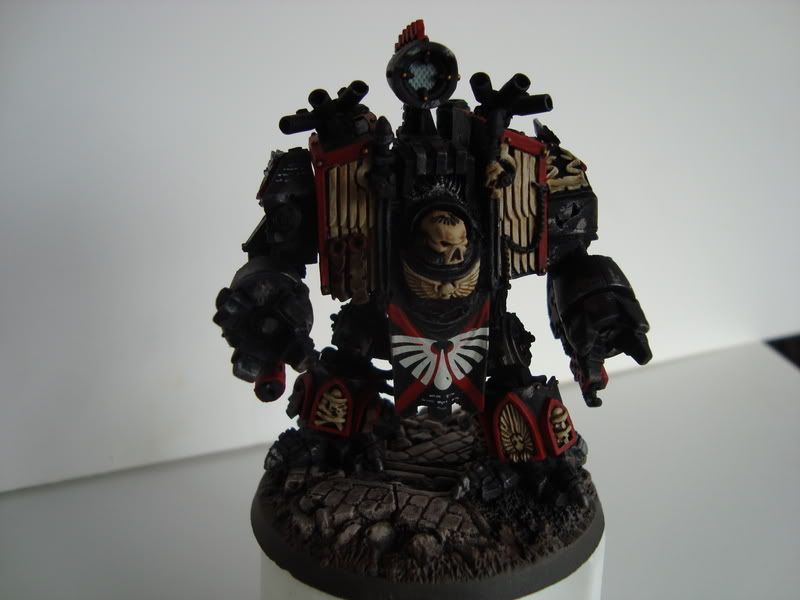 ---
Looks very cool mate, well done
DK
---
That thing looks amazing! A lot like the dread I was thinking about making. Is that a FW body with a few conversions(arms, head, robe, the searchlight) or is it a FW body? 'd really like to try this guy now great work!
---
If you shit in one hand and wish in the other we all know which one will fill up faster.

And as I walk in the valley of the shadow of death I will have no fear For I am the scariest mother f*cker in that goddamned valley!

Damn nature, You Scary!!!
---
I wasnt too sure whn I saw the postion of the head/skull, but the painted pictures make it look excellent. I do like the markings on top of the skull, and the colour of the overall bone work is really good.

Do the FW Chaplin dread have any special rules?
---
Your toast has been burnt and no amount of scraping will get rid of the black bits.

---
Fantastic job mate, very inspiring
---
I like it alot!
Good pose, neat painting and good modelling and just like stated above the whole pose makes it really feel alive
---
Win/Draw/Loss(5th ed results)
EC: 45/2/12
Tau: 28/3/7
Quote:
Common sense and wargamers are like oil and water
Quote:
'Alessio is to 40k what impotence is to rape.' - Jezlad
---
Great work!
---
Fluff this, fluff that, fluff everything, F___ fluff! I want to see it built, and when it's done post pics!:fuck:
---
Awesome!! Really nice pose and great paint job.
Lower Navigation
BA Venerable Death Company Furioso 2