Join Date: Jan 2009
Posts: 71
I cant paint for my life!
---
I have practiced trying to paint my eldar and necrons for the last 7 months and havem't gotten the SLIGHTEST bit better, every time i epicly fail and am starting to give up on painting altogether and keeping my models unpainted; it greatly dpresses me... I so badly want my models to look like the ones in the codex and rulebook and i have looked at every painting technique there is in the books and on the web. I think i should sell my paints, and im only 13 so i cant do much about it; Anyones advice please........
---
Ok, first say it with me, Screw trying to paint eldar! And repeat! Im not insulting anyone im just saying that they are one of the hardest armies to paint, so no offence if you can't paint necrons (the easiest to paint) then you're screwed.
Just start with the necrons, start with the metallic theme, it's easy enough, and as you progress, try harder and harder styles. Also stop by you're local wargames club for some help.
Hope it helps!
DarknessWithin
---
Fear the Darkness Within yourself, for there is no escape, there is no Mercy. Be afraid of the Dark, for it's here...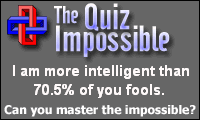 Impossible Quiz 2
Please, I am hungry for mouse. Please let your mouse feed me with it's clicks
Join Date: Feb 2009
Posts: 68
---
Try just using a two color wash dip method to at least differentiate them on the board against your opponent....

OR, keep practicing: My art skill started on the back of place-mats at restaurants when I was 5 and I still have lots of room for improvement, but I do swing a mean pen some 20+ years later. It takes time.

OR, save your allowance and have someone paint them on contract for you at your local game shop. A friend of mine does this at the game shop she works at and charges a very fair rate so I imagine there are people all over that operate similarly.

...Though I would only do the first option as a last resort to either of my second two bits of advice.
---
Last edited by Sephirros; 02-18-09 at

02:28 PM

.
---
A tip for quick necrons. Paint them with bolt gun metal, then wash the entire mini in Badab Blck wash. Quick easy and gives you a decent looking army.
---
Virtutis gloria merces

The major difference between a thing that might go wrong and a thing that cannot possibly go wrong is that when a thing that cannot possibly go wrong goes wrong it usually turns out to be impossible to get at or repair. - Douglas Adams

It's a knife for gods sake, what you been useing to keep your fork company all these years, sharp side, blunt side, what you want a lesson? - Bullet Tooth Tony
---
i always paint flat colours, with either a wash or a drybrush. i never blend or do anything funky, just flat then shade/highlight. sometimes i experiment and try both. but then, i play orks so i am bound tofind a quick and easy way of painting.

also, make sure you do not have to much paint on your brush-dip then scrape on the edge most of the paint of. otherwise you will obscure detail.
Join Date: Feb 2009
Posts: 82
---
yah, eldar are impossible for a painter. everyone else are just robots. don't believe their words.
necrons are good to start off with. seriously be easy on yourself.
i play the game.... to play the game, not to show off how good i am at painting! lol crap, if i joined the hobby to show off my skills with the brush i would have hung myself years before i started! ~(and for some reason everyone at my GW has completely unpainted units... like they never tried... so i mean, u aint the only one that finds painting small minute toy dude difficult)
---
Last edited by Cabagepatch; 02-18-09 at

07:51 PM

. Reason: damn typo gnomes...
---
Probably best not to compare yourself to codex painters. Most of them have been painting for a decade or more, have degrees, post-graduate degrees etc in arts.

I think its fair to say that when most of us were 13 our painting was..interesting but as we got older and with practice everything came together.
---
dont worry about your painting skills, mine arnt the greatest, i mean i dont follow any of the guides on painting, i paint out of the pot, pretty much no dry brushing or washes, i fail when i do that.

i agree with the eldar bieng hard to paint, ive got howling banshees, they look okay but the way i want them to and then theres the rangers, i have no idea what im going to do with that lol

at the end of the day dont worry to much about the minis looking great, just go with something that you like the look of
---
a warning on a crossbow
'It is a serious piece of killing equipment and should not be purchased by children under the age of 9. '
if your bored my MSN is
[email protected]
, add me and ill talk with anyone :p
Join Date: Aug 2008
Posts: 61
---
There are tricks to painting quickly and to a good gaming standard, but again I say go into your local Games Workshop with a squad and ask for some help. Games Workshop stores are called Hobby Centres because they help anyone who asks learn all aspects of the hobby, including painting. When I got my first job for GW (I won't say how many years ago) I couldn't paint for toffee, within afew hours I was learning the basics and within weeks I was at gaming table standard, soon becoming cabinet standard and even got some modles in White Dwarf and helpped with some of the major Games Day displays.

Just go into your local store and ask, the guys will help
Join Date: Aug 2008
Posts: 528
---
i feel your pain had ulthwe when i was younger i found,
black under coat
bleached bone face insert and one the top rails of the guns
liche purple rune stones
gold runes

and the bright greed on soul stone

wish i still had one to post a pic of very simple sceme but it looked nice all painted out of pot no washes etc just simple how i paint everything i play for game not painting or i'd been an artist
Lower Navigation
I cant paint for my life!