---
I've just gone through the whole thread. And I am simultaneously humbled and inspired by what I've just seen and read. I hope one day to develop that level of skill to apply to my own orks.

+rep.
---
This army is mind boggling. I think this is one of the coolest armies I have seen in quite some time!

+rep

PLEASE keep posting!
---
The third plane : a Blitza Bommer.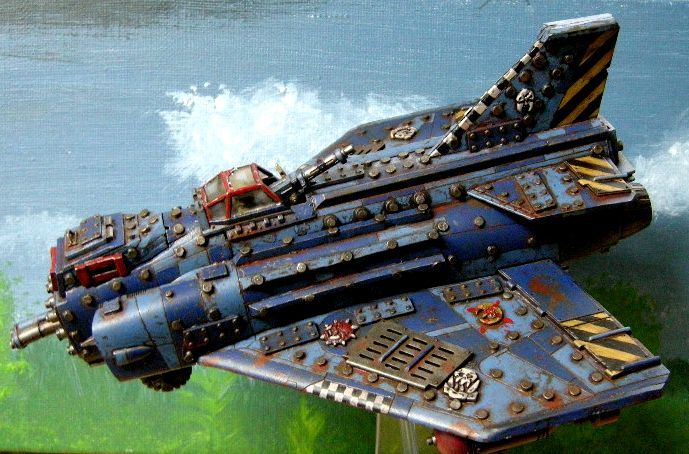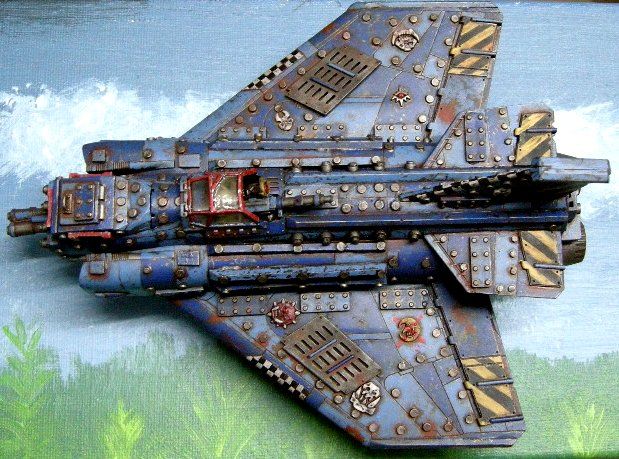 From a fighter model. Modified some years ago, and new bitz added.
---
Superb work man!
---

Commissions, Project Logs, and Galleries
Follow me on Twitter: @MidgesWorkshop. You can aslo follow me on face book Here
For Da Boss
Join Date: May 2008
Location: new zealand, the land of the long white cloud
Posts: 2,156
Reputation: 4

---
love the base plate on the last one, just for those emergency landings i geuss?

i would love to see a bionic harriden for this army, but i dont know how well it would fit.

but once again, you dont cease to amaze me with your imaginative skill. by the way, what do you think of the fighta bommer kits? worth it or is it better converting your own?
---
omgitsduane's # 1 Fan
Russian Winter Guard Thread
---
The bommer kit is really great to have an ork plane quickly, but it's too clean in compairison to trukk and other vehicles.

I take equal pleasure to paint these four bommers. They make a cool group.

Controled Harridan, I think about that... I got the beast, and the bitz !
---
Those are some Orky planes.

I bought the bommer kit some weeks ago with the idea of later picking up two model airplane kits to make each version. Still looking, but this is some good inspiration.
Lower Navigation
Ork "Genestealer Kult"