Join Date: Sep 2008
Posts: 64
Legio Cybernetica Deathwing Army
---
I've been looking forward to doing this commission for a while. Those of you long in the tooth know that during the Horus Heresy both sides had access to armies of robotic soldiers, and while the concept was cool the GW models were pretty poor, so I've decided to reinvent the look of the robots using GW parts.
Well, since the Heresy the knowledge has been lost to men, but certain first founding legions, such as the Dark Angels, still maintain limited stores of these irreplaceable artifacts from a lost age, and in times of dire need, the Chapter's ForgeFather will lead these constructs to war.
This army uses the Deathwing Rules from the Dark Angels Codex. The Forgefather model counts as Belial, while the robots count as squads of Terminators. The Robots are built using the toes from a Sentinel, the legs from a stealth suit, terminator arms, and the torso from an Epic 40K Knight from the Epic 40K starter box set (which has been out of print for a decade, so getting 30 of thoe together was no small task)
Right now I've got Belial and one squad assembled. When I'm done there will be six squads of terminator robots.
Enjoy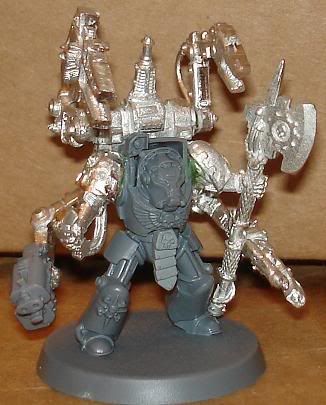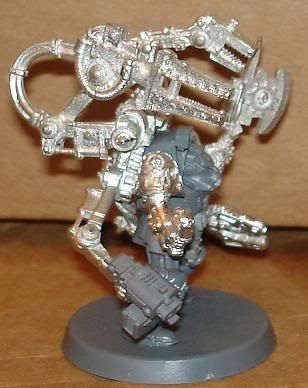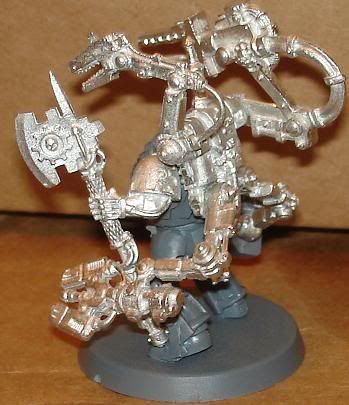 ---
wow awesome! the robots are very cool. great idea and great execution.

the only thing that makes me wonder is that while you obviously haven't backed away from spending money en effort on finding all the parts you used the body of a AOBR terminator, which features the distinct marking on the knee and is, while a cool miniature nonetheless, IMO not the best plastic terminator available. why not a "regular" or DA upgraded terminator as the basis for this character?
---
Pretty awesome there. I'm gonna have to read the HH books sometime.

If I'm nit picking though I'd say the shoulders on the forge father look too small for the body.
---
These are really cool mate and very unique indeed, I look forward too seeing them painted up. JD
---
" YOU ARE MY UNBROKEN BLADES , YOU ARE THE DEATH GUARD ! "
---
Very cool stuff!
I miss the old robot rules from 1st ed
Join Date: Sep 2008
Posts: 64
---
Quote:
Originally Posted by
horusundivided
View Post
why not a "regular" or DA upgraded terminator as the basis for this character?
Good question. The answer is that I already had one AOBR terminator that was given to everyone for free at the LA Games Day, so it seemed like a waste to buy another terminator when I already had one.
---
Wow those look awesome! Going to be a cool looking project.
---
one thing I want is the ability to split my fire everywhere, it makes no sense that a squad of 10 guard or marines or whatever all have to fire at 1 target with everything, is the guy with the lascannon not smart enough to realize maybe he would be better off firing at the massive tank looming overhead instead of the little man no bigger than a squat running at him, or is that far too complex for the 10yr olds?
My Thousand Sons Project Log
My Warriors of Chaos Project Log
My Cryx Project Log
My Necron Project Log
Join Date: Sep 2008
Posts: 64
---
Okay, army is all done.
Enjoy.

---
Wow that is great! I think I recall some of your guys from the "I wanna build you a Legio Cybernetica Army" thread. Pity I'm broke, I would've loved to get some. Keep up the good work!!!
Lower Navigation
Legio Cybernetica Deathwing Army