---
most serious - dremel on full blast with a cutting disk into the bottom palm of my hand, chunks offlesh came out and went to the bone.
still have the scar, bit redder than usual but ive been leaning on it today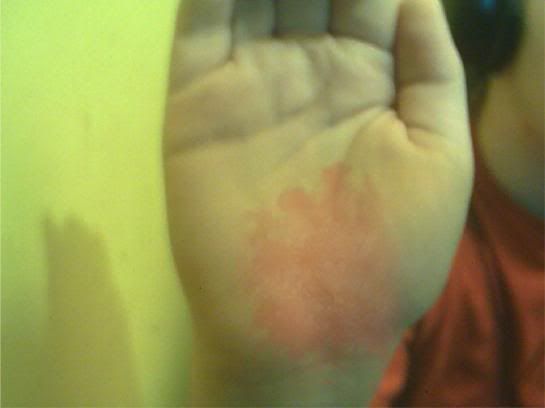 the funniest - knocked superglu off the table without relizing, and after an hour, relised my arse was now firmly stuckto the chair... great times
---
Tea drinkers of the world - UNITE - The wise words of Red Orc.
Quote:
Besides, sometimes you want a break from bolters and bretonians, and that's what penguin-tossing is for.
---
cut my index finger about a cm deep using my craft knife hurt like fuck not too mention blood everywhere. then about 3 days later when i cud use it again, working on the same model i cut it the exact same way but this time above the original wound and this time i hit bone.
---
The Emperor demands.... TACOS!!!!
---
using my file to get the lines off my nids i slipped my elbow knocking paint all over me (it was full too T-T) and the sharp point of the file cut my leg fairly deep, had to go to the doctor for that (i refuse to go to a&e u wait for about 4 hours at my local hospital -.-)
---
Seven, That is all.
---
working on a book report diorama and had to cut some clay shapes in half, so my mom went to tall mouse to get something to cut it with, an X-acto that was trying to be a double edged ruler, wasn't paying attention and my right ring finger was under the blade when it finally cut through. Damn well cut to the bone, but the blade was so thin that it didn't leave a scar.
---
I stuck myself pretty good with my scalpel.
Why do you always know the split second before it happens?
Was cutting a base for a tank trap out of 3mm MDF. (Yup, with a scalpel) Slipped and managed to jam said scalpel into my right index fingers top knuckle.
3 hrs at the docs, 3 stitches, a tetanus shot and a permanent numb spot later, i was on my merry way.

I have since purchased a jigsaw for such jobs.
---
New Nids
W/L/D
4 2 0
Necrons
W/L/D
15 5 4
Check out my Word Bearers here
---
Not done while modelling (and not the worst, as I have cut myself to the extreme as well, but the most stupid injury i've done) but painting; I dropped a bit of some model on the floor, I had a paintbrush in my mouth when I stooped to pick it up, the paintbrush hit the floor/table/my knee/somethingorother and shot up into the roof of my mouth...that was a weird place for a hole!
---
A small cut from a pin vice in my finger about 1/4 of a centimetre deep is the worst I've had so far.
---
"Dremeled " my backhand about 2 times, and engraved my thumpnail while making the Rhino-armour .......my machines are paied in blood sometimes
---
The worst I got was a x-acto knife into my thumb but all it was a small cut. However, BE CAREFUL OF HOT CIDER IRONS! THOSE THINGS DO BURN!!!!!!!!!
My entire right hand was singed with a 2nd degree burn. Couldn't use it for a while.
---
Only in death does duty end!
Lower Navigation
Biggest Injury Sustained While Modelling