Eldar Wraithknight,
---
I managed to finish the Wraithknight, (well, still waiting on a few extra bits to show up so I can pose up the second set of arms in a cool position for the sword and shimmer shield.) This pose is mainly meant for the shooty version. Nice thing about this model is that I didn't actually need a single magnet, everything pushed into place.
Overall I'm very happy with how this model turned out, love how my blues show up on this large scale as well as the turquoise fading. I kept it simple with just one sprit stone on the body and a few on the sword and shield (fluff reasons). The helmet got the space theme there is a little OSL on the guns, and the sword has a power shimmer effect going on.
I think the base works well with the pose and now I get a 4+ cover save anywhere on the table as well, cause man does this thing need it!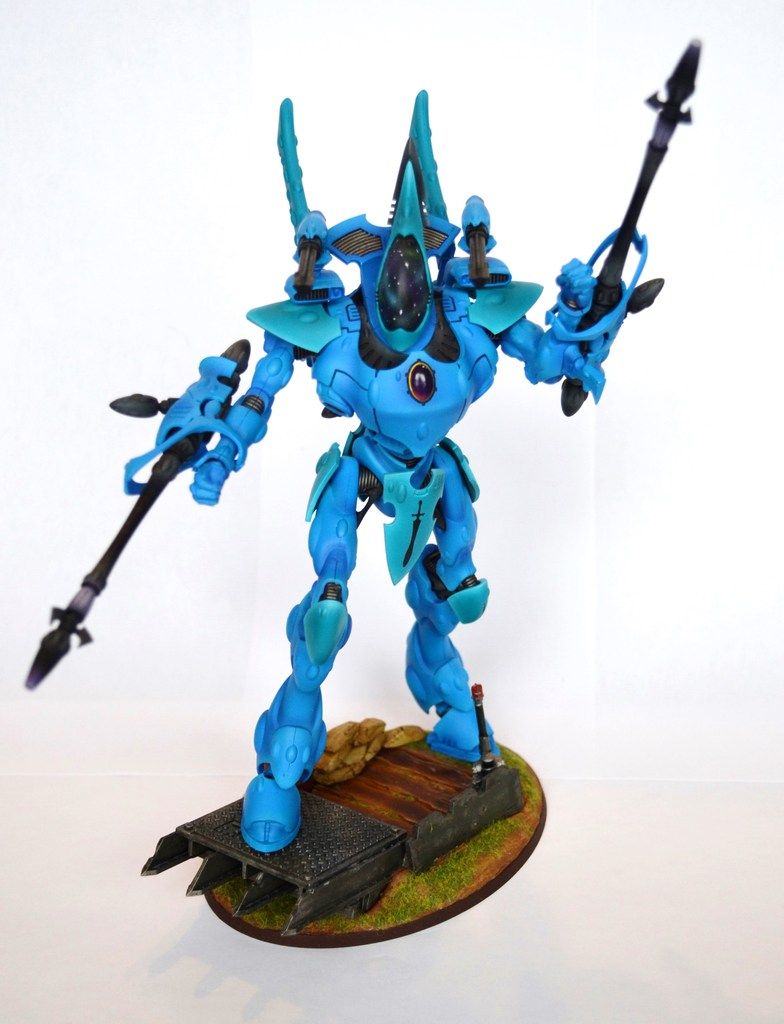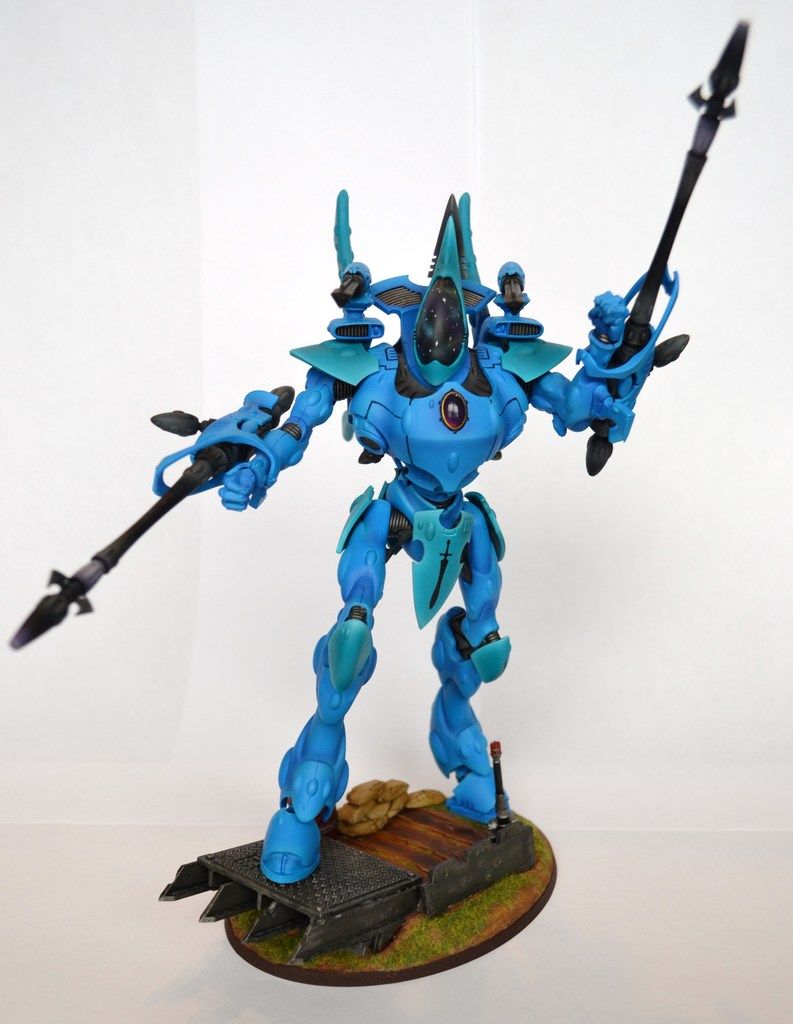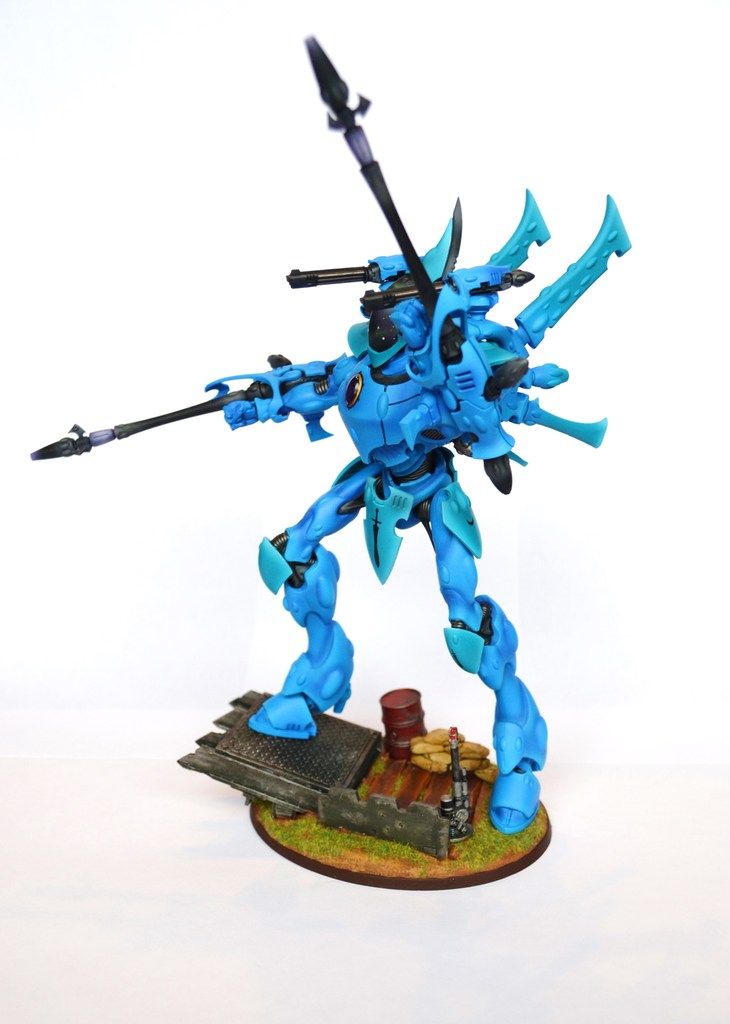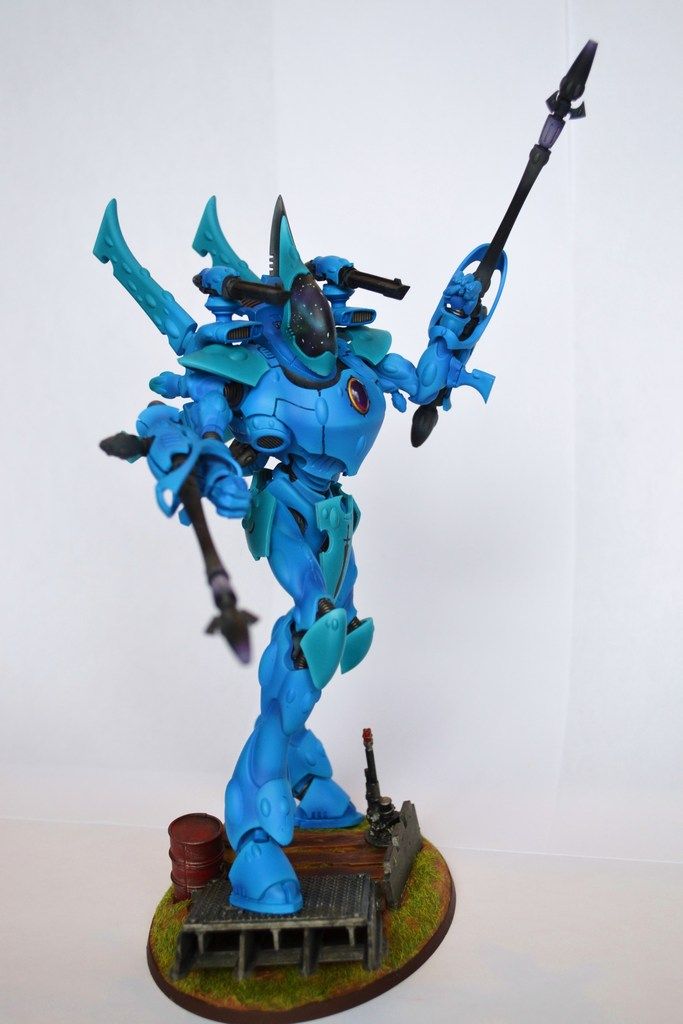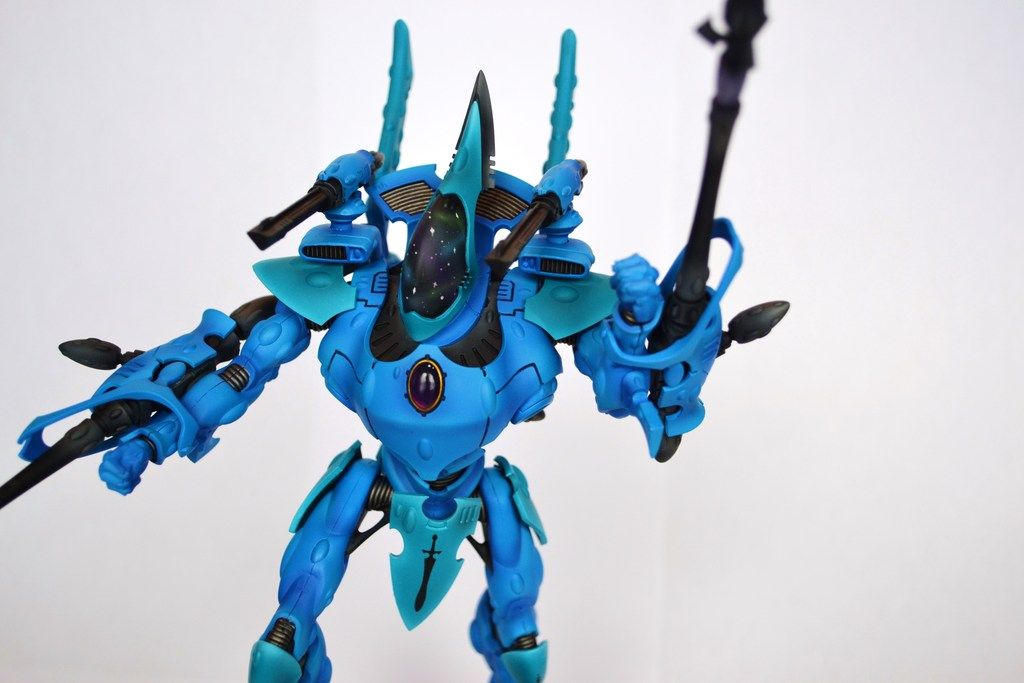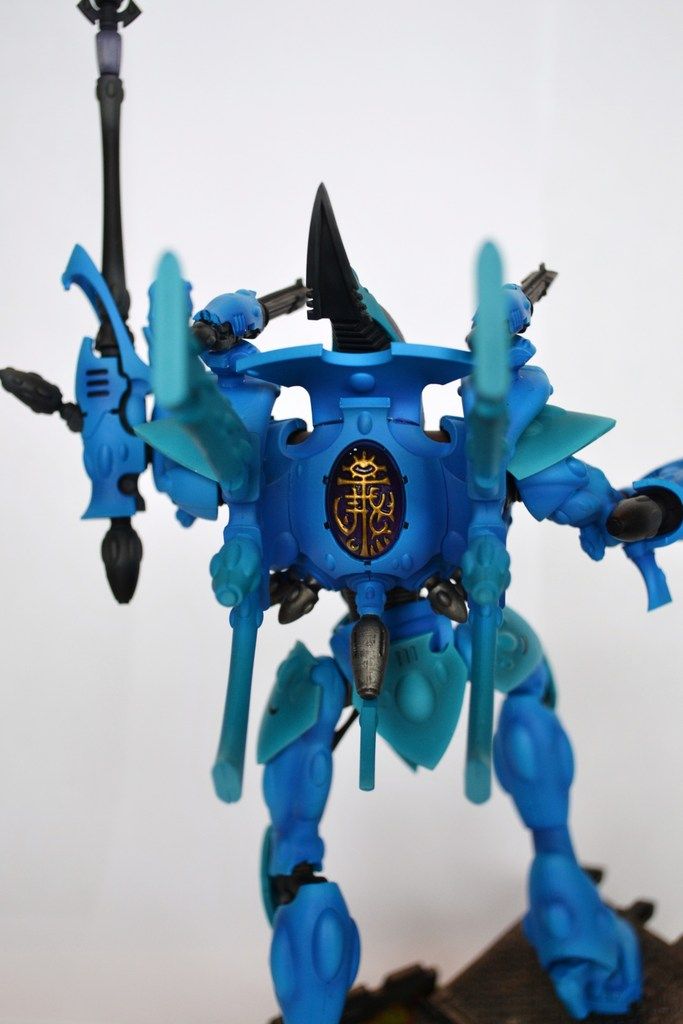 [URL=http://s1097.photobucket.com/user/troybuckle/media/Wraithknight/DSC_0944_zpsznsthg4j.jpg.html][IMG]http://i1097.photobucket.com/albums/g346/troybuckle/Wraithknight/DSC_0944_zpsznsthg4j.jpg[/IM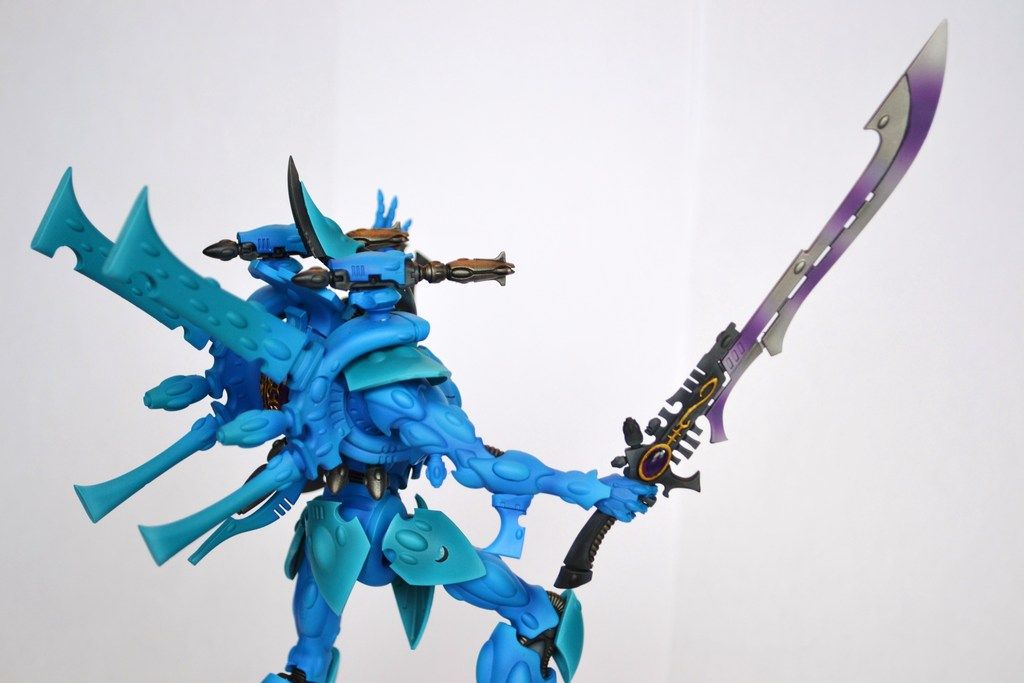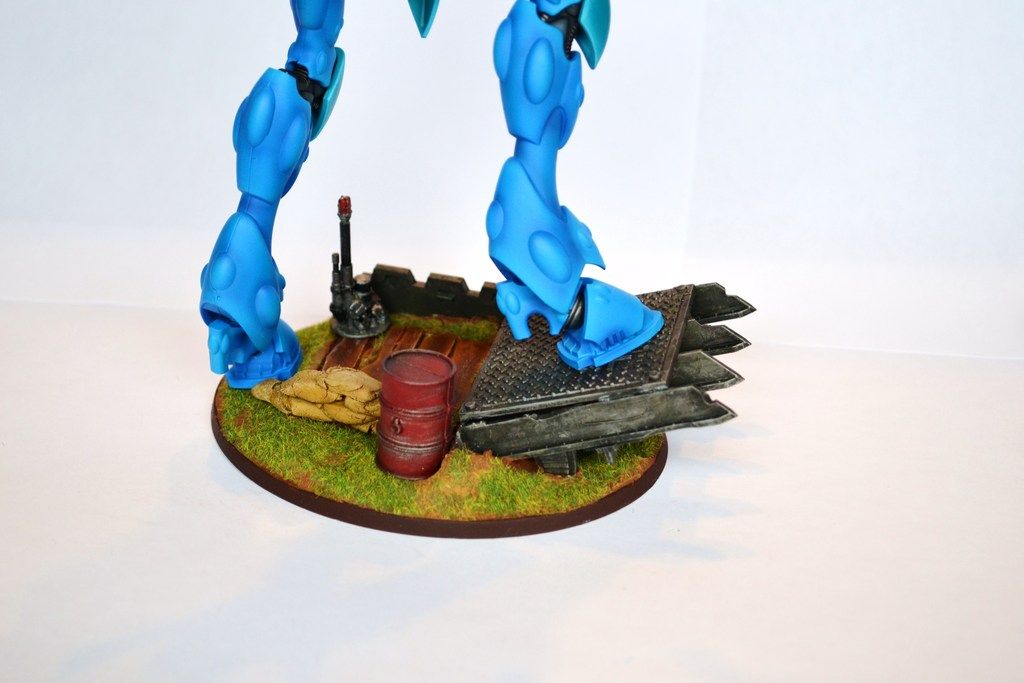 ---
Link to Project Logs.
Nids P-Log
Eldar P-Log
Latest Battle Report 750 Eldar Vs Chaos (Feb 2013)
---
Nicely done, like the depth in shading on the blue
---
gorgeous..really like that subtle purple on the sword
---
At first glance, it looks very plain. But on a closer look it reveals more detail and subtlety. I really like it. It looks like a uniform blue, but I do like the way you have picked out the groin and shoulder panels for a different shade. The detailing is very neat and effective too, Obviously the canopy, but the Gems and weapon tips catch the eye too.
You should be really pleased with that, it's not too busy and is a gorgeous model.
It's just a pity it will be obscured with all smoke trails from the rokkit dakka inbound towards it.
---
Thanks for the comments guys. Just to give you a bit of info on it, I painted the blues and turquoise with 3 shades each, base, highlight, and shadow, to give it a deeper look. The sword was done with boltgun and siliver then the power effect with a very light purple followed by a dark purple by taping half of the sword at a time.
---
Link to Project Logs.
Nids P-Log
Eldar P-Log
Latest Battle Report 750 Eldar Vs Chaos (Feb 2013)
Lower Navigation
Eldar Wraithknight,