Awaken Realms Harlequins Showcase
---
Hello there!
Recently we had the opportunity to add some colour to the Harlequin force emerging from the Webway! These are really beautiful, dynamic models and were a pleasure to paint. We've tried some patterns on them – how do you like those chessboards on the vehicles and nets on the infantry? Also, what do you think about shadowy colour scheme?
How do you overall like our Harlequin force?
Get your miniatures painted by us!
Our Gallery
Sign-up for our WEEKLY NEWSLETTER!
Painting tutorials
---
very interesting paint scheme
---

Red Orc
"Ahh, isn't Morfang sweet, like a great big 350-pound (that's 25 stone, UK users!) ball of cuddly death...?"


God, gives children to people so that death won't seem so disappointing.
---
I love this army. If I had any suggestsions, it would be to add that chequer pattren like on the larger vehicles to the front of the skyweavers, the plain white looks a bit boring.
---
Wowzer.....
---
Quote:
Originally Posted by
Jace of Ultramar
View Post
I think Tawa is a temporal entity that exists outside of the hobby/modeling timeline. Essentially, he's the Heresy Online equivalent of a Time Lord... which is kinda hilarious and frightening all at the same time.
"God-Emperor? Calling him a god was how all this mess started."
---
love it..again..another top and unique job guys
---
The army expanded for the "special" Harlequins:
Death Jesters
Shadowseers
---
I love this force, I find the dark tones quite sinister, but there is a sameness to the whole force, especially on the vehicles, some Eldar runes and iconography would go a far way to make the force pop and add individuality to it. Fabulous work, keep it up
---
---
dont like the paint scheme at all, its bland and samey, it would be nicely suited to a craftworld but not these guys, personally i think every mini should be totally unique and a wild array of colour, take the shadow seers as an example, the three at the back are absolutely identical in every way, for me thats an absolute painting crime, even using the same pallete of colours you could have at least painted them in differently so they at least had had some individuality.
But this isnt really about painted models and more about volume painting of models with an air brush
Never pay again for live sex! | Hot girls doing naughty stuff for free! | Chat for free!
---
HUGE BITZ RESTOCK NOW ON
---
Over airbrushed. As your usual but worse.

I think the bases are the worst part. They smack of rush job, spray and done.
---
Strange, but not a Stranger.
---
This is how you do Harlequins ;)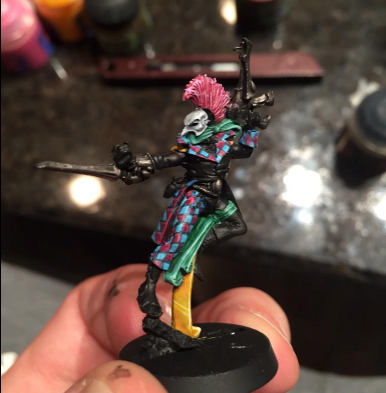 1 at a time and sexy as hell!!
---
Last edited by Chaosftw; 04-17-15 at

05:34 PM

.
Lower Navigation
Awaken Realms Harlequins Showcase