Junior Member
Join Date: Feb 2015
Posts: 7
Reputation: 2

WH40K Newbie
---
Hi everyone! I'm new to Warhammer, but not so new to modelling stuff. A friend of mine recently got me into Warhammer 40K, and I'm slowly building my Harlequin army. This past weekend I painted the Solitaire in a Joker-themed color scheme. Any critiques or tips are welcome. This is kinda sorta my first time to paint something this small and delicate.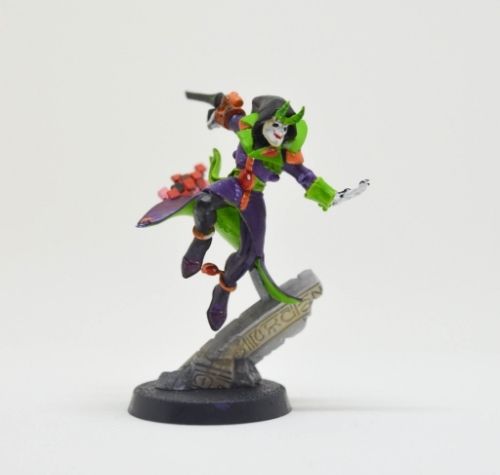 ---
Welcome to the boards and congratulations on your first model being painted
.
Im going to give a few pieces of advice and im going to base them off the assumption that you base coated this mini with black am I right?
If this is the case the first suggestion i would have for you is to switch to white primer. This is for several reasons. 1st, A white basecoat is a bit more forgiving in terms of painting onto. black works well for darker colors but you need many successive layers of paint to get good coverage on a black basecoat (yellow being a color that comes right to mind). 2nd a white basecoat is a good way to get in some practice with shading as instead of doing a base coat you can use a wash to get an initial color down which will then also help in providing the model with shading. 3rd Black as a primer is really only useful when painting models that are mostly dark or metal. (necrons and chaos are prime examples of this). If you have areas that you want to give a darker shade to then id recommend priming white and then base coating that particular piece black.
From what I can see your layers do not appear too thick which means you're thinning your paints properly however using thinner paints means more applications (especially on black surfaces).
Ill leave it at this for now as im sure some others will chime in with their ideas and comments (keep in mind that everything we say should be taken with a grain of salt as it it intended as constructive criticism)
---

Junior Member
Join Date: Feb 2015
Posts: 7
Reputation: 2

---
Thanks for the welcome and feedback/tips! But actually, I used white primer. Fooled ya, eh?
I'm actually a painter (like artsy fartsy kind), so I have a decent idea on how to deal with paint, but I've never really worked this small of a scale before and it's quite a challenge. I'll keep your advice in mind as I move forward with other models.
---
welcome and your of to a great start...i wont add any more than whats been said..but your on the right track..and you will find a lot of great advice here.
Lower Navigation
WH40K Newbie