Join Date: Apr 2008
Posts: 76
Raven Guard - Vanguard Vets
---
Well, i'm new to Raven Guard and these are my first models.
As i understand it, Raven Guard are less showy than say smurfs and as I didn't like the equipment on the Vanguard box set I used a standard assault squad.
These guys will be part of a 10 man 490 point vanguard unit with 3 powerfists and 7 power weapons. Infiltrating for a first turn assault along with Shrike. Yes, i'm going for a 46 model 1500 point list. Its fluffy more than effective i suppose.
Anyway. I'm happy with these for my skill level. Only 40 more models to go...
and a terminator from AOBR.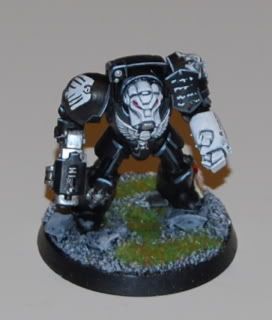 Let me know if you've any tips for improving the remainder of my force.
---
I like them, very nice.

Been thinking about doing a small number of RG myself. I think this has made me want to go ahead and do it.
---
Very nice. I really like the highlights. I'm not a fan of The blue on the weapons myself but it's very well painted.
---
If you shit in one hand and wish in the other we all know which one will fill up faster.

And as I walk in the valley of the shadow of death I will have no fear For I am the scariest mother f*cker in that goddamned valley!

Damn nature, You Scary!!!
---
nice to see some Raven Guard on the forums mate
great job on them too nice sharp striking highlights and i love the power weapons, and a great job on the white also my only criticism is that on the sergeants power fist on the pic it doesnt like there any shading on it, it would look cooler and a lot more striking if it was shaded. other that that though great work mate
JD
---
" YOU ARE MY UNBROKEN BLADES , YOU ARE THE DEATH GUARD ! "
Senior Member
Join Date: Sep 2008
Location: Newcastle, England
Posts: 1,083
Reputation: 5

---
Very well done, the weapons really look good imo.
---
Cool Raven Guard!!! I'm a big fan of the Raven Guard.
---
This is Sierra-259, you got Spartans on the ground sir. We're not going anywhere."
—SPARTAN-259
Join Date: Jul 2008
Posts: 92
---
Nice looking ravenguard! I fell in love with the Shrike model and bought him just for the heck of it, but I may need to make a small RG force just for fun, small battles. I too like the blue weapons, the color contrasts nicely.
---
Very nice you dont see many Raven guard around. Great highlights I would maybe add some shading to the powerfist but other than that great job.
I for one dont like the Vanguard vets models and I am going to make my own- will be alot cheaper as well. Although I really dont think vanguards are that good point wise. But then i am more of a salamanders fan so I am in love with hte new land raider
Join Date: Apr 2008
Posts: 76
---
Thanks for the comments everyone. Yes, my white work is the hardest side of the painting at the minute. I'm planning on trying to black line some of the white with an ultrafine marker. Might make them look a bit cartoony though.

Looking forward to painting the remainder. Expect that standard tacticals will take no time at all based on a black spray, black wash, highlight, eyes and chest eagles. Not much white to do so thats an hour or 2 saved ;)

I'll pop back and show you how things are going later in Oct.

Cheers
---
ace work, love the power swords , +rep
---
The creatures of the Warp have but one trait with which you need concern yourself - their undying contempt for the Emperor. It is your task to quell the rebellion they preach, and the only sure way is to destroy them utterly.
+++ Qualtak Shoram +++
---
Last edited by Green Knight; 09-26-08 at

09:58 AM

.
Lower Navigation
Raven Guard - Vanguard Vets