Leman Russ/Vindicator hybrid conversion
---
Hey everyone
As some of you may seen, i have entered this months conversion competition with my tank hybrid.
I will be attempting to combine a Leman Russ with a vindicator to make a much more bulkier looking tank. I am really not a fan of the Rhino chassis so i am going to use the tracks etc from the Leman Russ instead.
I have started this thread to show the step by step of the construction, just in case anyone wants to recreate the end result themselves. Plus im sure i will definitely end up needing some advice as the project gets going.
So here is the start of the project: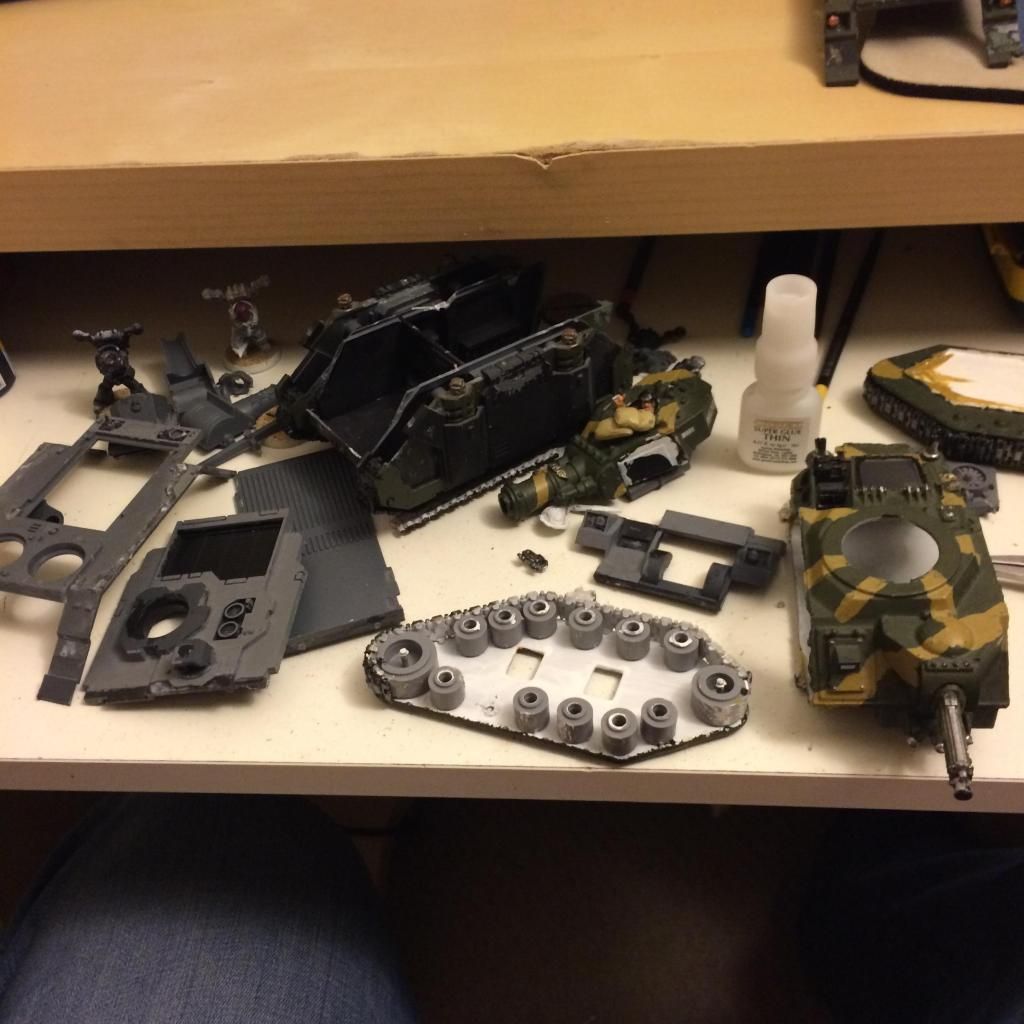 Both tanks i have had for a while, in fact the Demolisher is very very old, dating from my very first foray into warhammer whilst i was in primary school. So it has been painted many times, so i am going to have to paint strip the sections im using before i get really into construction. However im really happy im still able to use parts of this model that i have had for years
Thanks for looking and stay tuned for progress.
Cheers,
The Gunslinger
---
So as the title would suggest, anyone who wanted to reproduce this would need a leman russ and vindicator kit. Now if you were starting from scratch you would have the benefit of being able to work on things from fresh. Unfortunately i do not have that luxury.
As i said earlier my Demolisher is many years old, and was put together by a much younger and less modelling savvy version of myself, so there are lots of problems with it. Mainly, the tracks do not match up right, leaving gaps, so i have had to rip apart the track sections and correct the problem to start with.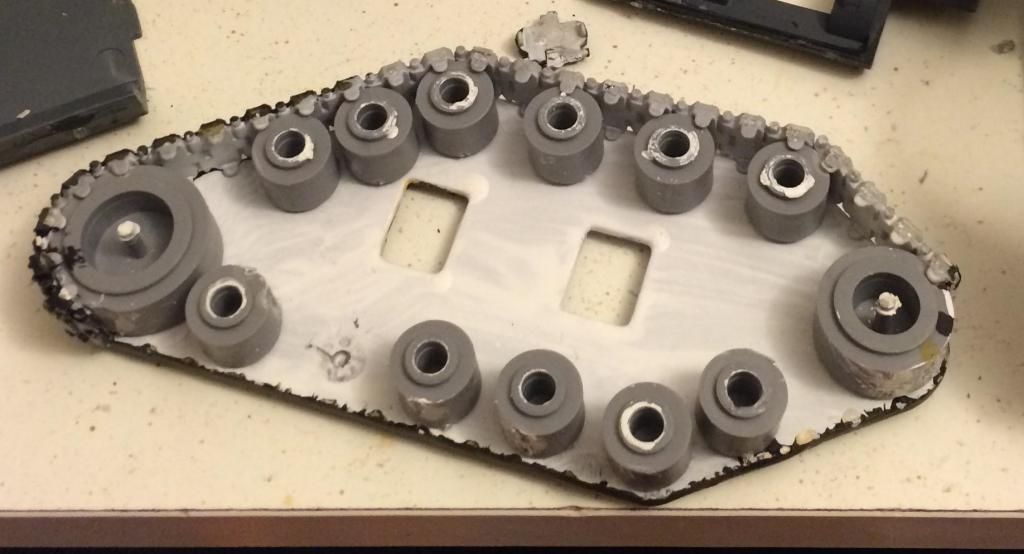 But once that was done, i had two tracks that would work fine. Like i said i still wanted to paint strip these at some point, but for now, here:
---
I like where this is going, looking forward to seeing more progress!
---
Edit: Thanks mate, must have posted this bit whilst you posted yours.
So the original plan to take the base plate of the rhino and stick it in-between the two russ track sections so i cut the parts that fit into the rhino chassis.
However i realised that that would make the tank far to narrow and would leave gaps in the hull. So i am going to make the inside part of the rhino and then stick that to the russ' tracks, like so:
Of course there are those annoying doors etc that means the outside isnt flat so i had to remove them.
First i cut the sections out with a knife:
Then clipped off what was left on the other side:
Before sanding it down so it was nice and smooth: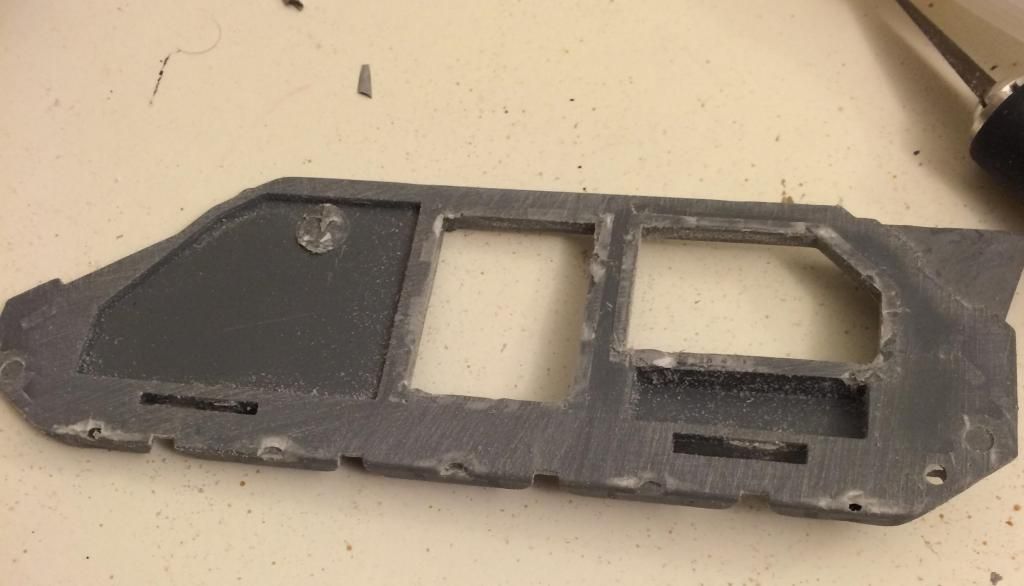 ---
This looks interesting, look forward to the end result.
---
'If you fail to prepare then you'd better prepare to fail'
---
Thanks guys for the support.
So after getting the rhino section ready, i had to cut away the part on the russ' tracks that connect up to the tank so that it was smooth aswell:
so the plan is for the rhino section to sit on top of the bolts that hold the wheels in place like so:
and line up with the hull on the front: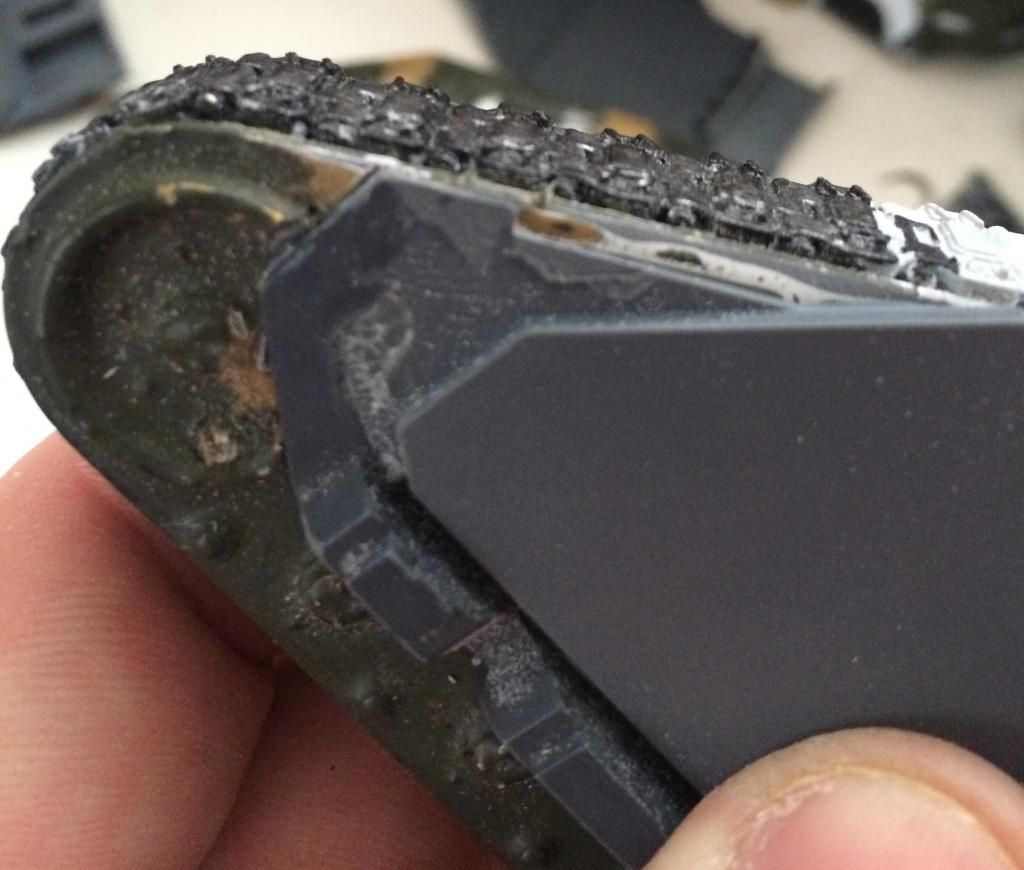 ---
This is getting more and more interesting.
---

---
yes very..looking forward to the end
---
I can see this being very 1940s panzerjager style, looking great so far!
Senior Member
Join Date: Apr 2009
Location: Enniskillen, Northern Ireland
Posts: 1,115
Reputation: 4

---
This looks like the beginning of a very good conversion. I'll be keeping an eye on this. Keep up the good work!
---
Overall Tournament Game Results W:78 D:22 L:32
Lower Navigation
Leman Russ/Vindicator hybrid conversion