Nostalgia - The good!
---
We've had threads in the past about posting pictures miniatures that you painted when you were new to the hobby. We all know how that goes. But what about miniatures which we painted a long time ago but that we're actually pretty proud of?
I was rooting through my photos, looking for pictures of a nerf gun I painted when I came across a Scibor miniature that I painted for a friend about three years ago, now.
POST NOSTALGIA!
---
Quote:
"Look they got a-OH MY GOD I'M ON FIRE FOR THE LOVE OF NAKED SANTA IT HURTS!"
---
nice job..i dont have any old pics. to share but looking forward ti seeing others work
---
My first Ork Nob that I named Skull Bob he served me well for many years leading his shoota boys to many victories.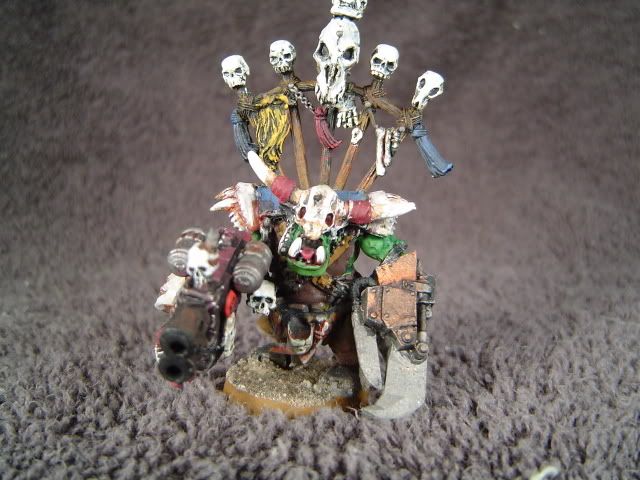 ---

Red Orc
"Ahh, isn't Morfang sweet, like a great big 350-pound (that's 25 stone, UK users!) ball of cuddly death...?"


God, gives children to people so that death won't seem so disappointing.
---
I don't have any pictures of several of my oldest models that I think still look pretty good, but I can snip a couple of the Harlies that I painted many moons ago that I truly love.
This Solitaire conversion has some tweaks specifically for the 2nd Ed ruleset, he has a Multi-melta and a powerfist (legal Harlie character options back then). I really like the colorful camo and the mark of slaanesh on the mask. (The Solitaire represents Slaanesh in the Great Dance).
That model along with these three were my officers of the Suite of Diamonds in my original Harlequin army (The Full Deck). The blurry one up front was the Great Harlequin, the Death Jester, and Shadowseer are more obvious. I still think these guys hold up well. Considering all of four of these models were painted about 20 years ago, shortly after I started painting as an adult.
Next time I hit my parent's house I will snap some pics of a few models I did in Junior High that I always thought were pretty good for a kid and think still hold up decently. (Those are all fantasy or historicals used for our DnD games though)
---
Servants of the Laughing God
(Harlequin Themed Eldar Army)
First Eastern Mirage Corps
(C:SM)
I am the Evil Project Log
(All my work since restarting the hobby)
The Crusade of Morr
(WFB Empire Battle Reports)
Dem Bones
(Dice Rolling Program)
---
---
Quote:
It's not a black and white question really, there are different shades of anal probing,
a rectum spectrum, if you will
Lower Navigation
Nostalgia - The good!