I need help painting Tomb Kings
---
Hello my fellow heretics, this is a plea for your help, guidance and advice.
Some time ago, I was given a large amount of Tomb King miniatures. As Tomb Kings was my first army, the total amount of miniatures I have now is quite a lot. My painting skills have increased since starting the hobby, so I stripped my old miniatures and decided on a new paint scheme to bring my skills to the next level.
I imagined a mysterious tomb of a royal family, which somehow was set ablaze. Was it a tomb-robbing accident? A magical sabotage? Or was it just a mere unfortunate coincidence? Whatever the cause, the entire tomb burned out and only a blackened husk was left.
When the ancient king was awakened from his deathly slumber, anger took hold of him at the sight of his ruined body and burial place. This anger reignited the ashes within him and all under his command, and with burning embers inside blackened bones, his army streamend into the desert.
Yes, the style I'm aiming for are black skeletons with reds, oranges and yellows gleaming inside. Not actual flames, but smouldering embers. However, I have a hard time painting lightling effects and would really like all your advice and tips on how to continue this paint scheme.
I am quite happy with the Tomb Prince but would still like to hear improvements.
And with flash photography, these horsemen look quite vibrant as well.
In normal lighting however, they just become a black mess of skeletons.
I really want to pull this idea through, so any help is greatly appreciated!
---
I'm afraid I have no advice for you man but a newly started tomb kings lord myself they look amazing. Such a great idea.
---
6th Edition. 7th Edition

Eldar. Eldar
W14-D1-L4. W2-D0-L0

Imperial guard
W3-D2-L1

Space marine's
W0-D0-L0
---
I'm not that good ether but TRY to use bloodletter glaze and arcoat? looks great btw
---
Sanity is for the weak
check out what im working on
http://instagram.com/revilo444
---
The colour scheme is really nice and I really like the idea behind them. I think its just a matter of using more glazes of the colours to make them stronger, if this is somethig you are lookingat continuing maybe an airbrush is worth an investment?

Alternatively, base all your models with whatever the lightest colour is that you will use and the 'reverse highlight' so use the darker colours on the raised edges?

Also if you want more of a burnt look try putting crackle paint (like agrellan earth) and painting it black (if it isn't already) and then drybrush those areas with a grey, it gives a sort of burnt wood looking affect, but you may want to practice on a spar model first as it can obscure detail if overdone.
---
Me: To be honest im amazed there isn't a chaos god of not revising or at least chaos god of procrastination

MidnightSun: There will be, when enough people do it. Y'know when the Eldar were all engaging in their hedonism and Slaanesh ripped open the Eye of Terror with his creation? Slaanesh will have NOTHING on the God of Procrastination, and his vile minions will carve the galaxy asunder in a thousand year reign of blood.... Tomorrow
---
Last edited by falcoso; 09-15-14 at

07:48 PM

.
---
Well let's take a look at some fires! We'll search for "camp fire embers"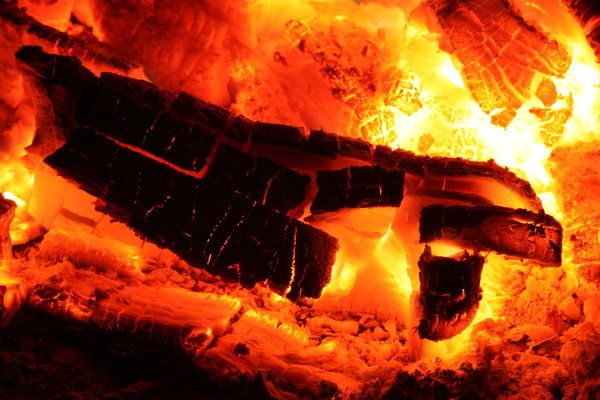 So let's dry and dismantle this into the basic colours.
Our deepest colour here is white, which isn't that surprising. These are in the absolute hottest parts of the fire, so this is going to be like the skull and the torso, probably not extending out much into the extremities. Easy way to do this is to base-coat the entire model with white paint, no?
Next there's some very light yellows. Looks a bit like ushabiti bone or khaki to me. I'd go with the first. Paint this over the top of everything, missing only the deepest of crevaces.
After this we've got proper YELLOW, not the light khaki like before. Maybe a tiny little bit of orange or brown thrown in with that. Like before, except straying a little further from the crevaces and leaving our previous colours behind.
Then you need to fade out towards more orange colours. Each step is pretty much just going to be painting over the top of the previous colour but not painting over it completely. The key here is THIN layers.
Now after this at first glance we're just jumping straight to black - but wait! I'm seeing another colour between this orange and the black. It's basically a very dark brown; the bits of the ash that's ever so slightly illuminated by the surrounding orange.
Fire/Embers comes in three main colours:
White is the hottest
Orange is the coolest
Yellow is everything in between.
As someone who has lit plenty of fires in her time (Camping, not arson), I've never seen a red fire outside of a chemistry lesson.
So far we've pretty much gone White > Light Yellow > Yellow/Orange > Orange
Then after that we're moving onto the bits of wood (or bone, on the model itself) which aren't actually on fire. So from here I think we want to now go over the edges of the model (Leaving some of that orange in there) with our dark brown colour. I don't use GW paints so I don't know any of their new browns. This dark-brown is just going to be the bits pointing towards any glowing areas; keep this in mind when painting!
Other than this, we just want some black bits really.
Rather than trying to paint white>yellow>orange coming out of every crevace, I think that you should go for white on the hottest crevaces and orange on the coolest crevaces. I'll throw something together in photoshop to illustrate what I mean:
It's not fantastic, but hopefully it gets my point across. I've included a version on the top which does not have the brown edging to the black.
Basically, because the bones act as silhouettes, the white hot behind it isn't going to transition up through yellow and orange before the silhouette. You're going to have a very stark contrast of white to dark brown and then black.
And more fun than helpful, but you can see that it's white-hot in the middle and then gets to the cooler orange colour at the extremities:
For large flat areas on the miniature which just look like a kind-of boring black, why not add some cracks and stuff as if the fire is burning through and causing the bones to crack from within?
One of the annoying things is that when you shine a light on a fire like I put at the start of my post, you see the light grey/white ash of everything. It's only in the darkness where the wood (or in this case bone) is in front of the flames and becomes a silhouette that you get the black look. Maybe you could add some ash colours to break it up a bit? I'm sure that you'll find somewhere that sells an ash pigment.
---
Quote:
"Look they got a-OH MY GOD I'M ON FIRE FOR THE LOVE OF NAKED SANTA IT HURTS!"
---
Last edited by Silens; 09-15-14 at

08:35 PM

.
---
Thank you all very much, especially Silens for your lecture on colour theory!
I also like the agrellan earth idea which I might try for the fabric and papyrus of some models, as well as the chariots if it is nice enough!
I'm not sure I want to have everything quite that white, I'd rather settle for slightly cooler embers, like in the upper picture. I also thought about only giving characters and larger models (Ushabti) coloured extremities. Additionally, I would go so far as to call these colours red rather than brown
But everything you say still holds up, and I'll certainly try what you've said. Thanks again!
There's still a problem I'm facing however, which is that all of the brightest colours remain in the deepest recesses, which means you can only see them with sufficient lighting and under a certain angle. I would really like some advice or tutorial on directional lighting for this or something similar so the models look really hot to the touch, and become slightly more colourful. As you can see I've made some attempt to achieve this, but I'm not really content with how it turned out.
---
Last edited by Tha Tall One; 09-16-14 at

10:57 AM

.
---
Maybe make it so that certain bones are super-heated by the core inside? Something like this maybe
This would be really good on the horses I think
---
Quote:
If you go down to the woods today, be wary
---
Honesty, bone ashes as it's scorched/burned, so there should be a bleached bone drybrush over the black, to show the outer edges have ashed.
---
@The Tall One

I think you're looking at different bits to me. I meant just bits of the black wood which are slightly illuminated but not, themselves, burning. The bits you circled look like they either gradient into the fire or the giant crack in the middle probably reveals some of the embers beneath. But those are red, you're right, but they're quite a dark orangey red.
---
Quote:
"Look they got a-OH MY GOD I'M ON FIRE FOR THE LOVE OF NAKED SANTA IT HURTS!"
---
Thank you for clearing that up!
I really like the imaginative responses to this thread!
@
JAMOB
, I'm not sure whether it works that way. While I don't doubt bone radiates like a black body, I guess the bone would disintegrate before reaching such high temperatures. As you can see, I did paint the sword of my Tomb Prince that way! I plan to have all my characters and special units with such weapons.
@
Creon
, could you please show a picture of what you mean? I couldn't find such an image myself, and the last time I burnt bones I distinctly remember them blackened.
Lower Navigation
I need help painting Tomb Kings