Senior Member
Join Date: Apr 2010
Posts: 227
Reputation: 7

My first tempestus
---
Yesterday I bought Astra Militarum codex and some of the new Tempestus: I really love the way they look.
This one's a bit messy, because I was trying to figure out how I wanted them to be painted. I Wanted some blue winter scheme. Here's what I am going for in the end:
I used Space Wolves colors (the fang and Russ grey) and blue wash on a white undercoat and I thinned them a lot.
---
The Emperor protects.
---
Last edited by Zion; 04-15-14 at

05:31 AM

. Reason: Changed link to image.
---
Next time insert it into your post as an image instead of a link. Some people have problems clicking on links from work computers.
Two major problems.
One. It's very flat, there is no depth to it. A perfect example is the lack of shadow in the pants.
Two. It's just messy. There's a green line on the right hand and two marks on top of his head. There's like 2 or 3 different paints on his helmet and armor, but no real blending or transition. I would give it all a blue wash (brown or black for the pants) to try to blend the colors more and then I would do a little highlighting or touching up.
I really like the color scheme, but I think that it blends in too much with the snow base. I would do sand/dirt base with little spots of snow instead of complete snow bases. I also think that you should paint the gun black or even red/yellow/green. I think the blue gun gets lost in all the blue armor.
---
He who fights by my side, shall be my Brother!
Knights of Terra
- Sternguard Ork Hunters
Space Wolves
- SM Special Ops Squad
Metal Wash
- Picture Gallery
---
Last edited by Zion; 04-15-14 at

05:30 AM

. Reason: Double Post
---
Not to crush any feelings but I want to give you as much advice as I can so this is going to be long and please don't think any of this is me picking on you:
When painting always opt for thin coats over thick ones. It's better to have to paint several layers than accidently obscure details with one that is too thick.
I usually opt for about 3 colors when painting anything (4 if you count washes): a base color, a mid color and a highlight color. Your base color basically forms the shadows of the area, your mid color is the primary color you want something to be, and the highlight is only applied to the highest parts of the area.
Once you have your base layer down over the entire area you want to be a certain color (often referred to "blocking" in the colors) then move on to your next color, which should be a slightly lighter color. This gets painted everywhere but the recesses that you want to leave dark.
If you can paint each thin layer on slightly smaller and smaller areas, this will help create a more gradual blending affect more easily than trying to wet blend. Last apply your highlight color, also in thin layers, working over the higher points on the model, such as the edge of a surface that is pointed towards your imaginary light source (which is often straight above the model for most people as that is where most lights are in rooms so it makes it look more natural on the table) and any folds that'd catch the light (like the ones on his pants).
Now there are two ways to incorporate washes into the mix when doing this. The first is by painting the base color, using a wash, and then, when dry, repainting the base color over everywhere but the recesses. The other way, which is great for making things look dirtier or dingier is to use the wash last, after you've done all the highlights. This will darken the colors usually and blend the transitions a little better. This will also darken the overall fabric and get give it a bit of a dirtier or dingier look depending on the colors used.
I looks like you have blocking down pretty well (though always remember thinner is better when it comes to paints. It shouldn't look like coloured water, but it should be thinner than it comes out of the bottle. Generally the ratio is such to give it the same sort of thickness/viscosity of milk if that makes any sense), you just need to add some more layers to really get it looking good.
Now you don't need to get too complicated (like I'm prone to doing) and end up with 30 different paint pots on your desk because you obsessively pick out different details in different colors, but definitely try and come up with a system (like grouping the colors you need for certain things together, and then working through several models at a time so that way when the first layer is dry on the first model you're finishing the last and you can go back to the first one again. I find about 5 models to be optimal for me when batch painting like that, but some like more than that, some less, it's all what works for you) to make things easier to paint overall and things will go swimmingly for you.
While I'm at it, here are a couple winter camo schemes from real life to give you some ideas of how the military (several of them) do the whole winter thing: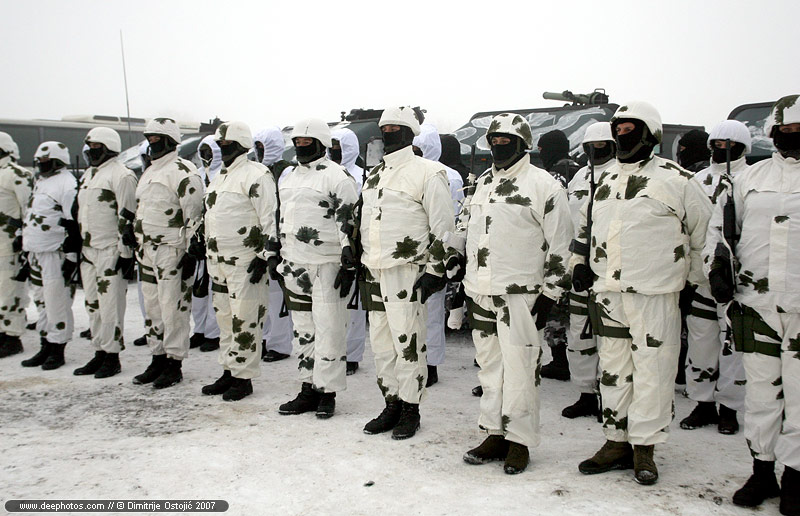 Now for sanity (as well as to prevent hand cramping) if you want to do a the camo thing I'd probably go with the more detailed camo on the sections of armour on the arms, shoulders and chest, and then do a white fabric (which is basically a light gray working up to a bright white) for the fabric parts like his pants and sleeves.
That or go for the full Space Wolves color scheme as they have a nice cool (as in color temp) color scheme that'd be pretty easy to replicate.
Senior Member
Join Date: Apr 2010
Posts: 227
Reputation: 7

---
Thanks a lot guys I'll try to do my best with your advice.
It's simply because I was really unsure what kind of colors I wanted to go for: and the helmet got most of my silly experiments. :D
Quote:
I would give it all a blue wash (brown or black for the pants) to try to blend the colors more
It already got quite a bit of blue wash, I may try to put some more if you think it's really necessary.
It may not seem so on the photo, but the pants are actually white, so giving them a black wash does not seem that much like a good idea. I might try some very thinned down light grey to create shadows next time.
Quote:
Not to crush any feelings but I want to give you as much advice as I can so this is going to be long and please don't think any of this is me picking on you:
Usually when I post something here, I'm starting to get used to getting lot of negative critique and while it is a bit emotionally difficult to accept that I suck at painting, when I usually like the results I get, I am very grateful that you took your time in explaining all this in depth: thanks a lot.
I would just like to point out that I don't really care that much about what the real millitary uses as a winter camo. What I was trying to go for is some chilling blue. If you look at the ice, it sometimes absorbs red color and you see it blue, like on for instance that photo:
http://upload.wikimedia.org/wikipedi...ce_terrain.jpg
I tried to do that by using The Fang as the base color. I will definitely work harder on the highlights. I was thinking Russ Grey could work out pretty well to get that chilling effect. Finally as a wash I used a very thinned azurman blue (I thinned it a lot, because the original color is in my opinion way too dark for what I'm trying to do).
Anyway what you said makes sense: thanks a lot for your advice.
---
The Emperor protects.
---
Fair enough. The only reason I brought up Winter Camos is because some people like to do stuff like that for their IG (which I know the Tempestus are only tangentially related to, but they do have that one group with the woodland camo) so I thought I'd offer it as a possibility.

And for the record, pretty much every sucked at painting models at first. We also liked our early attempts but for some people those models end up being like their secret shames: never discussed or looked at again. You'll get better in time and with practice.
Senior Member
Join Date: Apr 2010
Posts: 227
Reputation: 7

---
Here comes take two:
If nothing else, there shouldn't be that many different blue colors splattered all over :D
---
The Emperor protects.
---
Looking better. The gold might need a touch up though as it's got blue in it in places.

I know these aren't your colors, but you might find this useful for some ideas how they did it (it's GW's "how to" painting videos on painting the Tempestus guys, and the Taurox too):
Scions:

Taurox:

Sometimes watching other people paint is a good way to learn new stuff (at least that's what I do for new ideas how to do things).
Lower Navigation
My first tempestus