What to paint Tau!?
---
Ok Heresy, need a bit of help here. I can NOT decide on a paint scheme for the Tau I have. So, I'm asking you all, what YOU would like to see some Tau painted up like.
What I've tried so far:
Desert color digital camo. Just wasn't feeling it, so stripped the model.
Darker blue with red panels. Felt too Ultramarine like, so stripped as well.

What I've considered (besides the above):
Arctic theme. Whites as main with some light blues mixed in.
Soft sand like color. Havn't decided on the other colors. Probably deeper browns.
Metallic silver look.
Candy metallic's. Specifically, a candy green metal look.

Anyhow. Give me some ideas to go with! Between the other 4 armies I have and all the Deadzone stuff, I'm really drawing a blank on Tau. Everything else I have a scheme for/know how I want to do them.
---
I feel your pain mate, I really do, I ummed and ahhed about what to paint mine as for a good long while. I think the thing to thing about is that Tau aren't necessarily working in metals, it could be some sort of polymer so you could use that as an idea as to what sort of tones you want to go with, it could be quite a pastelly or bright tone. I'm going with a winter scheme of chipped white inspired *cough* stolen *cough* from Lew_b81 from Warseer, out of the ideas your mentioned I would explore the sand theme. Remember the advantage with tau is that they could have any colors you want as long as they have a sept color and so you can get some very cool combinations by using "drab" colors as the color scheme and then contrasting it with a bright sept color.
---
Tau look great in pastels with a contrasting dark color for the uniform. It also depends on how fluff loyal you plan on being, as there aren't an unlimited number of color combos displayed by the Septs. I am personally leaning to a roughed up Farsight Enclaves theme right now, but this will probably change in a week.
---
How about something like this? Instead of scaled skin you have scaled armor. shouldnt be to hard to transpose.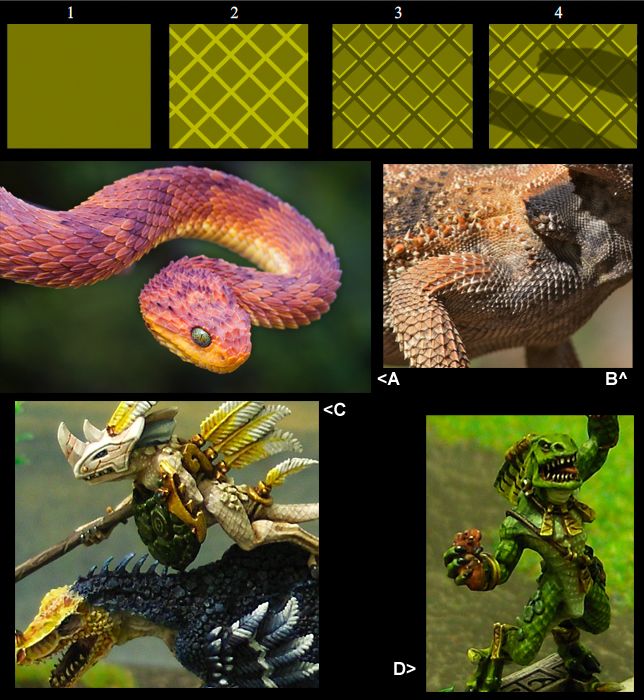 Itd be interesting to see on a Tau force and you could use any colors you wanted to get yourself away from having a specific sept. It would take alot of work but would look amazing in the end.
---

---
That would be cool. I'd like to see the pinks, purples, and yellows from that snake done up on Tau armor.
---
I've considered doing Tau but haven't gotten around to playing with them. The idea was to pull from Pacific Rim and paint them in a scheme like Gypsy Danger or Striker Eureka.
Because Tau have giant robot suits.
---
I spent a while looking at themes, decided to go with orange (if and when i get my Tau kill team) these are my other finalists.

The whote and red is properly anime, but i think it would look pretty striking. The other one is quite plain, but i was intending to add some weathering to the bone armour to make it more interesting.
---
My Salamander Logs & Army Showcase:
The Ashbringers 3rd co.
:::
Into the fires of Battle
:::
Army Showcase

Currently Painting:
Landraider Redeemer
---
Last edited by Varakir; 02-25-14 at

08:24 PM

.
---
Is that a specific program or your own artistic talent used to make those renderings? They are sweet.
---
Last edited by Jolnir; 02-25-14 at

08:31 PM

.
Lower Navigation
What to paint Tau!?