Highlight recommendation for purple?
---
Dear heretics, tis Oldman and once again I would like to sup from the chalice of knowledge and talent that is your good selves! I'm painting my space bootnecks deep purple, army painters alien purple to be precise and was thinking of using g.w shadow grey or russ grey as a highlight and would like your opinions or recommendations, as always many thanks in advance Oldman xoxox
---
---
Hello oldman, I would recommend grey as the first highlight and then do a extreme highlight of white on that.

Hope it helps
---
A pale blue, almost grey color, mixed into the purple itself will make a really nice highlight. Using a NON white color will keep it from mixing up pinkish. So your pale blue (almost grey), bleached bone, and I've even heard using dwarf flesh works too. Mixing it into the purple I mean, not as the color to use as the highlight by itself.
---
It depends on the hue you want for the model really, as there are many possibilities beyond grey. Do you want them to be a cold and dark purple, or a more vibrant and playful purple?
---
Thanks for the tips, @
Nordicus
, my marines will be a deep purple and I want the highlight to be subtle, that is why I was thinking of a bluey grey
---
---
---
HUGE BITZ RESTOCK NOW ON
---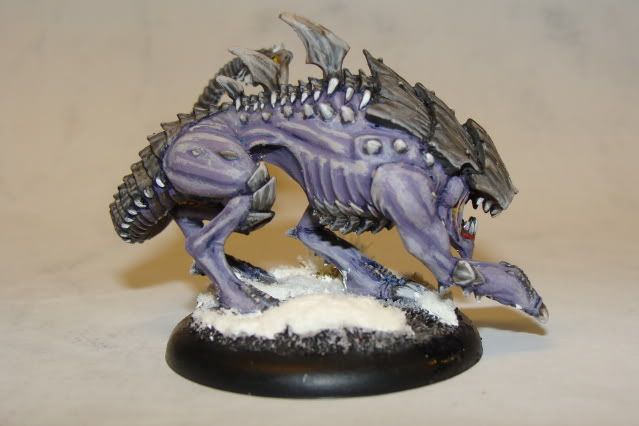 Here's a pic of a model i made. Almost won me a competition, but to the matter at hand.
I painted that with a gw purple and dheneb stone (learn what they are called now on your own, i have no clue) and i did it like so.
First i made a purple base, i might have been necron abyss even.
Really dark anyway, and then i went from purple, and added more and more sheneb with each layer and made the layer smaller amd smaller.
The highlighting is actually rather crude but it looks great on the tabletop.
So that is how i do it with an example for description.
Good luck! :D
---
www.trollsforge.com
-A nice miniature company and sculpting forum. The forum has unrivaled gs sculpting tutorials.
---
Quote:
my marines will be a deep purple and I want the highlight to be subtle, that is why I was thinking of a bluey grey
Allright - The reason I asked, is that there are many hues to pick from. @
Klomster
gave a excellent example of a whitish hue in his example (love that model by the way).
Another way to do it was with a pinkish hue. An example could be this lady:
If you look at her claws - I used Lich Purple (a very deep purple) and added Pink Horror to the mix going forward. It's not horrendous pink, but it does give off a very different shade of purple than if you used a grey or blue variant. It's a bit more warm to the touch.
Let's see the model when you're done
---
Thanks everybody, I'll give those tips a blast although I wont be showing minis as excellent as those, pics soon. Again many thanks for the knowledge everyone
---
Lower Navigation
Highlight recommendation for purple?