[Commission] Night Lords Commander
---
Heyhey, I finished this fella earlier. It's the Samael model by HiTech Miniatures (I'll post my review of their models later this week).
Here's a close-up shot of the face (had to brighten up the picture and ramp up the contrast a little so the face is more visible.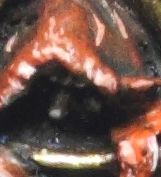 Just a little detail so you know that it's not just the tip of the nose sticking out from dark nothingness. ;) The way I took the picture probably didn't help much either due to a shadow over his face and a weirdly prominent tip of the nose which just peeks out of the shadow.
Hope you like him. C&C welcome as always.
---
The wings are really good. The contrast from dark to light is really effective. I can't see much of the face so can't really comment on that. The lightning on the armour is lovely and clear. A top model and I really am impressed with the work on the cloak.

Have some rep.
---
Your toast has been burnt and no amount of scraping will get rid of the black bits.

---
Stunning work Mate! i actually like the way the face came out especially.
---

---
Nice work!
---
Quote:
Originally Posted by
Jace of Ultramar
View Post
I think Tawa is a temporal entity that exists outside of the hobby/modeling timeline. Essentially, he's the Heresy Online equivalent of a Time Lord... which is kinda hilarious and frightening all at the same time.
"God-Emperor? Calling him a god was how all this mess started."
---
Yeees, yes, delicious, sweet rep. Juicy, fresh comments to feast upon... :D

Thanks, guys! The face I really just hinted at, only painting the outlines (eyebrow bulges, nose, cheekbones) in a very dark colour. I'm currently working on another figure from their range. Should be done within this week (along with a review of the figures).
---
That's an incredible conversion, where did you get all the bits from?
---
Me: To be honest im amazed there isn't a chaos god of not revising or at least chaos god of procrastination

MidnightSun: There will be, when enough people do it. Y'know when the Eldar were all engaging in their hedonism and Slaanesh ripped open the Eye of Terror with his creation? Slaanesh will have NOTHING on the God of Procrastination, and his vile minions will carve the galaxy asunder in a thousand year reign of blood.... Tomorrow
---
The paint job is excellent. I really love the NL scheme. But I really don't like the HiTech stuff at all. No matter the paint job the model is still crap.
---
This model is just great. Shadowy and filled with spots of light at the same time! This is sorcery! Great work!
---
The Legion of Perfects Project
Quote:
The calls of Slaneesh stir so deeply within me, as if I was birthed from the very essence of it. For my ambition to infinitely ascend above all is never ending, like fire within it burns me to ever cindering ash. Lord of light and ascension is who I am, realities burn to ash at my very passing. My luminescence is unparalleled for I am luminosity itself, all light is but a shadow of my silhouette
---
THis is a really nice model. I like the way the wings go light to dark and the details on the cloak. I like that the face can't really be seen. It makes him look more sinister and evil.
---

Red Orc
"Ahh, isn't Morfang sweet, like a great big 350-pound (that's 25 stone, UK users!) ball of cuddly death...?"


God, gives children to people so that death won't seem so disappointing.
---
@
falcoso
: As I said, it's not a conversion, it's built straight out of the box and by HiTech Miniatures (the specific model is called Samael).
@
Khorne's Fist
: Thanks very much. People liking the paintjob despite not liking the model is always some outstanding compliment in itself. Actually, it's the first time I painted a Night Lord and I have to say that the colour scheme really is very cool. As for my personal views on the model... well, the review's coming up on Thursday. ;)
@
neferhet
: Well, it IS a chaos model so a bit of sorcery has to be included. ;) thanks very much.
@
morfangdakka
: Thanks muchly and I absolutely agree about the face. He's a very sinister looking one. Not quire subtle with the huge nasty claws and all but sinister. ;)
Lower Navigation
[Commission] Night Lords Commander