Blood Angels Collection (Very PIC HEavey)
---
Hi there, i thought i'd show you guys what other forums have seen before since i am new you will get my entire collection.
Tactical Squad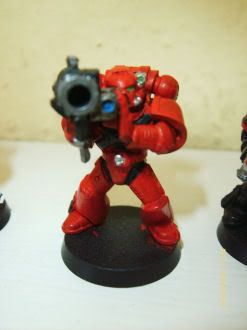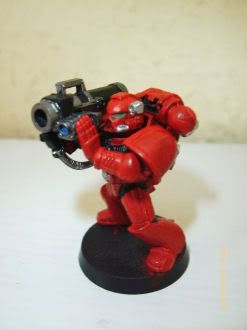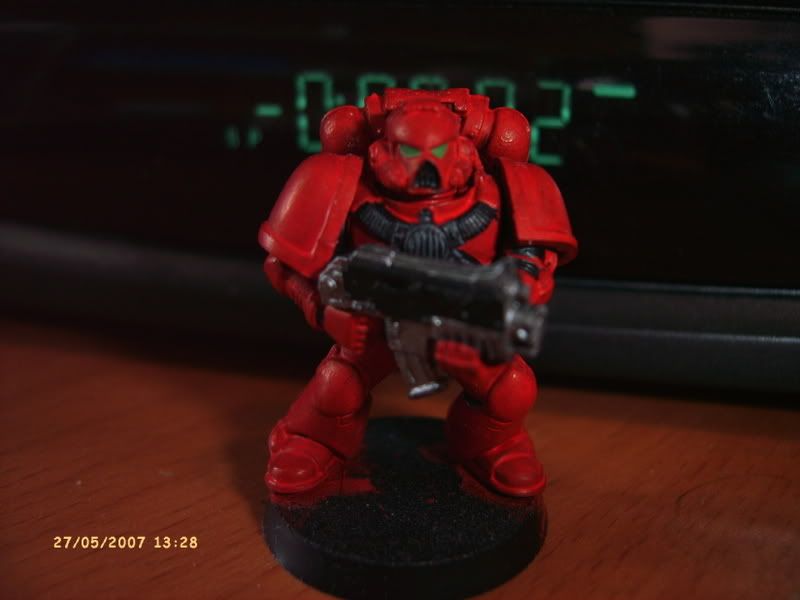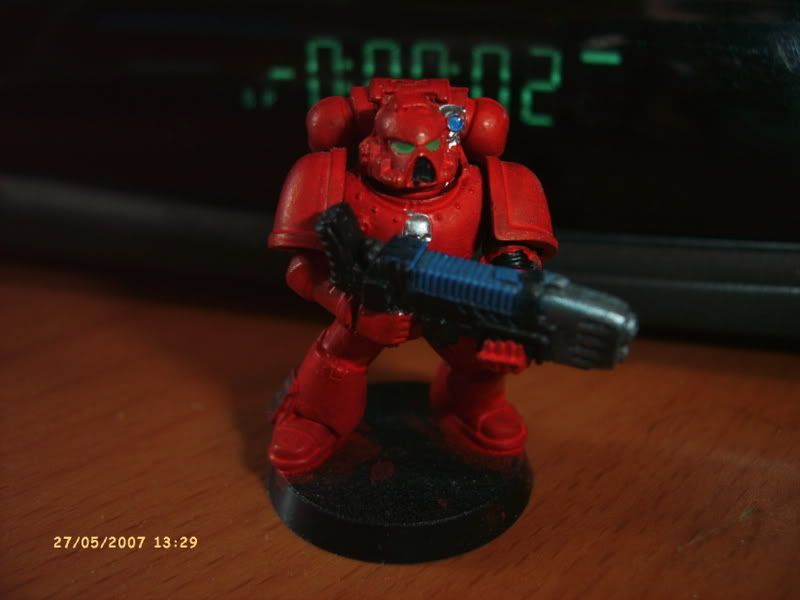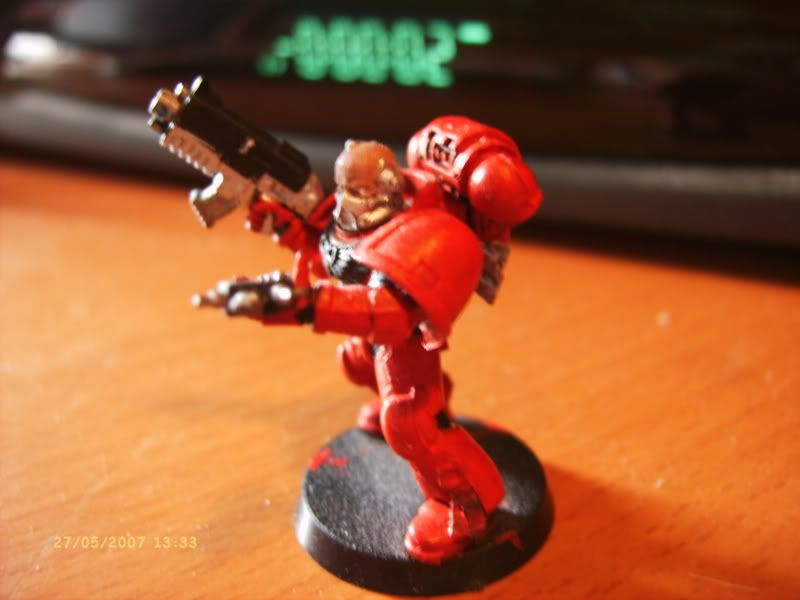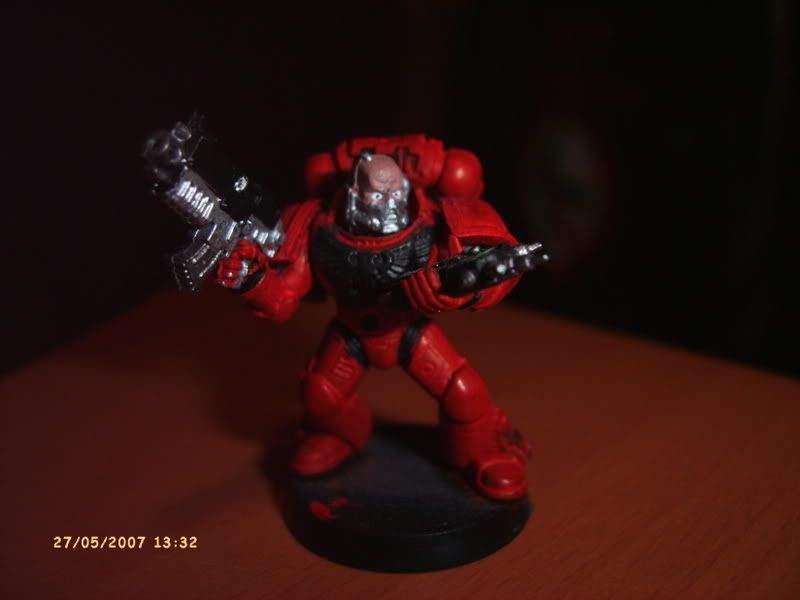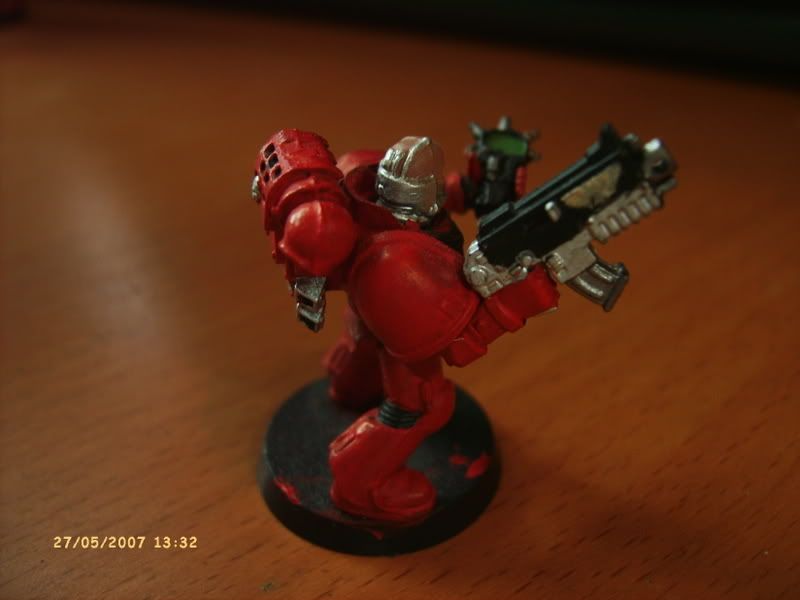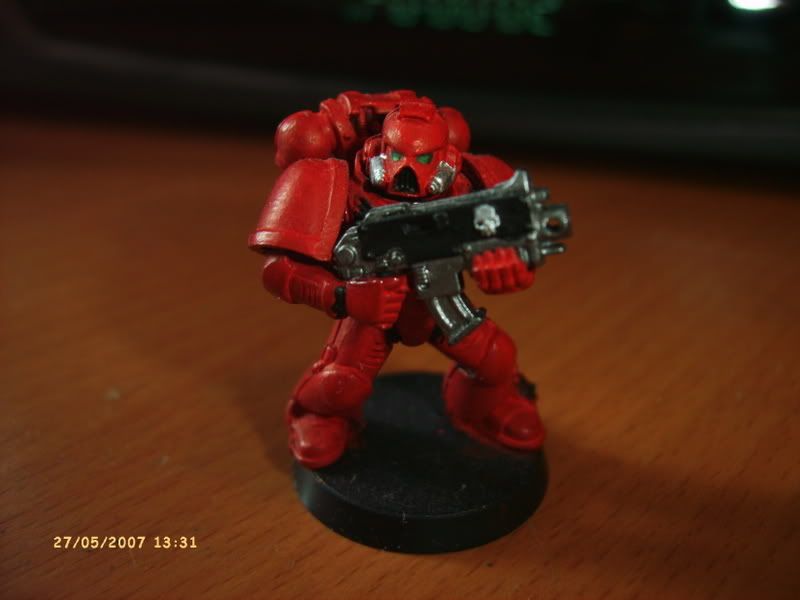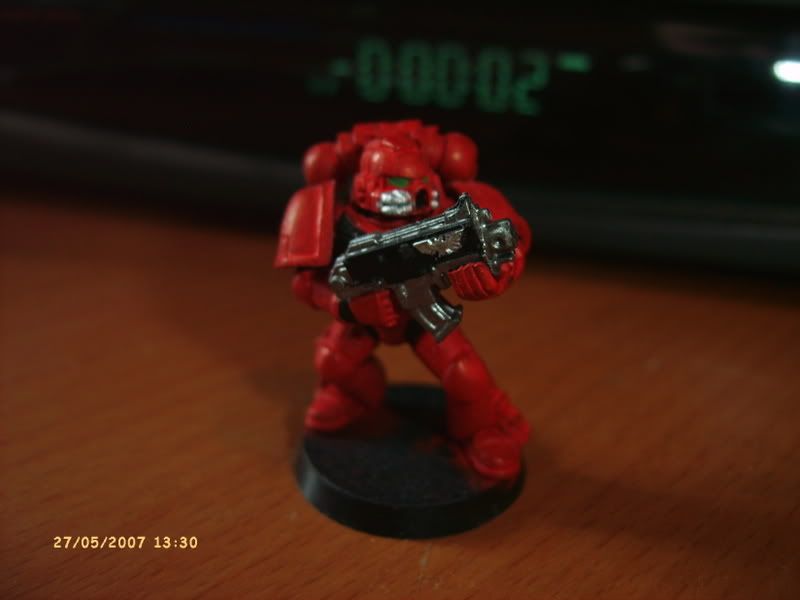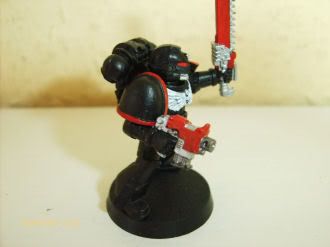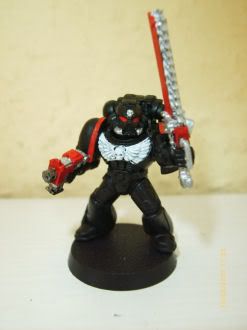 The Sergeant is as you can tell from my avatar my fave mini i've done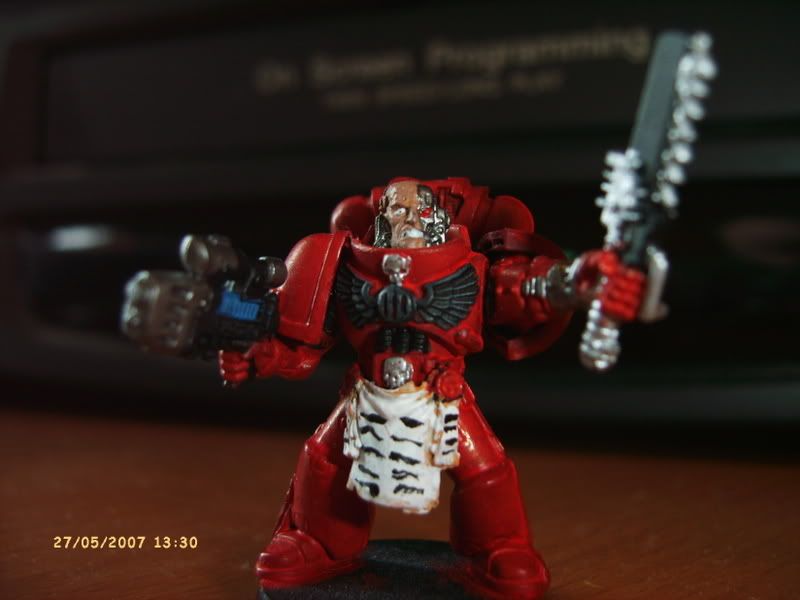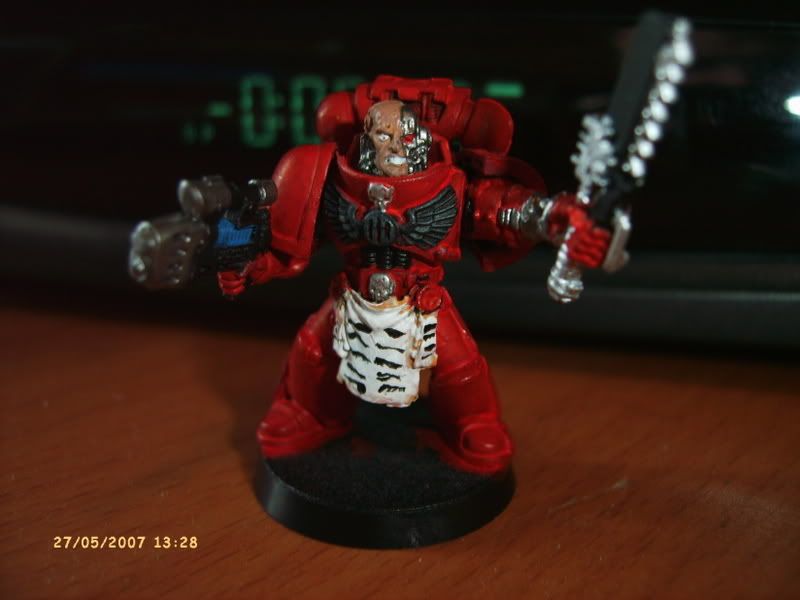 Assault Marines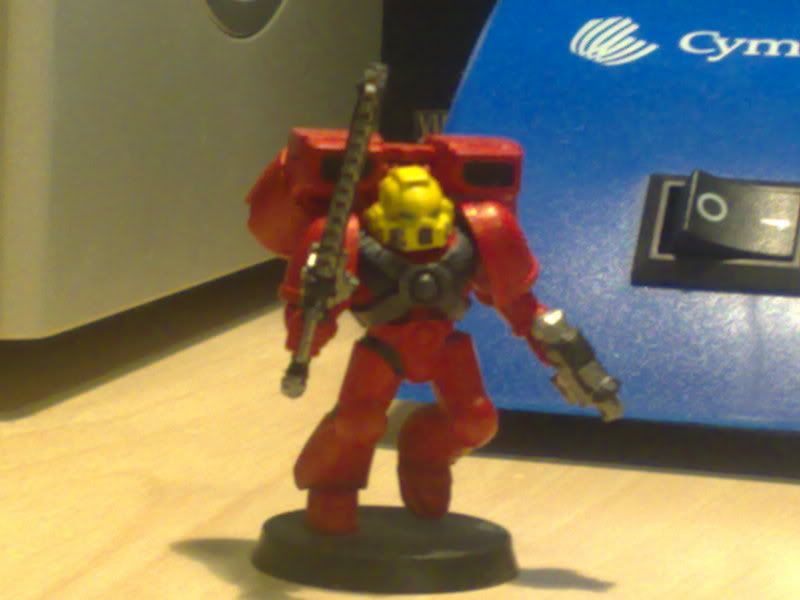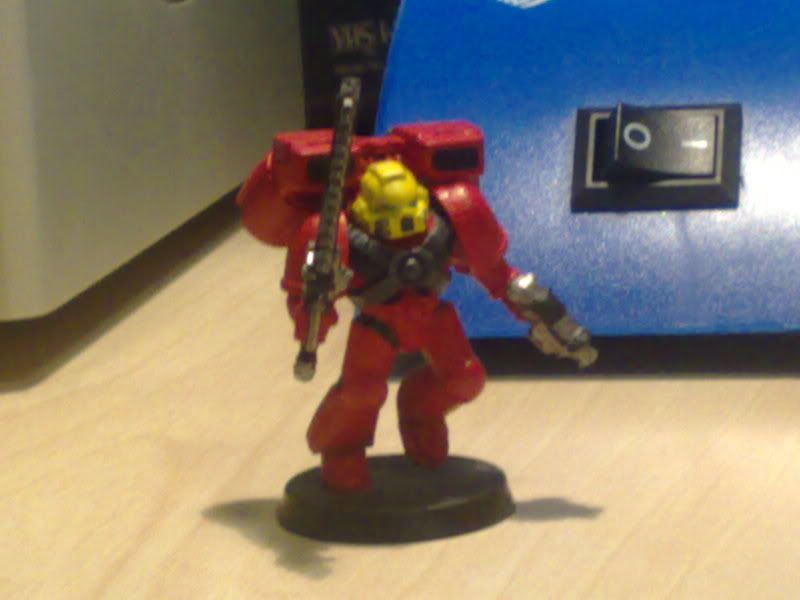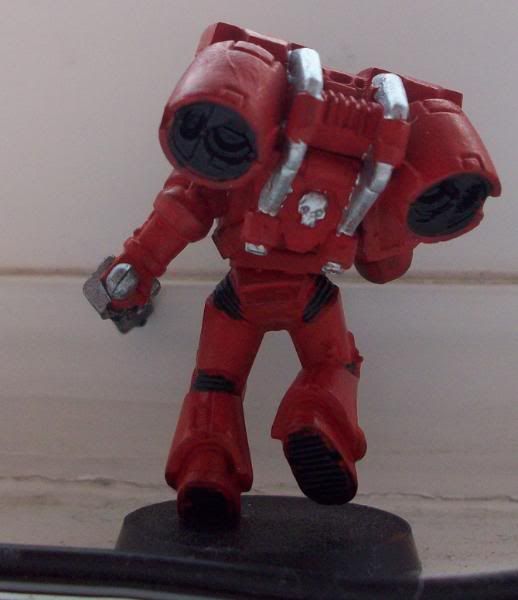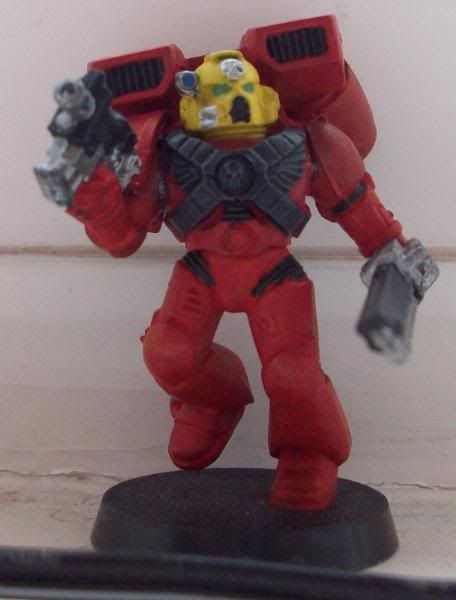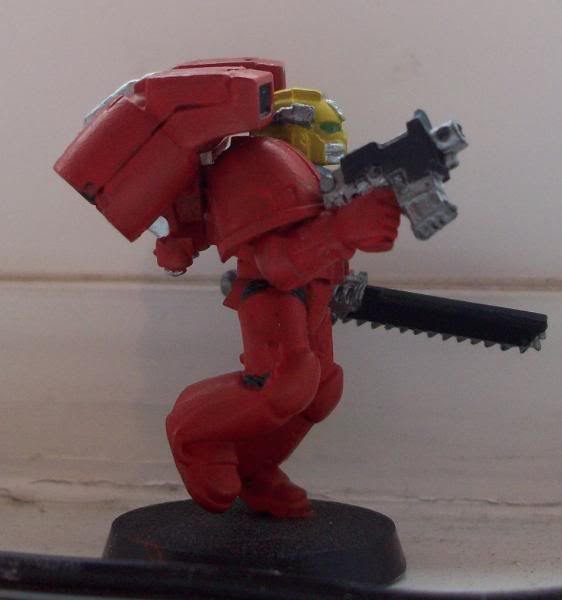 I hope you like what i have done so far, i am building up a combat squad atm, 2 assault squads of 5 man, 1 5an sniper scouts and 2 Death Company.
GO TO 2ND POST FOR REST OF MY STUFF
---
"Do You know What They Call Me In The Ancient Legends of The Dalek Homeworld? The Oncoming Storm"
"Never Forget Doctor, You Did This. I Name You Forever, You are The Destroyer of Worlds."
Join Date: Jun 2008
Posts: 16
---
im sorry dude but this painting is about average

its about the level i paint at nothing special im afraid
---
The paint job is a bit flat and in some places needs another layer or two of Blood red. To solve the flat paint work use some new washes, the mud brown colour wash does wonders for red power armour to give it depth and a black wash over boltgun metal makes it look more realistic. Keep it going though mate
-Callum
---
Hey there, good to have you onboard! I'm new to the forums myself but I've been gaming and painting since I was 11, and I'm 22 next month so I've been doing the whole hobby thing for quite some time! Blood Angels were also my first choice of army as well, back in the misty days of late 2nd edition.
As you're new to the hobby, you're new to painting as well but from what I can see so far, you have a good solid foundation to work on. I can tell from the neat lines that you've got patience and are willing to put in some effort for your expensive models, so good on ya!
The models you've got here are a really good first step and with a little advice could look really quite nice so I'll offer you a few basic tips which you'll be able to use now as they don't take much practice and will make your marines look great.
The first piece of advice is in regards to
Shading
.
First of all, it's a good idea to get some shading to make your characters look a little less flat (i.e. break up the solid red into different shades). There are different ways of painting to get this effect, a popular way of shading is to painting the darkest colour first (i.e. a dark red/red gore), then paint your main colour on top leaving the dark colour showing in the recesses (i.e. a normal red/blood red) and then highlight with a lighter shade of that character on the very edges of the model (fiery orange or a mix of orange with blood red). With your models painted the way they are already, I would recommend using another popular method, using 'washes'.
To do this, buy a pot of Baal Red and whatever the black wash is called (i haven't bought the new washes yet and still use their older inks which work in a similar fashion although are trickier to use). 'Paint' Baal Red over their armour and you'll find that it runs into the recesses of the model leaving a darker shade to imitate shadow. Do the same for all the silver metal on your models with the black wash and you should get quite a satisfying finish once dry. (As for the yellow helmet I'm not sure what I'd use as I've yet to try the new washes, but Gryphonne Sepia looks like it'll do the job)
You'll probably be happy enough to leave the models as they are at this stage and that'll be fine as they'll already look more sophisticated, but if you want to try and up your painting further, try highlighting...
Highlighting
Highlighting is a technique to give the illusion of light reflecting off edges or exposed areas of the model. If you want to give this a go I recommend painting Blood Red back onto of the armour after the wash has dried avoiding the areas where the wash has given a satisfying shading effect.
Once you've done this, you want to get a lighter shade of red for the edges of your armour. I'd recommend doing a 50/50 mix of Blood Red with Fiery Orange but if you want to use straight Fiery Orange that'll be fine. Dip the brush in the paint and wipe most of it off (a detail/fine detail brush is best). Then, use the side of the brush to guide the paint on to the very edges of the armour (such as the shoulder pads)- don't worry if you spill paint- you can always paint over your mistakes. This should provide you with a basic, yet pleasing highlight effect on your models.
Like wise for the metal parts, repeat the above process but using 'boltgun metal' for the main colour and 'chainmail' for the highlight.
One final point on highlighting, I'd recommend highlighting the black areas of your characters such as their boltguns and eagle crests with shadow grey or codex grey if you prefer…
Basing
Basing can really help your model look great and will distract the eye from many little mistakes on the model yourself. Basing is the part of the painting process where you make the base of your model (that black circular thing ;)) look like real ground. For 40k, my favourite method of basing is as follows.
Using PVA glue, glue some sand (GW modelling sand is pricy, but better than petshop sand [yes there's a difference!]) onto the top of the base. Once dry (which can take a while, being PVA glue) paint watered down Chaos Black or Black wash onto the sand.
Once the black is drying, dry brush (explanation below) codex grey onto the sand, immediately followed by fortress grey (although use less fortress grey than codex). This can be immediately followed by applying small patches of PVA glue onto some parts of the sand on the base and sticking on static grass. Voila! You have a nicely based model!
The three basic techniques above should really help you advance your painting, but there are two other things you should be aware of…
Dry Brushing
Dry Brushing: This is a technique that involves you dipping your drybrush into a pot of paint and then wiping about 80-90% of the paint off onto the tissue. Then, using light, quick strokes applying the rest onto the area you want to paint. Your applied colour will build up slowly but give quite a nice, realistic effect. Dry brushing is particularly effective for metallic areas; for example on your boltguns, instead of painting boltgun metal directly over the black areas, dry brush it on and if you want, follow this with a lighter dry brush of chainmail…
Paint Thinning
Thinning your paints will help prevent the paint 'caking' on your model, obscuring detail as well as providing a better finish. It's too laborious for most people to pour out the paint into a little well mixed with water so I'd recommend each time you dip your brush in paint, quickly dip it into your water afterwards. This should be sufficient enough for your needs.
Hopefully you should find the above steps quite useful, I would post pictures clarifying what I mean but unfortunately I am currently unable to so please feel free to ask any questions that you may have. The tips I've given explaining the different techniques are greatly simplified and there are many different ways of doing what I suggested, however you've gotta walk before you can run and I'm sure that with time you'll be able to explore the more advanced stuff.
Let me know how you get on, I look forward to seeing more of your stuff!
Cheers,
El
P.S. Apologies for any poor spelling, it's late and I'm very tired
Lower Navigation
Blood Angels Collection (Very PIC HEavey)