Ogre Kingdoms
---
Here are a few Ogres i have been working on. These are part of a small army that includes some Yetis, Gnoblars and a ltd ed model with pistols.
So here is whats done so far.
The Hunter, i have a couple of sabretusks to go with this guy that should be finished tomorrow.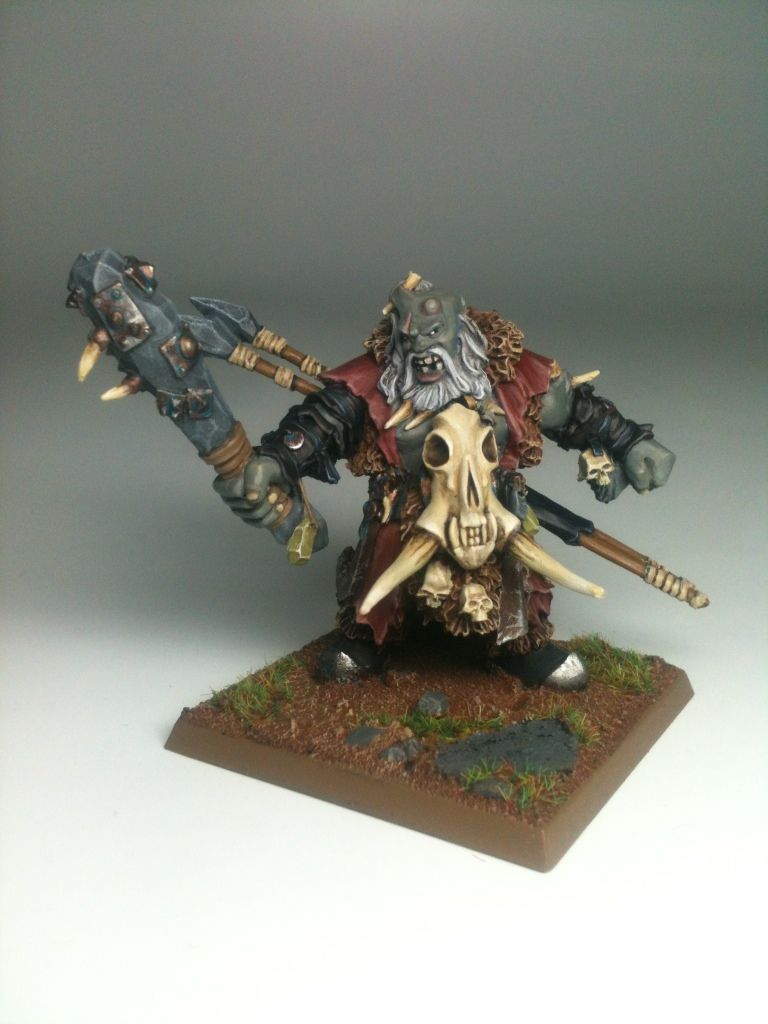 Some Ironguts done
Some Ogres that just need a few Gnoblars adding.
C&C always welcome
---
nice job, especially on the hunter: I really love that model to begin with... just a shame their rules are so poor.
---
---
The models are based on the old versions of Ogres so the skin tones and weapons are from the older army book. I used Shadow Grey/graveyard earth 50/50 and then mixed commando Khaki into the mix for the highlights on the skin. These are the older paints but the same results can be achieved with the new paint range. Though i do really like the new ice styles and wouldn't mind having a go at them sometime in the furture.

Thanks for the comments, i should have the Yetis done tomorrow but i will post pictures on the progress regardless of completion.
---
Todays work on the Yetis went out the window! But i decided to work on this character instead. I really enjoyed the doing the guns
but i dropped him as i was about to take some pictures
I was really lucky that i only scratched the tip of the gun so it was easily fixed
C&C welcome
---
Just finished the Yetis after a weekend off, Ghoblars next
.
C&C welcome
---
I personally would add an extra highlight layer to the iceweapons to really make them pop. Don't be afraid to use pure white (provided that you thin it down enough). It's "problematic" covering usually prevents it from being too stark if you don't overload your brush (run it a few times over a tissue, but don't drybrush it).
---
I had an AMAZING time at fightclub.

I arrived a bit late, so I missed the introductions, but man... I had an awesome time at fightclub! 10/10 I would recommend fight club to anybody!
Tzeentch laughs at likely
Join Date: Dec 2009
Location: Inside my Head, Bristol, UK
Posts: 8,558
Reputation: 44

---
I agree with Elmir that the highlights are not quite high enough; as well as the weapons, the faces look a little flat.

They would also pop more if the little trophies &c. were picked out in a contrasting bone palette to add variation to the large areas of fur.
Lower Navigation
Ogre Kingdoms