First attempt at necrons
---
Wanted to do something a bit different, so i went with a purple stippled effect.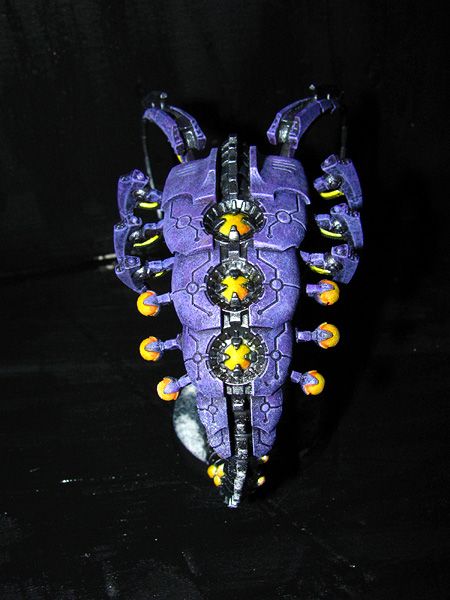 ---
I really like the purple stipple effect on them. It makes it not solid and more almost stone like. Very nice job I hope to see more.
---

Red Orc
"Ahh, isn't Morfang sweet, like a great big 350-pound (that's 25 stone, UK users!) ball of cuddly death...?"


God, gives children to people so that death won't seem so disappointing.
Angryman
Join Date: Aug 2009
Location: A wretched hive of scum and villany. Actually PNG. Goddamn this place is a shithole.
Posts: 4,304
Reputation: 22

---
Looks fantastic. I like the purple effect. Did you do any highlights on the black sections or are you still working on it.
---
Sanity is for the weak.
'Evil will triumph because good is dumb.' Dark Helmet,Spaceballs
According to LUKEVALENTINE's test i am a diciple of khorne. Figures really.
Tzeentch laughs at likely
Join Date: Dec 2009
Location: Inside my Head, Bristol, UK
Posts: 8,550
Reputation: 44

---
The stippling looks really good.

I agree with shaantitus that the black seems flat at the moment.
---
Love the purple, you hardly see any purple like that on necrons. The yellow lights are done well to.
---
I used to roll the dice, Feel the fear in my enemy's eyes
Quote:
I'm afraid there's no authoritative source for thinking you're an asshole
Aramoro
---
This is your first attempt you say?

Well... Awesome first attempt then!
---
Banned
Join Date: Jun 2009
Location: Vancouver
Posts: 5,108
Reputation: 8

---
LOL that thing is awesome man! The scheme really pops and gives them a creepy alien invasion feel :D
Lower Navigation
First attempt at necrons