Tyranid mycetic spores
---
Thought I would pop this up here in case anyone is interested
Given the lack of official mycetic spore from GW I made a couple myself, far from amazing but I reckon they give the right idea.
I made two from a two part polystyrene egg, a couple of old CDs, hot melt glue, sand and some wires.
The
egg came from hobbycraft
and cost about £3, its 6" tall, hollow and splits into two halves. I used a lighter to burn/melt the surfaces of the egg to give texture and shape, also to hollow out the insides a bit. Each half egg was glued to a CD at about 30° from vertical, holt melt glue in stringy gloopy gobs all over the inside and spilling out of the bottom of the egg makes it more in keeping.
For the ripper tentacles I stripped the outer insulation from about 1' of three core cable, bunched the three cores together and folded in half to give 6 individual tentacles, I bent these into an approximate shape and glued them in with more globby hot melt. To hold the shape I put a spot of superglue where the tentacles cross each other, keeps them a bit more cohesive and rigid in shape. I still need to fabricate some claws for the end of the tentacles but that will just be a bit of sprue greenstuffed on.
I sprayed the whole lot with an pale yellow acrylic primer which contained cellulose, this actually melted the polystyrene a bit more and gave it a texture similar to pumice, I gave the inside a quick coat of red primer. I washed all over with a thin brown wash and drybushed with creams/whites on the outside; the inside gloopy bits got picked out with purples, reds and pinks.
Theyre not quite finished yet but here are some photos - cost of two mycetic spores? £4
Excuse any bad quality, they're off my phone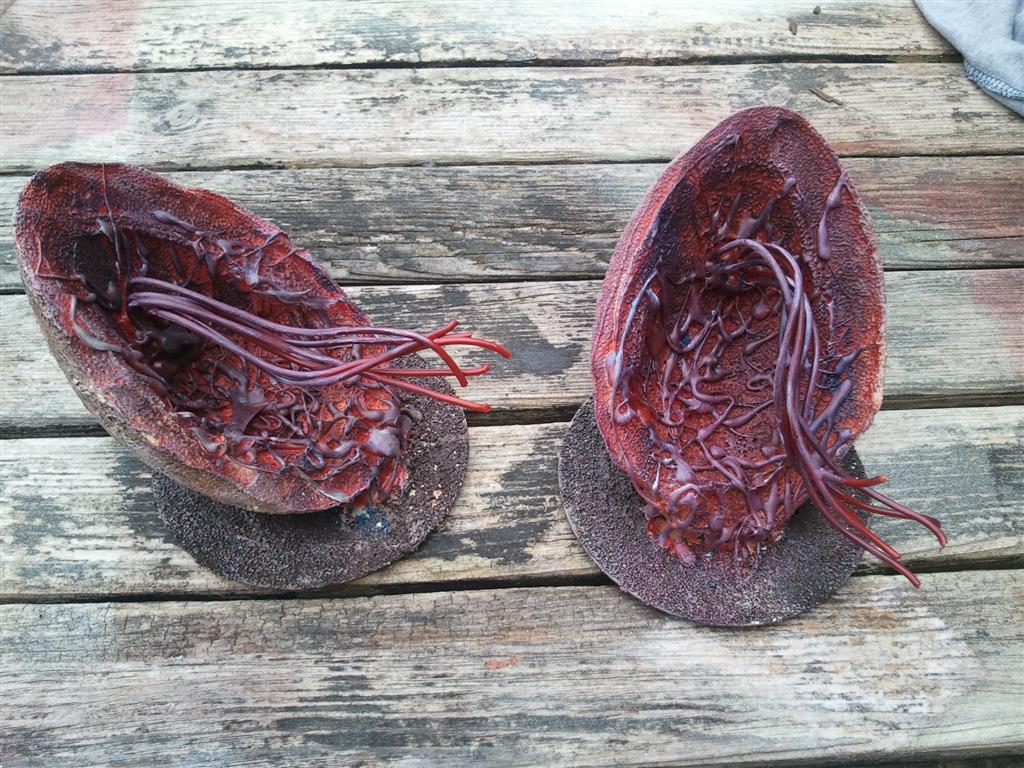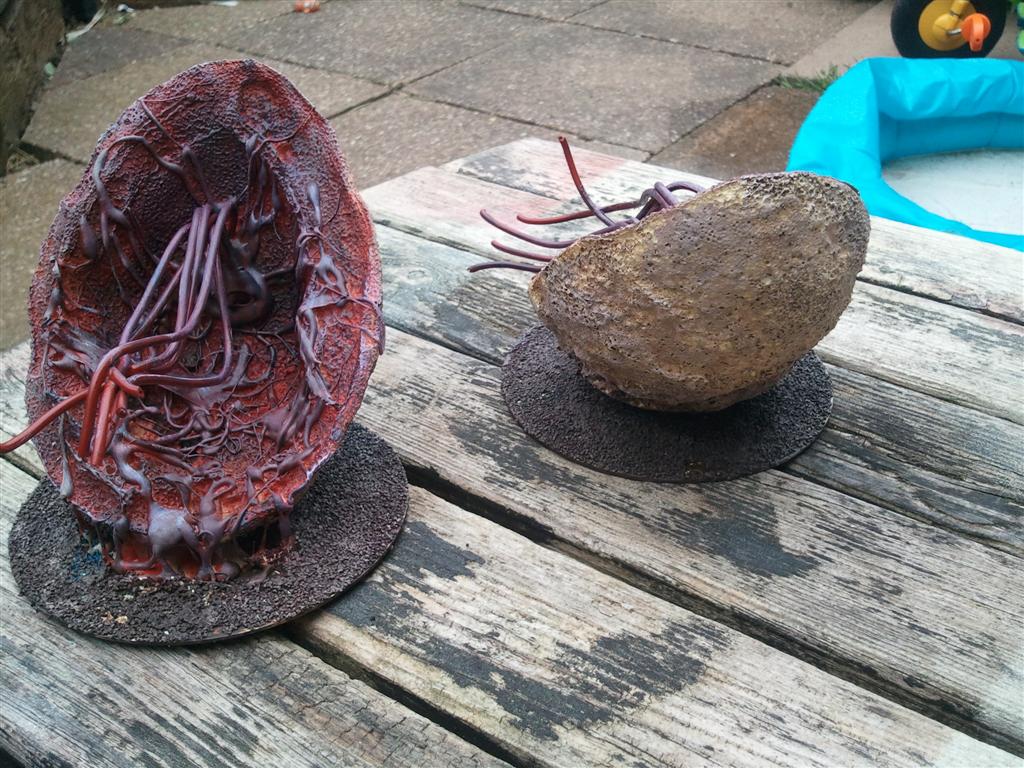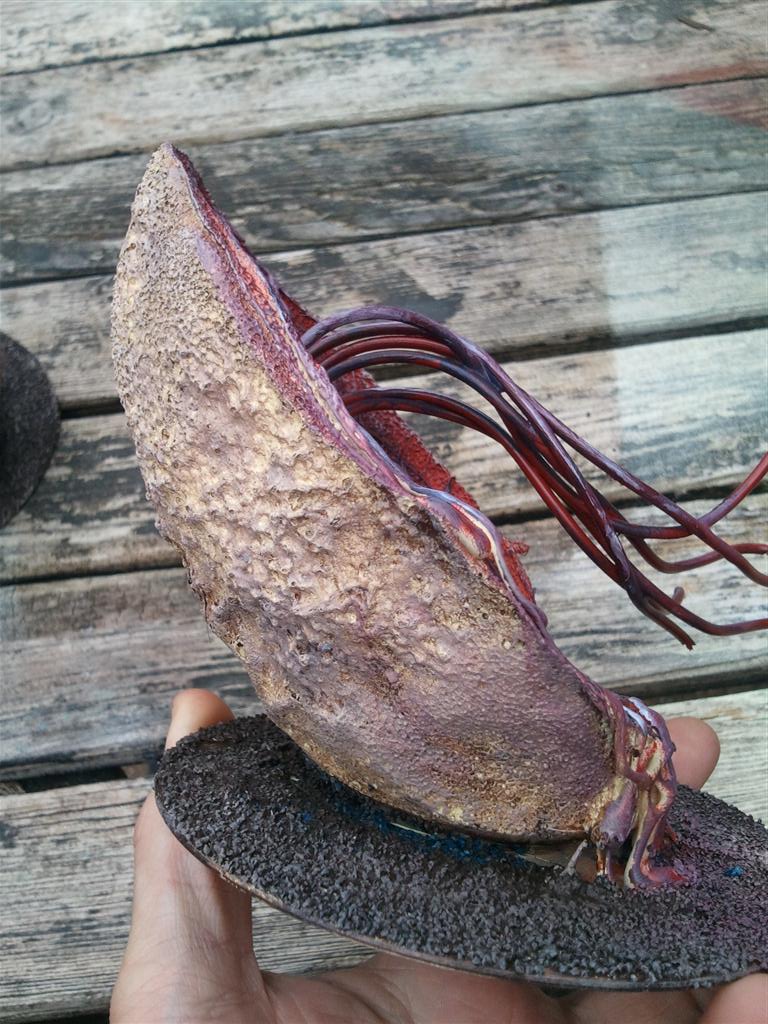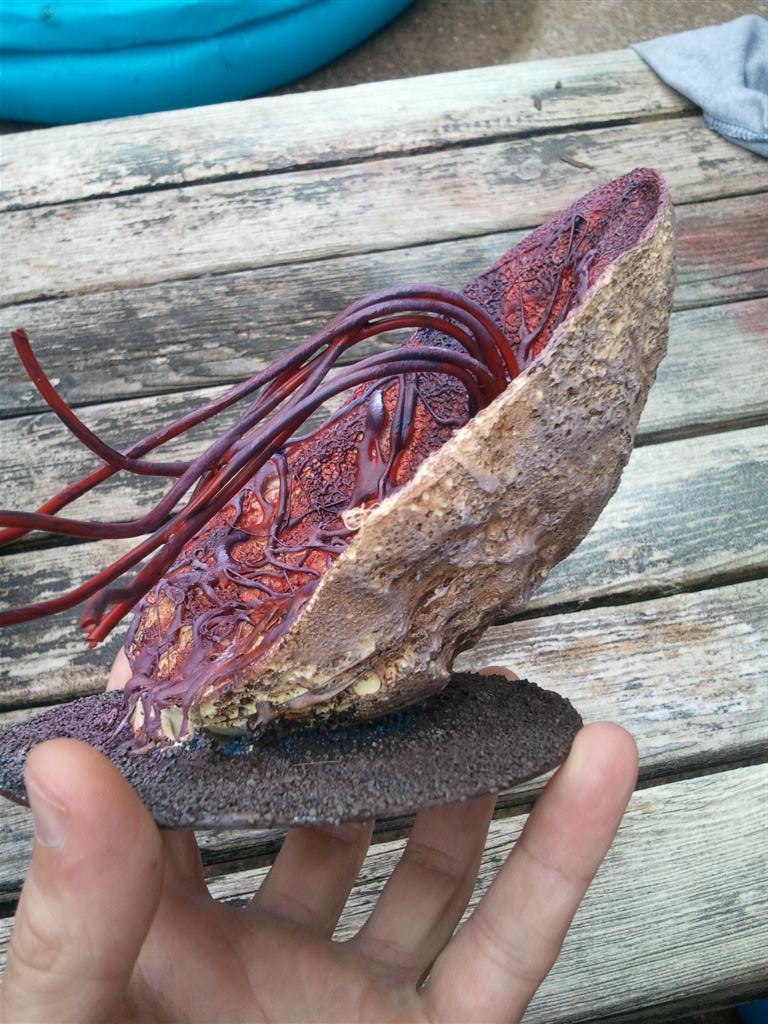 With an unfinished devilgaunt for size reference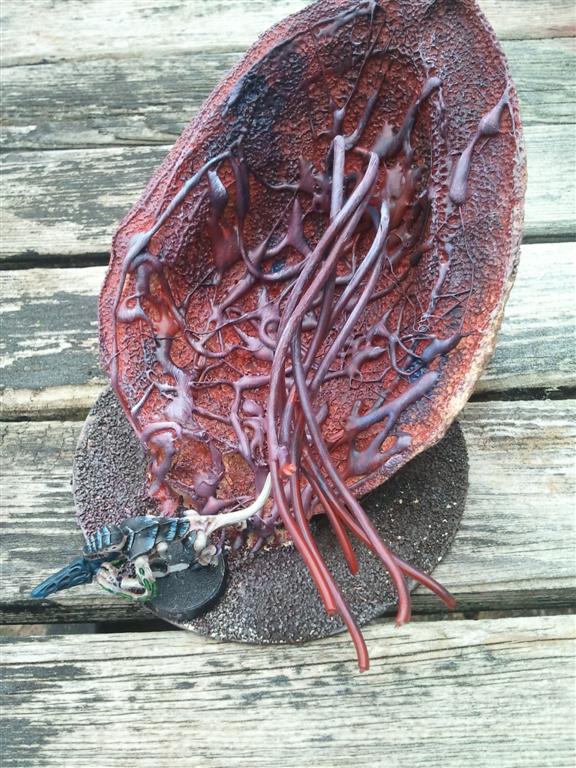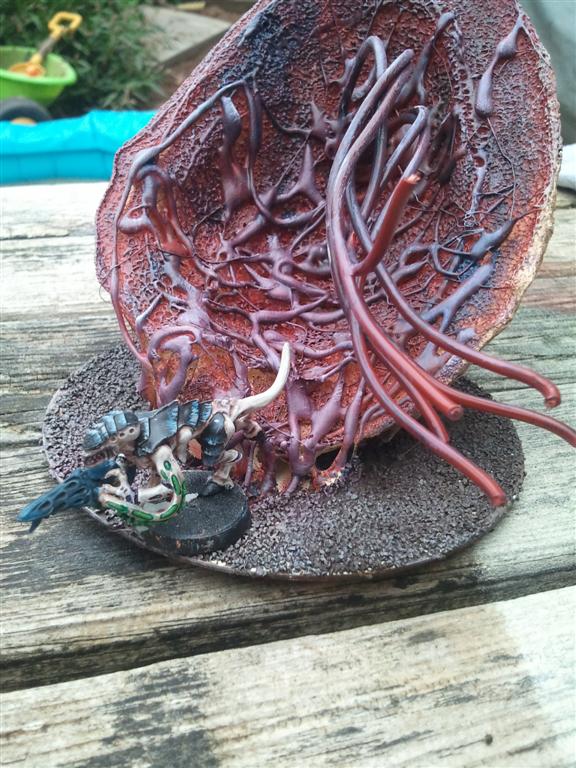 Sorry if the pictures are a bit large!
Still got the tentacle claws to add and a bit more painting to finish them off but I'm pretty pleased all together. If I get round to it I may build a set of spore weapons (VC/BS/DS/Dev) and mount them on a bit of steel wire so they can just be pushed into the polystyrene above where the tentacles are glued
Senior Member
Join Date: Oct 2011
Location: Gdynia, Poland. Sometimes Evesham, Worcs UK
Posts: 726
Reputation: 11

---
They look great! Nice idea to use the eggs and the way the glue holds the paint make them look suitably slimy.

+rep for the idea (which I might have to steal ;) )
---
Cheers for the comments
I could incorporate a mini in a sac, I've got an old termagant that was partially melted in a paint stripping experiment that could work quite well; however because I don't have a dedicated spore per unit yet it would look a bit odd having a termagant packed in with a fex or zoan :D
Certainly something to bear in mind in the future though!
Lower Navigation
Tyranid mycetic spores