---
Aye, Sentinels work great as Kans, and SM Dreadnoughts as Deff Dreads
Alice
---
ZOMGZOR CUSTOM USER TITLE
Join Date: May 2011
Location: Finger Lakes Region of NY
Posts: 6,195
Reputation: 56

---
I think if yah yanked the turbines off and put one massive one on top that might make it look majorly Ork. Or take the engines from their buggies and place like 3 of them in a row in each turbine cowl. They like big engines :-p
---
---
I got some of that modelling wire mesh, was wondering whether you think I should put some over the pilots cockpit after I paint the orc, to give it a "window" rather than leaving it bare.
---
mesh on the cockpit would be cool, keeps da bigger birds outta yer teef.
There those pipes cross over in the back, you should wrap some wire around the join. Just some thin metal wire. Strip the paper off a twist-tie and use that. You can use it in other places too to make it look like stuff is just lashed on.
Thin strips of paper thin styrene make great duct tape. If you use plastic cement to coat the underside it softens it up enough to make it conform to what's under it just- like tape would as well. Leave the ends unglued and bent up a little, maybe rough up the edge with your nippers to make a jagged tear.
I did it on my rhino trukk conversion and it really helped sell the de-armored look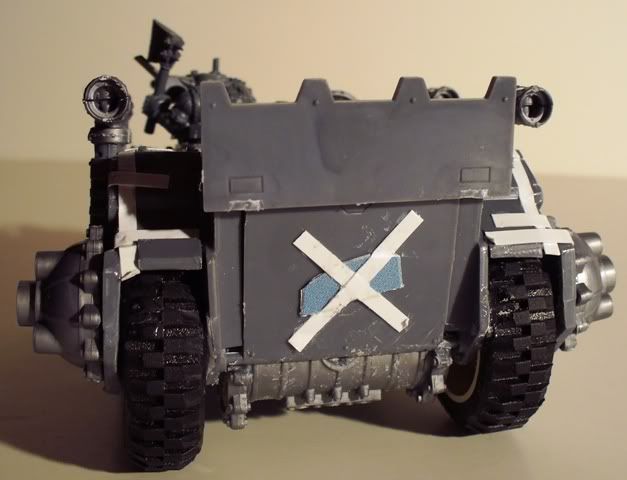 ---
-=============]xxxxo Galahad oxxxx[=============-
Check out the Heresy Combat Calculator -- MathHammer Made Easy!

Codex: Angels Errant. Read it, please.
Heresy Forum Rules -- Read them, damnit!
Reporting: When/How/Why -- Read that too!
"...remember the Golden Rule: Chill out, they're only plastic spacemen!" -Brother Jazzman
"Galahad is 100% correct in his explanation. Anyone who says otherwise to [him] is vastly mistaken." -The Wraithlord
"
You know what? Fuck DC comics."
-Robert Downey Junior

---
Get your hands on the grot turret from the battlewagon kit and add it to the top of the hull. The tusks from the kans or deff dred kits would be sexy too, jutting from the front all menacing like.

And got's, need hapless grots infesting the dangerous parts.

Other than that, great idea and one I may borrow to build one for my sons orks.
---
You gotta have a squig chewing on some wires on one of the wings. Also a spotter grot bolted to the outside to help the pilot pick out targets. I think I would have put a ork in the back chucking out some bombs you know for precision bombing.
LIKE THIS
---

Red Orc
"Ahh, isn't Morfang sweet, like a great big 350-pound (that's 25 stone, UK users!) ball of cuddly death...?"


God, gives children to people so that death won't seem so disappointing.
---
Last edited by morfangdakka; 08-01-12 at

07:22 AM

.
---
I'm thinking of getting the grots from fw and choosing the two I've circled in the picture, the one with the ammo is going to be at one of the doors about to drop it, the other is going to stuck to the side of the aircraft somewhere and I may add 1 or 2 others as well but not sure yet.
---
Taken the suggested ideas on board btw
Anyway here's what I've done in the mean time while waiting for other bits to turn up.
Killa Kan
(Although if I add an additional close combat weapon and another ranged weapon it could pass as a deff dread?)
Looted Wagon
---
Last edited by Words_of_Truth; 08-01-12 at

01:47 PM

.
Lower Navigation
Looted Valkyrie