---
heres a *ahem* crude plan of what i think would look cool, what do you guys think? haha i love MS Paint
---
The color in the smaller, right picture looks pretty good. The color in the larger image is VERY bright. But it is your model and if you want it that bright, go for it.
---
"Fetch me another plaything. This one seems to have broken." -Urien Rakarth

Space Marine- "This planet is ours, witch."
Eldar- "No ... This planet is theirs ..."
Tzeentch laughs at likely
Join Date: Dec 2009
Location: Inside my Head, Bristol, UK
Posts: 8,556
Reputation: 44

---
Quote:
The color in the larger image is VERY bright.
I assumed that the yellow/blue in the big picture are to show where the gold and steel go rather than the actual colours.
---
I think the blue is meant to be turqouise, the yellow is gold, i think it'd needs something to break it up though as i think it may be a bit much as it is
---
yeah it was gold and turqouise, but i just realized using white inplace of the gold and putting gold trim around the turqouise and for smaller detail would defintatly look better!!
now i just gotta start getting my army and im set
---
I think that your white and turquoise scheme could work out really good. Possibly you might want to add a third color at the joints or forearms and lower legs. But its all your choice and run with what you like.
---
If u like gold... and u like turquoise... have u thought about the Nihilakh Dynasty, obviously make the gold brighter though (even though it sayd ts gold in this month's white dwarf paint guide
- however a good guide non the less if u do decide to go Nihilakh)
---
Me: To be honest im amazed there isn't a chaos god of not revising or at least chaos god of procrastination

MidnightSun: There will be, when enough people do it. Y'know when the Eldar were all engaging in their hedonism and Slaanesh ripped open the Eye of Terror with his creation? Slaanesh will have NOTHING on the God of Procrastination, and his vile minions will carve the galaxy asunder in a thousand year reign of blood.... Tomorrow
---
Quote:
Originally Posted by
KarnalBloodfist
View Post
Here are the non-metallic Necrons that I did: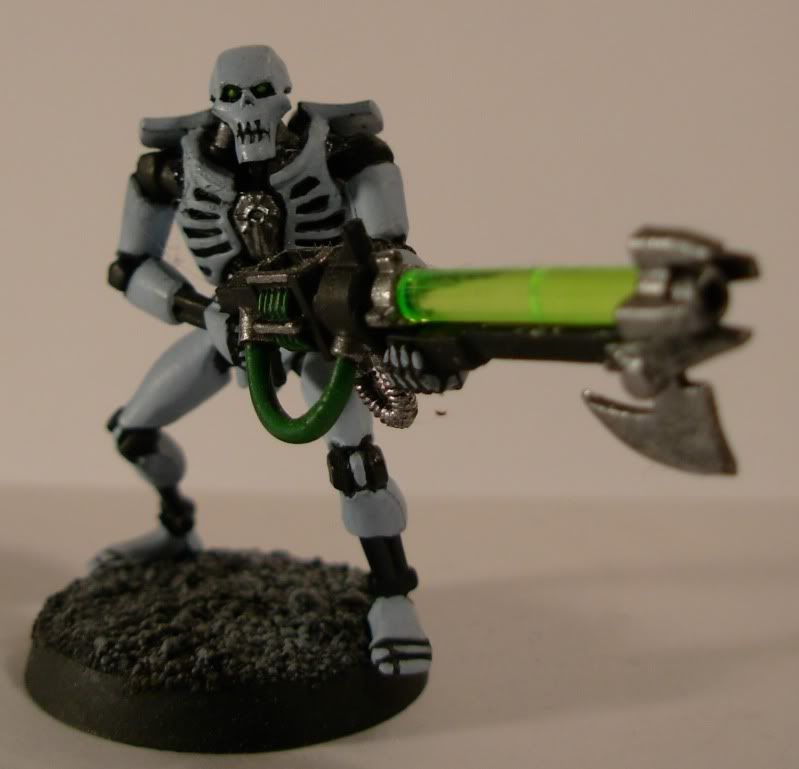 Do them in white and black instead and they'll look like stormtroopers from Star Wars!
Ah, now THOSE are the droids im looking for
Lower Navigation
Necron Advice?