Heresy-Era Son of Horus
---
I've been taking a break from The Pyre (plog link in my sig) and messing around with a couple side projects. Something I've wanted to do for a long time has been a Heresy-era Sons of Horus army, as they appear in the Visions of Heresy art book series (and on the covers of some of the Black Library Horus Heresy novels.)
So I painted a test model-- I didn't really take my time on the highlights or anything, and it's a far cry from my best work. I just wanted to see how the color scheme worked out. I never liked the Mk III backpacks much, so I used a spare standard backpack on this model.
Anyway, I can't decide if I like it or not. I could go for a much lighter grey, and chalk how dark they look in the artwork up to lack of lighting in the pictures (smoke and flames and all that does darken stuff up quite a bit), or I could go with the traditional green-grey. What do you all think?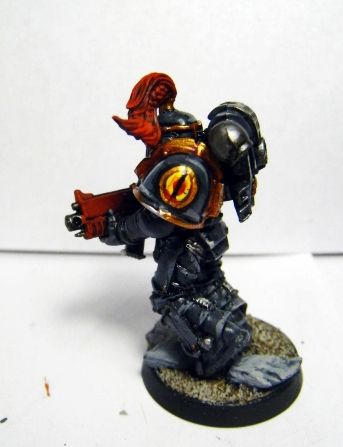 This is Abaddon, as an example for the color scheme:
http://images1.wikia.nocookie.net/__...r_of_Chaos.png
---
IN THE US? ASK ME HOW TO GET 10% OFF GAMES WORKSHOP PRODUCTS!


---
Last edited by The Son of Horus; 04-29-12 at

03:01 AM

.
---
I personally love it, it may need some tidying up but I have seen your other work so I have no doubt that as a whole the army will look amazing.
---
Personally I would have thought it was Iron Warriors if you hadn't have said it was Son's of Horus. The grey seems far too dark for me and the gold makes its confusing. The majority of the images I've seen of SOH/LW have them in black trim predominantly and the ones with gold do feature that very light grey.

That said the actual technical painting of it looks very good to me though!
---
This is a better example of the color scheme:
I don't really care for the red gloves, though, so I went for the red bolter casing on its own instead.
---
IN THE US? ASK ME HOW TO GET 10% OFF GAMES WORKSHOP PRODUCTS!


Senior Member
Join Date: Jan 2010
Location: Somewhere between the Warp and a Craftworld
Posts: 2,063
Reputation: 1

---
I wold have thought a lighter grey with a dark wash would work better
Same as Jacobite, if it wasn't for mentioning it was Son's of Horus, I would have thought it was Iron Warriors
---
Quote:
Mate, bacon can do anything.
---
The grey could do with being a tad lighter to match the pictures and the gold looks a little dark too, maybe a subtle highlight with some Burnished Gold could bring it up a little.
---
How about this?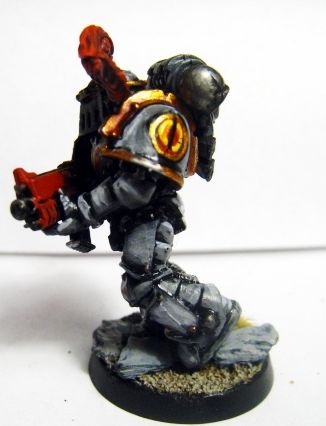 ---
IN THE US? ASK ME HOW TO GET 10% OFF GAMES WORKSHOP PRODUCTS!


---
much better, much more SoH like than the original test model.

----

on a side note wasnt Abaddon in Termie armor by the time they became the Sons of Horus?
---
Quote:
Originally Posted by neilbatte
if you squint the Sigmar stuff doesn't all look like the love children from a Necron and Blood Angel orgy.
---
Yes, Abaddon wore Terminator armor at that point-- and he is in that picture (it's the link... couldn't get the [img] tag to display correctly.) The Marine is just a random trooper.

I was kicking around what Codex I'd use for a Pre-Heresy army, and I'm kind of leaning towards Space Wolves. More free-form than Codex: Space Marines, but most of the same general squad types. And Grey Hunters are closer to Chaos Space Marines (as far as how they play) than Space Marines are to Chaos Space Marines, since they have a bolter, bolt pistol, and close combat weapon. I think I want to downplay the Chaos element of the army... it'll be there, but it'll be subtle. The Black Legion has ten thousand years to become what they are at the end of the 41st millenium. The artwork shows some chaos icons here and there... mostly more and more arrows added to the Eye of Horus until it's the eight pointed star when the Legion fights on Terra.
---
IN THE US? ASK ME HOW TO GET 10% OFF GAMES WORKSHOP PRODUCTS!


Critique for da CriticGod
Join Date: Aug 2010
Location: Philadelphia, PA USA
Posts: 3,350
Reputation: 43

---
The yellow edged eye on the shoulder pauldrons reminds me more of Sauron than the eye of Horus. But hey I'm sure Morder can always use a few good marines.
Lower Navigation
Heresy-Era Son of Horus