---
The Tau model is very, very nice! Thanks for showing it. The Tron style works so well with the model.
---
"Creating Wurlds since 1985"
Paratus pro quisquam, praeter...
Angryman
Join Date: Aug 2009
Location: A wretched hive of scum and villany. Actually PNG. Goddamn this place is a shithole.
Posts: 4,304
Reputation: 22

---
I agree. The tron style would work very well on tau. I am impressed with that necron too. They are another army that might work with the tron style painting.
---
Sanity is for the weak.
'Evil will triumph because good is dumb.' Dark Helmet,Spaceballs
According to LUKEVALENTINE's test i am a diciple of khorne. Figures really.
---
Quote:
i tried a necron, not a bad shot, but i wasn't sold on the results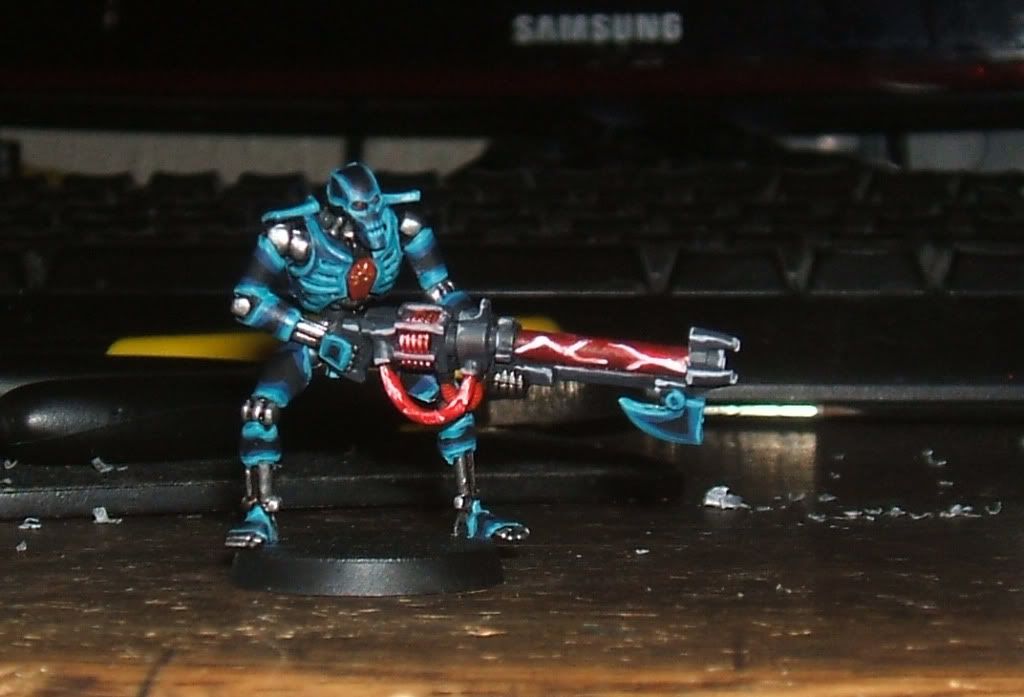 That looks awesome, and also I'm loving what you did with the energy on the gun.
Quote:
Use gloss varnish.
Like this. I went for a rougher look on purpose but most styrofoam can be sanded to a smooth surface, then painted and glossed.
Amazing, that literally looks like Glass (A bit rougher, but you did say it was on purpose).
----------------------
And as for the models, I couldn't contain myself... i gotta post it, it comes from the same link I posted before. I'm starting to really think about creating a Tau army right after my 1st Space Marines.
---
The Crying Wolves
Visit my
Deviantart
---
haha, wow, these are all really interesting. Looking at that link i think the highlights would have to be crisper for Tron-themed space marines but teh Tau minis lend themselves well to this sytle. Makes me want to give it a go!
---
I wish the models actually had all the bits on rather than in piles, but those look nice. The blue and orange don't seem as vivid as the first pic though.
---
Quote:
Originally Posted by
Six_Paths_of_Pain
View Post
What the actual feck! Love it!
Whoever that is really does need to be found and pursuaded to do/show more of that!
---
Quote:
Originally Posted by
Jace of Ultramar
View Post
I think Tawa is a temporal entity that exists outside of the hobby/modeling timeline. Essentially, he's the Heresy Online equivalent of a Time Lord... which is kinda hilarious and frightening all at the same time.
"God-Emperor? Calling him a god was how all this mess started."
---
i was still learning to paint, so they are not the best.
---
DIVTIVS VOS OBTVTVS IN CASSVS, PENITVS CASSVS OBTVTVS IN VOS.
---
Last edited by Dave T Hobbit; 04-28-12 at

03:10 PM

. Reason: Embedded images
Tzeentch laughs at likely
Join Date: Dec 2009
Location: Inside my Head, Bristol, UK
Posts: 8,556
Reputation: 44

---
Very vibrant blue there projectda. I especially like the lining on the tank.
---
it was ice blue. when making those, i would stain the colour of the tank and have to paint the tank again.
---
DIVTIVS VOS OBTVTVS IN CASSVS, PENITVS CASSVS OBTVTVS IN VOS.
Critique for da CriticGod
Join Date: Aug 2010
Location: Philadelphia, PA USA
Posts: 3,350
Reputation: 43

---
Tron painting would be even cooler if you used glow in the dark paint.

I haven't used it but I know its out there.
Lower Navigation
Has anyone ever done Tron Style?