---
Quote:
The problem with quantum shielding is that the rules don't increase the front and sides by 2 anymore, they just make make them a flat 13 front and side. So at best, quantum shielding would just make it 13/13/12.
Well, there's always a simple Invul Save. Nothing fancy about it, still suits even a Necron unit. Phase Shifter on a large scale.
Quote:
In complete honesty, I can't picture Necrons using a giant, humanoid shaped walker, ala the Imp. Knight. I think it would be more Canoptek themed and be more of a giant insectoid.
EH. Necrons are humanoid in shape, so it's possible. Honestly, they already have the Obelisk, so they really don't NEED a Knight. Anti-grav is their preferred option. If you wanted a walker, a Brass Scorpion might be a good starting point.
Quote:
That said, the suggested weapon armaments would make for a good substitute for a Necron-themed Knight. A Destroyer Warscythe would need some work though as the biggest selling point for those would be the Armorbane rule, which is nullified by being a D weapon. Perhaps it can have a sweep attack sort of rule, in that it trades all of its attacks for one sweep attack, but it hits all models in base contact within it's forward arc.
A destroyer chainblade is more then good to count as a necron scythe, really. Not much more that it needs.
---
---
That is awesome! Though I'd probably leave the guy on top off (maybe replace with a Monolith crystal?).
---
what im aming for is t5o use the bottom for legs of a stalker, the back rib cage thing of the ark, then use the big legsa of the swtalker as arms, then the "cockpit" of the anihilation barge as the head.
---
Creations made in madness may contain great power. The path to that power is as labyrinthine as the creator's mind.
'Through technology we thought to defeat the natural order. But the onset of eternity cannot be denied forever; the universe will see us humbled for our presumption. Yet its methods of attack are limited. We long ago removed our bodies from mortality's grasp and bartered away our souls for technological baubles and the trappings of power.Our minds, then, are all that remains for us to lose, and it is here that the next stroke against us will fall.Though our individual afflictions may take different forms, sooner or later we will be lost to madness.'

Critique for da CriticGod
Join Date: Aug 2010
Location: Philadelphia, PA USA
Posts: 3,350
Reputation: 43

---
Quote:
I remember seeing something of this caliber a while back and thought it looked awesome: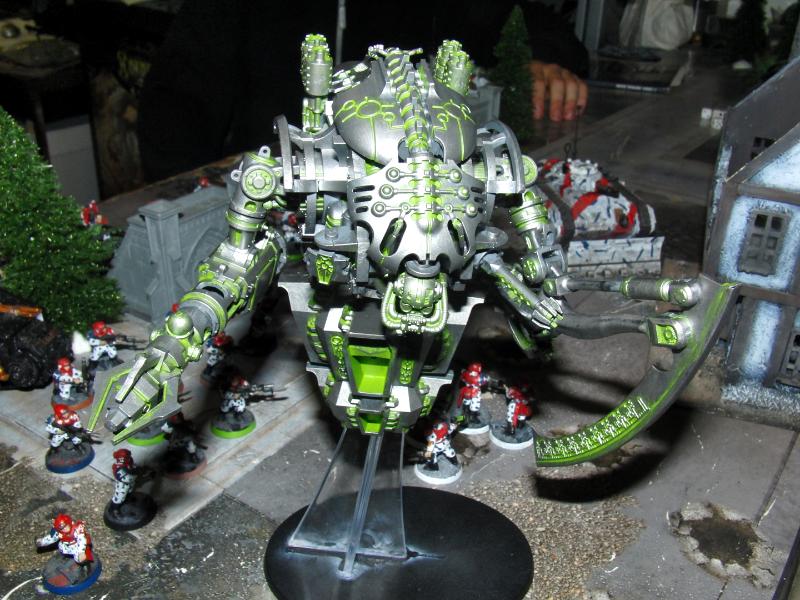 I looked at this before and just realized that the majority of the humanoid structure there is from a
DreamForge Leviathan Mortis
, including the giant blade arm.
Quote: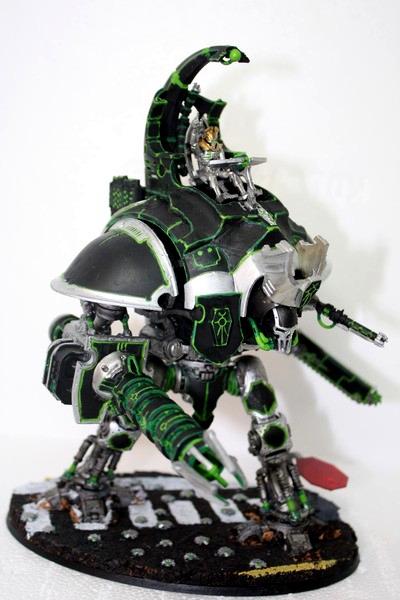 It's a neat idea but my first thought here was, "oh, the necrons have an open topped titan."
---
the titan will have 4 legs to stand on, then a rib cage, then 2 large pointy arms, the on said arms, there will be an assortment of Necron weaponry, the spare warriors might go on the back of the model, the head of the model will be a catacomb command barge, then the gun from the ark will be on an arm.
---
Creations made in madness may contain great power. The path to that power is as labyrinthine as the creator's mind.
'Through technology we thought to defeat the natural order. But the onset of eternity cannot be denied forever; the universe will see us humbled for our presumption. Yet its methods of attack are limited. We long ago removed our bodies from mortality's grasp and bartered away our souls for technological baubles and the trappings of power.Our minds, then, are all that remains for us to lose, and it is here that the next stroke against us will fall.Though our individual afflictions may take different forms, sooner or later we will be lost to madness.'

Lower Navigation
Necron Lychknight