Army Painting Challenge - December 2013
---
The last month of the year so I hope you have enough time to get some painting done.
---
Your toast has been burnt and no amount of scraping will get rid of the black bits.

---
Arggh was hoping you would say " no entries enjoy Christmas!"
---
---
Well i'll be intercepting this month's challenge with some interceptors!
Army Painting Challenge - December 2013
---
As I'm behind on Novembers entry I'll need to do some catching up! I've decided that my marine force is a White Scars successor chapter so I'm going to need a Captain/Chapter Master on a bike. Quick trip to local GW will be done later in the week to pick up a bike squad and I think I have enough bits to make him suitably heroic enough to be a HQ. Will put in bits pic later.
Here's my commander on his bike
---
Last edited by Relise; 12-07-13 at

08:13 PM

.
---
Should be doing another 5 Terminators this month since I failed to get 20 done last month but if I do I will scream so time to shake it up and paint a Libby in TDA:
Asmodus december entry
---
Will be doing 5 deathwing from Dark Vengeance this month.
---
Last edited by Asmodus; 12-05-13 at

05:33 PM

.
Junior Member
Join Date: Mar 2013
Location: Scotland
Posts: 15
Reputation: 1

Sticking to Tau again
---
i'm hoping that santa brings me lots of new dark elf models for xmas, so im sticking to Tau again this month.

2 old style broadside suits and 2 piranhas (with 4 more drones!!!!)

done with seconds to spare
---
Last edited by emissaryofdark; 12-31-13 at

11:01 PM

.
Junior Member
Join Date: Dec 2013
Posts: 1
Reputation: 1

---
I like it a lot. You know precisely what your talking about exactly where other people are coming from on this issue.
Senior Member
Join Date: Oct 2010
Location: In the basement, surrounded by Woodland Scenics packages.
Posts: 614
Reputation: 5

---
Placeholder for me. I will be entering 11 HE Sword Masters.
Pics to follow.
Edited: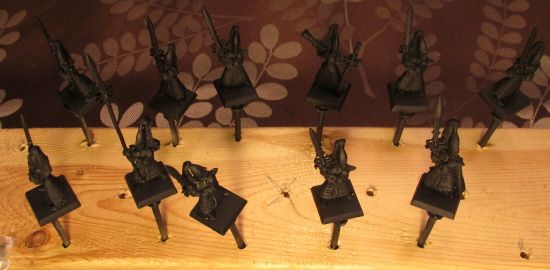 ---
---
Last edited by KjellThorngaard; 01-03-14 at

01:59 AM

. Reason: added pic
Lower Navigation
Army Painting Challenge - December 2013
Posting Rules

You may not post new threads

You may post replies

You may not post attachments

You may not edit your posts

---

HTML code is Off

---