Army Painting Challenge - July 2013
---
New thread for July.

Good luck.
---
Your toast has been burnt and no amount of scraping will get rid of the black bits.

---
Okidoke, gonna go for another dread, get a regular dreadnought talon going!!
---
---
Probably going to be a predator for me. Need to check what i have unpainted when i get home and ill post a pic.
---

---
Decisions, decisions. I'm tired of painting 15mm stuff, so it's back to 40k, but do I keep going with my almost 20 year long SWs project, or finally take the plunge and go with a new army?

I think it'll have to be some Farsight Tau. Pictures to follow.
Senior Member
Join Date: Jan 2012
Location: Sunspear or Meereen, I guess.
Posts: 951
Reputation: 9

---
Taking a relative break this month to get some work in on other projects (i.e. Pylons and CSM), so I'm going to paint up Imotekh the Stormlord this month. Planning on going all-out on making him look badass though, so it should be better than normal. Pic to follow in the next few days, once I've finished the Champion I'm working on.
---
Either going to do a small squad of Banshees in Luggananth colors for my Harlies, my unassembled Wraithlord, or finally put some paint on my Khorso Khan conversion...although I may hold off on all C:SM stuff until the codex drops and keep on the high from the Eldar Codex.
**edit**
OK, decided that I want to paint some of the new units I picked up and will actually use. So for this month, time to paint up a Falcon for my Harlies:
---
Servants of the Laughing God
(Harlequin Themed Eldar Army)
First Eastern Mirage Corps
(C:SM)
I am the Evil Project Log
(All my work since restarting the hobby)
The Crusade of Morr
(WFB Empire Battle Reports)
Dem Bones
(Dice Rolling Program)
---
Last edited by iamtheeviltwin; 07-09-13 at

04:34 AM

.
---
Hellbrute this month
Picture of all the bits to follow in the morning
EDIT:
---
Quote:
Originally Posted by
Jace of Ultramar
View Post
I think Tawa is a temporal entity that exists outside of the hobby/modeling timeline. Essentially, he's the Heresy Online equivalent of a Time Lord... which is kinda hilarious and frightening all at the same time.
"God-Emperor? Calling him a god was how all this mess started."
---
Last edited by Tawa; 07-02-13 at

08:48 AM

.
---
Got a picture. Three crisis suits that will form part of Farsight's bodyguard, but for the purpose of the challenge they will count as a crisis team.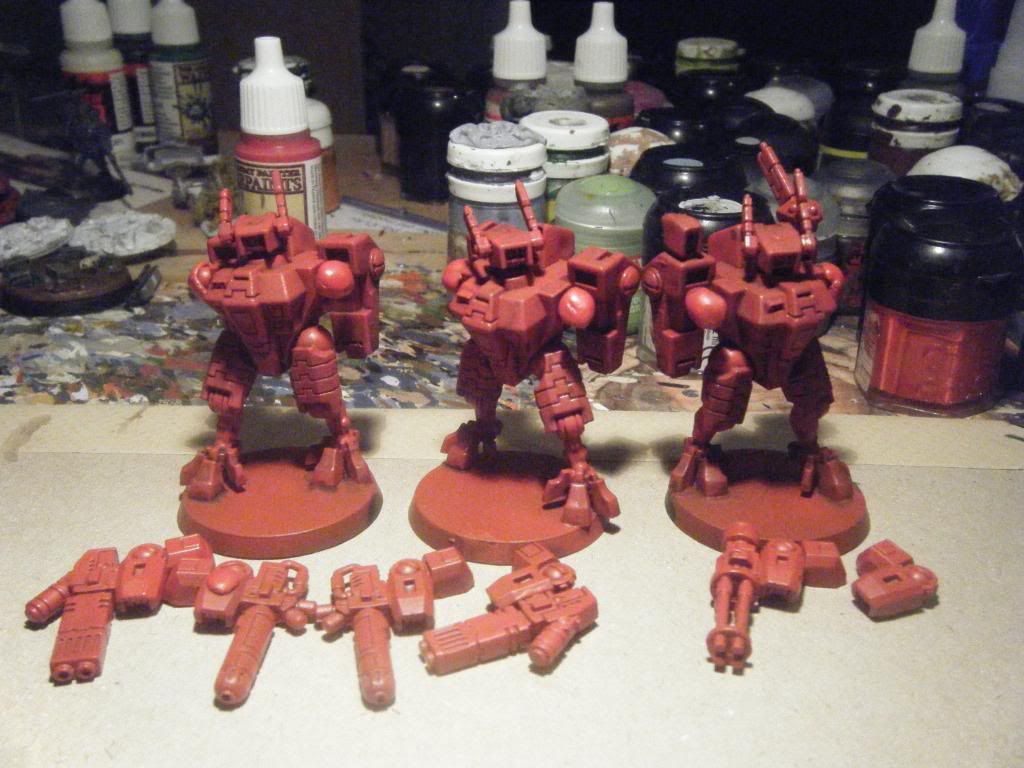 ---
Last edited by Khorne's Fist; 07-01-13 at

10:34 PM

.
Lower Navigation
Army Painting Challenge - July 2013
Posting Rules

You may not post new threads

You may post replies

You may not post attachments

You may not edit your posts

---

HTML code is Off

---