Army Painting Challenge - January 2013
---
I hope everyboyd has had a good new year.

Here is your thread for the month.
---
Your toast has been burnt and no amount of scraping will get rid of the black bits.

Senior Member
Join Date: Apr 2009
Posts: 2,007
Reputation: 17

---
Don't you mean January 2013?
---
When I was a young boy, I dreamed of being a baseball...
---
Quote:
Originally Posted by
ChaosRedCorsairLord
View Post
Don't you mean January 2013?
It worked! There may be still time!
Is this a new challenge.....?
---
Quote:
Originally Posted by
Jace of Ultramar
View Post
I think Tawa is a temporal entity that exists outside of the hobby/modeling timeline. Essentially, he's the Heresy Online equivalent of a Time Lord... which is kinda hilarious and frightening all at the same time.
"God-Emperor? Calling him a god was how all this mess started."
---
Last edited by Tawa; 01-02-13 at

09:44 PM

.
---
Happy new year fellow monthly challengers.
My entry is going to be a time consuming one especially with wings.
Scourges
ImageUploadedByTapatalk1357154748.894659.jpg
I have gone for 5 pairs of the feathered wings. I personally feel they are the better looking ones.
Good luck to all that are still in it.
Zero Effect
Senior Member
Join Date: Oct 2010
Location: In the basement, surrounded by Woodland Scenics packages.
Posts: 614
Reputation: 5

---
I am entering an Empire militia unit. I am going to mount the first four ranks on 40mm square bases, two or three to a base to give it a more chaotic, rabble feel. here is the start.
Some loose figs, waiting for bases.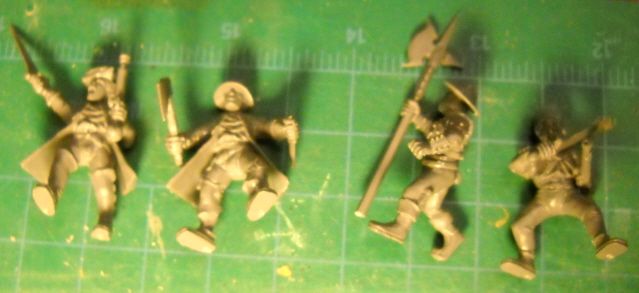 ---
Senior Member
Join Date: Oct 2011
Location: Gdynia, Poland. Sometimes Evesham, Worcs UK
Posts: 726
Reputation: 11

---
Another captain! This time the plastic one. I was going to do my Demigryphs but decided I wanted to take my time building them so they'll be next month's entry.
---
I'm Going to finish the Tactical Squad I started last month. Heres where I got to by the end of December.
I finished the first 5 this weekend (Apology for the poor pic it was dark and miserable weather)
It will likely be a busy month, But I'll try to get something else finished as well
---
Does this mean other people can jump into this!?
---
WAAAAGH Dragblud
W: 22 D: 6 L: 13
Space marines: Krakens Fury! (TBF)
W: 0 D: 0 L: 0
Lower Navigation
Army Painting Challenge - January 2013
Posting Rules

You may not post new threads

You may post replies

You may not post attachments

You may not edit your posts

---

HTML code is Off

---