Army Painting Challenge - December 2012
---
A new month and a new thread. Sorry for the delay getting this up.
---
Your toast has been burnt and no amount of scraping will get rid of the black bits.

---
Well here is my monthly entry
Lelith Hesperax
ImageUploadedByTapatalk1354564770.865176.jpg
Can I confirm about last two months entry post. As long as one entry was placed we didn't have to use a RLC?
Kind regards
ZeroEffect
Senior Member
Join Date: Oct 2011
Location: Gdynia, Poland. Sometimes Evesham, Worcs UK
Posts: 726
Reputation: 11

---
I'm torn between stuff this month. Although I want to keep the momentum going with my empire army I also have a load of WoC stuff on the way which I'll add to the couple of units I painted nearly a decade ago. Also I have the Knight Models' Joker's crew on the way and I could switch to them too.
Choices choices.
So either empire knights, chaos knights or knights models joker or crew
Basically lots of knights
I'll update this post when I choose but empire will likely win out the month
And here's the edit! I felt like actually giving my knight's colour scheme a go so here's my first 6 Knights Harlequin including standard bearer but so far no other command models
As you can see the knights need some work on them, I ripped them all off the horses as they were stuck on wonky and they looked a bit crap but I have some bits on the way so I can make some repairs. The horses are good to go though and they'll be the most complex part of the paint scheme anyway
---
Last edited by Turnip86; 12-04-12 at

01:25 PM

.
---
With this month being December, and some time off I'm going for two entries this month, legion tactical squad
[
and Ancient Rylannor
---
Last edited by Barnster; 12-08-12 at

12:16 PM

.
---
Gonna try and get these guys done...didn't quite make it last month.
---
Check out my DKOK Project Log!
Armies : Raven Lords Chapter, 219th Siege Regiment and Da Grotteef Waaaaghhhh
Currently Painting : 219th Siege Regiment, about 25% done! Last updated 3/7/2013
Senior Member
Join Date: Oct 2010
Location: In the basement, surrounded by Woodland Scenics packages.
Posts: 614
Reputation: 5

---
Place holder for my entry, an Empire Helblaster. Just arrived by post and I need to get pics taken of the sprues before I tear into it.
And a pic: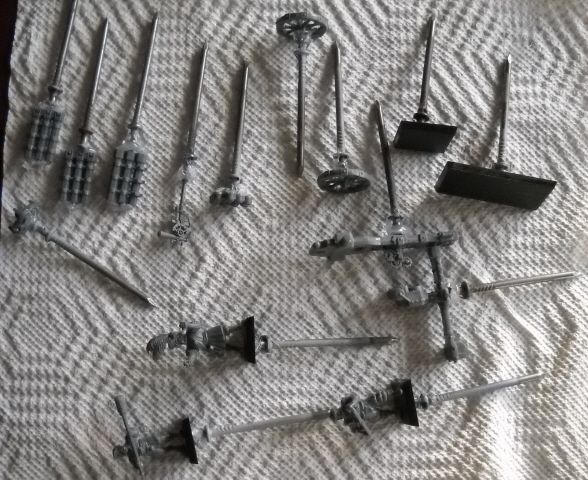 ---
---
Last edited by KjellThorngaard; 12-18-12 at

07:41 PM

. Reason: added pic
Lower Navigation
Army Painting Challenge - December 2012
Posting Rules

You may not post new threads

You may post replies

You may not post attachments

You may not edit your posts

---

HTML code is Off

---