---
some nice pieces. I will keep the thread open till the 3rd Januray before closing.
---
Your toast has been burnt and no amount of scraping will get rid of the black bits.

---
Can I ask were we are in reference to the painting challenge. The reason I ask is thinking that my signature might need a little updating.

I personally think it is 3 months left to do. January February and march but I could be wrong!

ZE
---
Are we having an extra month to account for the month missed due to heresy's down time?
---
Humakt have previously stated that you may finish the challange with 11 entries finished due to the russian attack during october. October and November was to be viewed as one month in the matter.
---
Good to be green
Barks Dakka Ladz
: W3-D2-L3
Altansar Eldar
: W3-D0-L2

Senior Member
Join Date: Oct 2010
Location: In the basement, surrounded by Woodland Scenics packages.
Posts: 613
Reputation: 5

---
And done: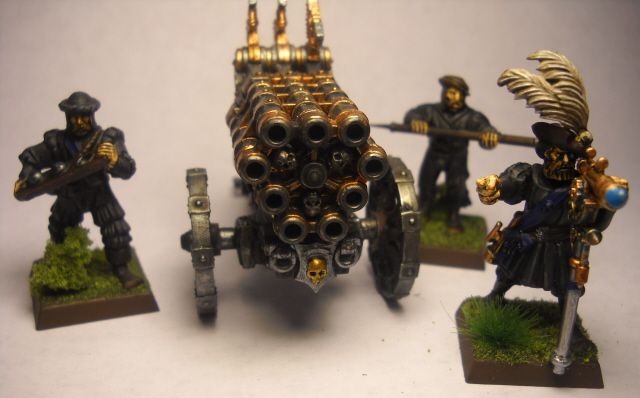 More images in my plog as always.
Good luck to those still painting and nice work to those that have finished!
---
---
Quote:
Originally Posted by
imm0rtal reaper
View Post
Well, for the last month I'm going to paint the big boss, Mhorgoth the Faceless using one of my favourite minis as a stand in; Sauron!
And the deed is done!
Critique for da CriticGod
Join Date: Aug 2010
Location: Philadelphia, PA USA
Posts: 3,350
Reputation: 43

Real Life Card
---
With the holidays and family there just wasn't the time or motivation to get any projects done.

I'm throwing in my first Real Life Card.
Senior Member
Join Date: Oct 2011
Location: Gdynia, Poland. Sometimes Evesham, Worcs UK
Posts: 726
Reputation: 11

---
So I'm calling these finished even though, as you can see, there's a couple of bits that need painting. Basically 3 helmets, one feather and the banner.
I did a lot of work repairing the knights and the reason the banner isn't painted yet is because of more repairs - I'm green stuffing up a banner top and don't want to paint the whole thing until I've finalised that as it might drape down over the banner in places. The helmets are purely because I don't know what colour to paint the tops and might have to go and buy paint.
So apart from that the Knights Harlequin are done. The extra head is for the champion and is magnetised so I can swap it out if I don't want an unhelmeted head. Also the champion can double up as a captain when he has the big hat on. On to the pictures!
More pics in my plog - link in sig
---
Edit: Got some time to take a quick few photos with my phone.
Original : I didn't finish the enforcer, but did get another member of the squad done who stands in as the second body guard until I get him finished.
And done (Except for 2 of the bases)
---
Check out my DKOK Project Log!
Armies : Raven Lords Chapter, 219th Siege Regiment and Da Grotteef Waaaaghhhh
Currently Painting : 219th Siege Regiment, about 25% done! Last updated 3/7/2013
---
Last edited by Taggerung; 01-03-13 at

08:37 PM

.
Lower Navigation
Army Painting Challenge - December 2012
Posting Rules

You may not post new threads

You may post replies

You may not post attachments

You may not edit your posts

---

HTML code is Off

---