Handmaiden of Slaanesh
Join Date: Apr 2009
Location: Slaanesh's Den of Decadence. Or Detroit
Posts: 398
Reputation: 1

---
Well my entry for the month a dakka jet. I need to get an airbrush and a better camera or learn how to take pictures. Hopefully I can get another entry in before the end of the month to get a RL back.
---
Chaos- Black Legion & Steel Brethren
W:16 D:7 L:9 W:9 D:2 L:5

Eldar Dragon Claws Corsairs
W:16 D:4 L:2

Da Skull Krushaz
W:27 D:2 L:13

Space Wolves
W:14 D:0 L:3
---
I finished my Librarian (the pictures are a bit dark, I'll try and replace them as soon as I can), but I'm currently unsure of whether I'll be able to get the Scouts done, it doesn't look promising for them with Dark Vengeance on advance order, think I'm going to have to turn to Chaos next month.
---
Quote:
Originally Posted by
Disciple_of_Ezekiel
View Post
Finished the 5 Death Riders. Here are the before and after pictures. As always more pics can be seen in my log.

Good luck to those who havent finished yet and gratz to those who did finish.

Regards,
DoE
DOE, Great looking cavalry! Love em! But, I can't give you +rep yet, it says I gotta spread it around first. Great job.
Senior Member
Join Date: Oct 2010
Location: In the basement, surrounded by Woodland Scenics packages.
Posts: 614
Reputation: 5

---
Got my entry done. It was dicey with a holiday and all. I tried OSl for the first time and it looks, er, not good. I may try and touch that up soon. I need to practice the technique. A whole bunch...
Before and after pics here, plus I'll post a couple more in my plog later. They are, hopefully it is obvious, a Bright Wizard and Celestial Wizard.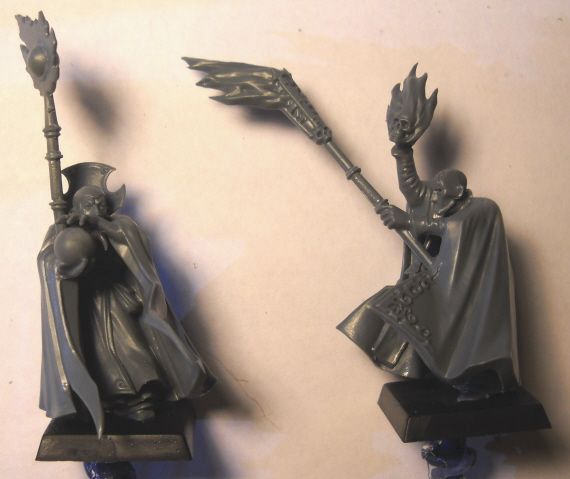 Great looking entries to everyone who is done. Good luck to those still fighting the good fight!
---
---
Last edited by KjellThorngaard; 08-26-12 at

02:51 AM

. Reason: Spelling....
Critique for da CriticGod
Join Date: Aug 2010
Location: Philadelphia, PA USA
Posts: 3,350
Reputation: 43

---
Iron Warrior chaos lord . . . check!
Not my best work, but in some ways its an awkward model. The armor is in many ways an afterthought to the big ole cape. And while a big cape might impress some people (not Edna Mode for sure) it isn't as chaosy in 40k as in fantasy.
Overall I'm happy with him. The paint job is tidy if not terribly inspired. I'm also undecided about the sword. Its sort of a spotty/stipply blend from purple, red, orange, to yellow but I;m not sure the stippling is really working.
Comments & criticisms are all welcome.
Cheers,
Kreuger
---
Well there are some hard acts to follow wish I could get my iron warriors to look so good and the reflective light on the wizard doesn't look half as bad as you say.
Well here's my daemon prince for my word bearers, sorry for the side on pic being so bad didn't realise focus was that bad until now.
---
Well I managed to get a second entry done since I used a RL on the first month. A small unit of Big Choppa Nobz, Da Big Boyz. I did swap the bosspole onto the other.
---
Chaos- Black Legion & Steel Brethren
W:16 D:7 L:9 W:9 D:2 L:5

Eldar Dragon Claws Corsairs
W:16 D:4 L:2

Da Skull Krushaz
W:27 D:2 L:13

Space Wolves
W:14 D:0 L:3
---
When is the cut off for this month? I'm struggling to get construction finished on my bomma and fighter but really don't want to stop to paint the mek. If Friday is the cutoff in going to need to use my second rl card. Shame cause as of the eighth of next month I'm jobless so will be able to work on models more.
---
I vote for MONDAY!!!!!!!!
---
Chaos- Black Legion & Steel Brethren
W:16 D:7 L:9 W:9 D:2 L:5

Eldar Dragon Claws Corsairs
W:16 D:4 L:2

Da Skull Krushaz
W:27 D:2 L:13

Space Wolves
W:14 D:0 L:3
Lower Navigation
Army Painting Challenge 2012 - August
Posting Rules

You may not post new threads

You may post replies

You may not post attachments

You may not edit your posts

---

HTML code is Off

---