---
Well hello July thread!
For my entry is another Raider to transport my previous month's entry (2nd Wych Cult)
Good luck to all that enters this month. Looking forward to seeing some great miniatures as usual.
Zero Effect
Critique for da CriticGod
Join Date: Aug 2010
Location: Philadelphia, PA USA
Posts: 3,350
Reputation: 43

---
July is going to be a crazy month. One week my wife will be out of town so I'll be working and the only one on baby-duty. And we'll both be out of town another week. I'm hoping that the week she's out of town I can get a lot of work done on my daemon prince after the baby goes to bed.

*Fingers crossed*

So this month is my Iron Warriors Daemon Prince. I spent a while building up the servo arm, cleaning, filing, etc. And I added an intake on the top of his pack and four jet nozzles on the back - which when painted will be filled with fiery colors.

Good luck everyone,
Cheers!

p.s. - sorry for the weak photos, without the flash I just wasn't getting the definition.
---
Im gonna try and get something painted this month as I had to use my 1st Real Life Card last month. Im probably going to paint my 3 man bike squad, should get pics up in a few days.
---
---
For the 3rd month in a row I am going to enter these guys. If I don't get them done this month I'll probably pull out of the challenge. Managing to get 5 minutes to drink a cup of tea while it's still hot is proving challenge enough at the moment. I love my new daughter to bits, but she's been putting a crimp in my painting schedule.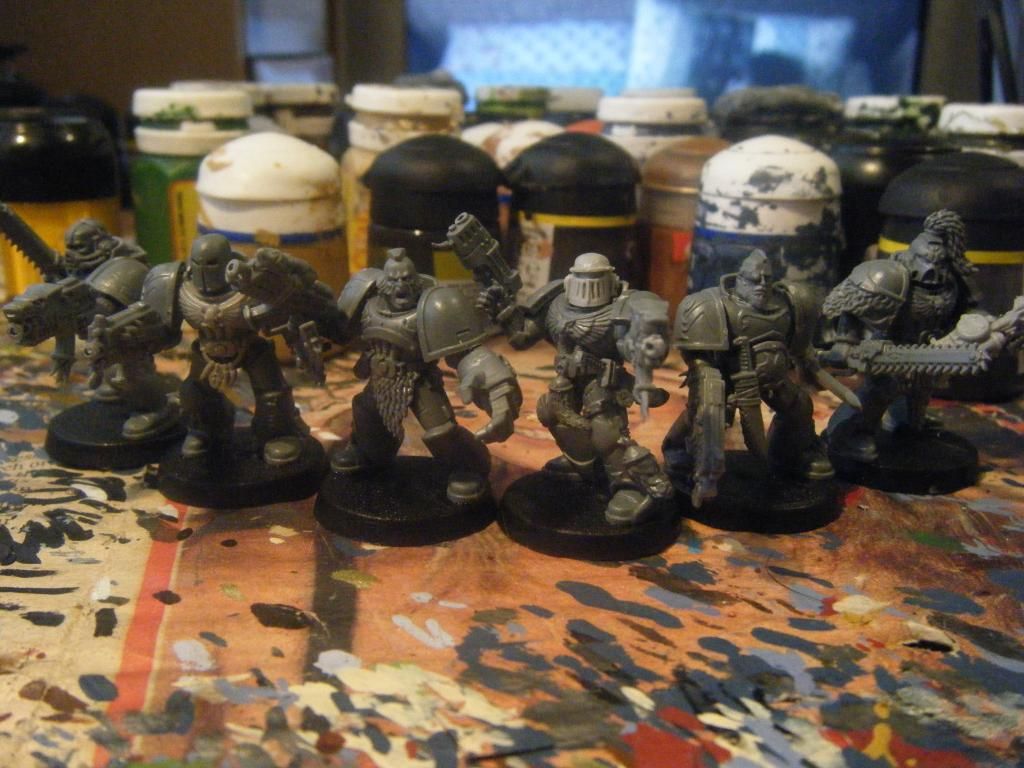 Devastators, fire!
---
It's time I had a well painted squad of Devastators.
---
Before
After
I got excited about this one. =) I wish I would have taken a pic of all the bits so I could enter it into the conversion challenge as well...
Was going for this with lightning claws:
---
Quote:
This month will be a box of Sea Dogs for my new Warmachine force. That is, when the postie drops them off for me....
Guess what Mr Postman brought me today!
---
Quote:
Originally Posted by
Jace of Ultramar
View Post
I think Tawa is a temporal entity that exists outside of the hobby/modeling timeline. Essentially, he's the Heresy Online equivalent of a Time Lord... which is kinda hilarious and frightening all at the same time.
"God-Emperor? Calling him a god was how all this mess started."
---
Gonna work on the last 5-man squad of my 2,000 point Chaos Space Marine army.
---
"Whether you choose to fight the inevitable...
Is entirely up to you."
"The Great Game has seen incredibly unusual, meaningless and powerful alliances, however short or long, between the Gods of Chaos. Most have never before been witnessed by the inhabitants of realspace, others have decimated entire systems as the Daemons of Chaos marched across spacetime. But none have ever been as insidious or as heinous as that between the Dark Prince and the Architect of Fate given form as the Daemon Prince Us'etil'akhed'raan, Saenocroleius, the All-Father."
~Codicium Aeternum on Daemon Prince Us'etil'akhed'raan circa 011.M42
---
So Humakt was cool enough to allow me to enter into this a bit late but I think that this will provide the motivation I need to keep painting my models. So for right now I am going to be building a Necron army. First model to be painted will be the lord model from the Command Barge as I use him as my HQ on foot and the barge itself for the AnniBarge.
These pics were taken after about an hours worth of paint, just basic colours really. I am still trying to decide where I am going with the army paint wise and this is the test model
---
one thing I want is the ability to split my fire everywhere, it makes no sense that a squad of 10 guard or marines or whatever all have to fire at 1 target with everything, is the guy with the lascannon not smart enough to realize maybe he would be better off firing at the massive tank looming overhead instead of the little man no bigger than a squat running at him, or is that far too complex for the 10yr olds?
My Thousand Sons Project Log
My Warriors of Chaos Project Log
My Cryx Project Log
My Necron Project Log
Lower Navigation
Army Painting Challenge 2012 - July
Posting Rules

You may not post new threads

You may post replies

You may not post attachments

You may not edit your posts

---

HTML code is Off

---