---
Blarg...
I think I am running out of Real Life Cards
Will see what I can muster in the next two weeks until I ship out to China...
---
PDC Gaming Webstore Now OPEN!
Senior Member
Join Date: Oct 2011
Location: Gdynia, Poland. Sometimes Evesham, Worcs UK
Posts: 726
Reputation: 11

---
Aaaaaaand finished. To a point where I feel happy to leave them at least. There are a few things I'd like to go back to, maybe change some colours, add a few new ones in but at the moment I'm using a very limited set of paints and mixing up most colours I use so getting the 'right' colour can be difficult.
These guys will be doubling up as mordheim warband grunts for either an undead or merc warband so I tried to make them as individual as possible while not taking as much time over them as a lord or hero choice. I have some short back story on each member so check my plog over the next couple of days if you're interested.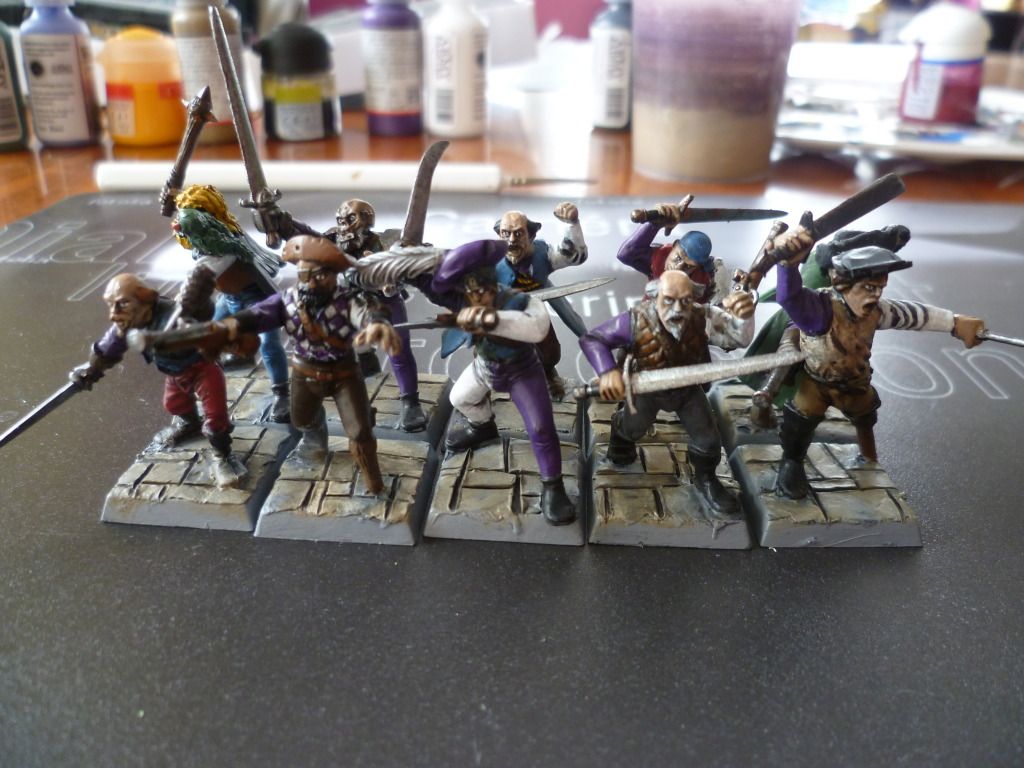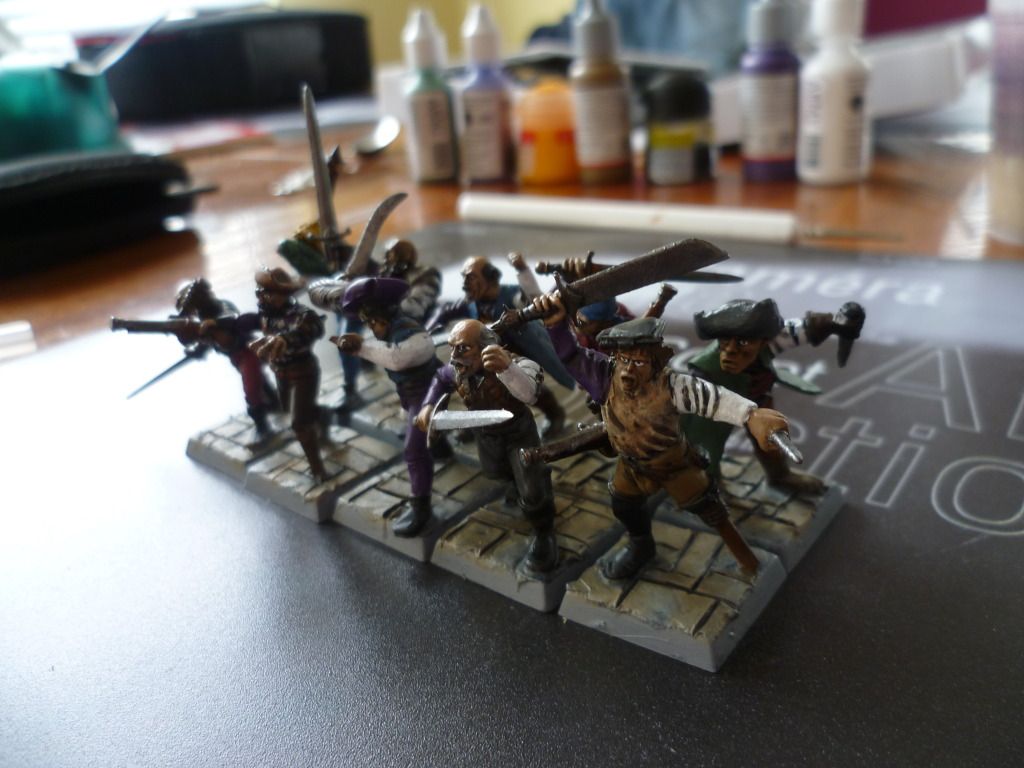 Critique for da CriticGod
Join Date: Aug 2010
Location: Philadelphia, PA USA
Posts: 3,350
Reputation: 43

---
I'm squeaking in under the wire this month, vacations and obligations definitely put a damper on getting this guy done.

I've been working on this conversion off and on for months now. It took a long time to get the pewter crane arm to work as a daemonic servo-arm. Thus far, I haven't seen another daemonic servo arm that I think works better. I did a lot of looking around on the net to see how other had done it, and I just so happened to have the orky crane arm, and it seemed just about a perfect fit. It took a lot of sculpting and a lot of pinning to make it work though.

One of my favorite techniques I used on this guy, in a few places is test fitting with live green stuff. Did it a bit with the arms, but the key place was the servo arm. The problem with the daemonic servo-arm is that it is big, heavy, and needs to connect to the body via a fairly small contact area. I also knew for painting purposes it would complicate the model incredibly if I had to paint the servo arm attached to the body.

So to make a join like that work with this sort of hefty component I needed to ensure that there would be a maximum surface area in contact so that the super glue would hold it, and I needed to be able to pin it in several place. The angle of the metal bit didn't lend itself to being drilled and fit to the upper shoulder/backpack area where the vent-arm would normally have connected.

So I first bulked up the shoulder-end of the servo-arm and let that cure. After that was cured I came back and covered the end of the servo arm in green stuff and wet the area of active green stuff and pressed it into the backpack/shoulder socket. I held it gently in place and used a rounded sculpting tool to press the putty in around the joining area to make sure it was full and tight.

Once it looked good I separated the pieces gently, ensuring the molded fit I just made didn't distort. Once it cured I was able to use the green stuff shape to get some purchase with my pin vice and start the pinning process. I used 2 pins on slight angles to one another, and almost parallel to the ground. this let me test fit the pins and glue them in place. So as I painted the model I could fit the servo arm on and check the look, without having to hold the bit, the pins, the fitted shape, and gravity held it firmly enough to stand freely on my painting desk.

Detailing the mutation on the servo arm was all fairly easy. Green stuff, guitar wire etc. The only part that I'm still conflicted about is the ridging on the upper side of arm. I intended it to be similar but not identical to the ridging on the vent-arm. My thinking was that he started having a backpack as a normal lord might, but the servo-arm fused to it or grew out of it; which is A) why I didn't create an entirely separate structure for it attached to the back of the model and B) why I wanted to emulate the look of the vent-arm.

The painting process was a lot less adventurous, other than a pretty weak first attempt at OSL on the little backpack jets. Otherwise its a pretty straight ahead iron warrior so far without hazard stripes. Despite having a contingent of Iron Warriors in my list since 2nd ed I've never been crazy about the hazard stripes. I might add some to a grieve . . . but I'm undecided. Hazard stripes just seem too orderly for a daemon prince.

Cheers!
Kreuger
---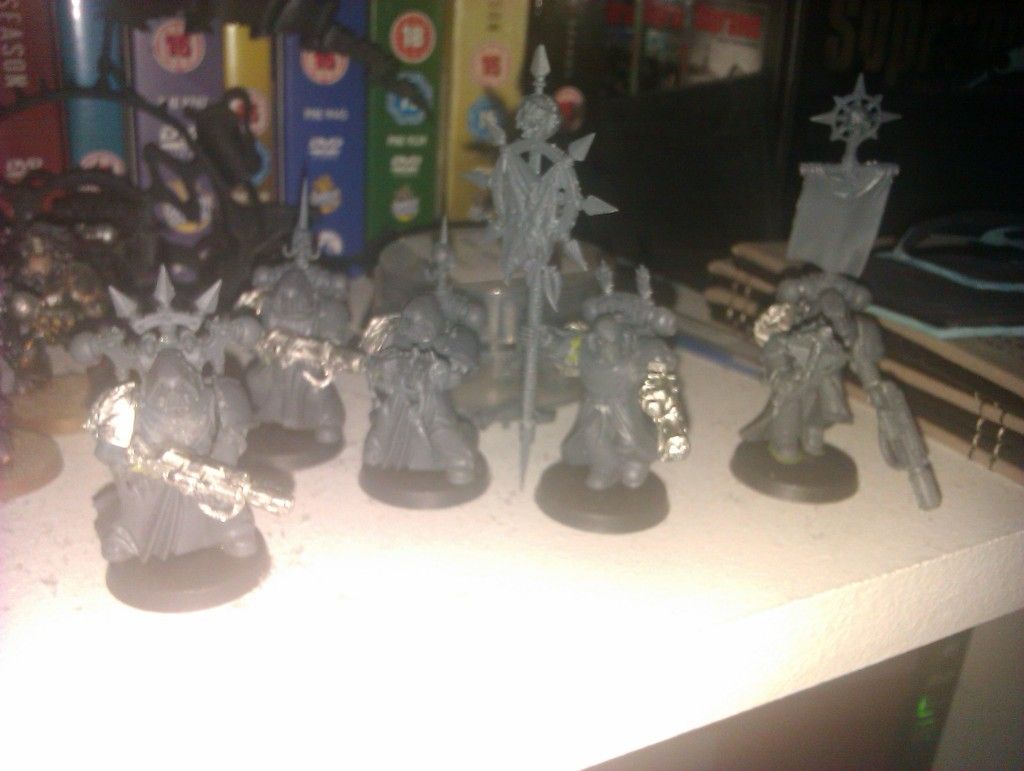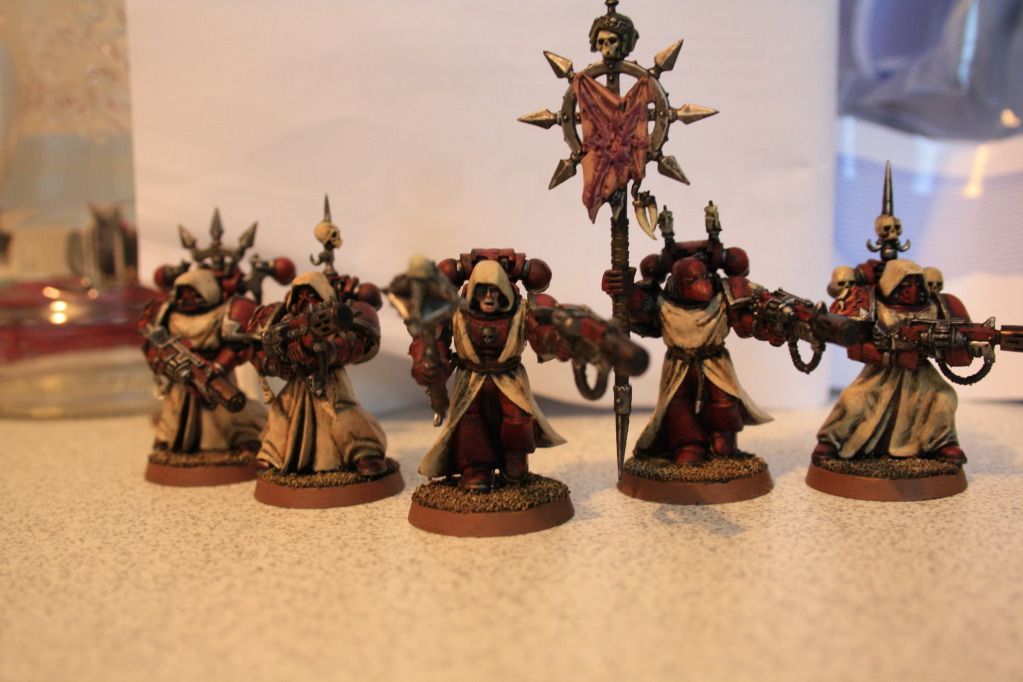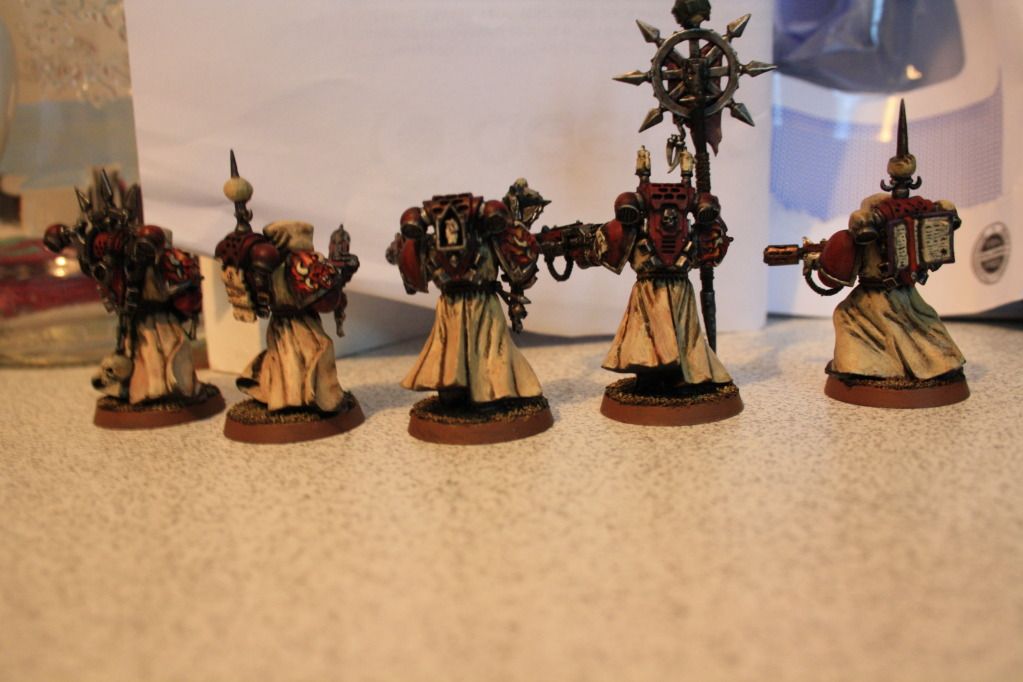 Getting in there at the last moment with my based on dark angels veterans, word bearers chosen. Thought the robes were fitting for them and all meltas for some anti tank punch. Banner on the unpainted photo will be added later when I think of what to paint on it.
---
Some nice entries for the month. That's all for July folks.
---
Your toast has been burnt and no amount of scraping will get rid of the black bits.

Lower Navigation
Army Painting Challenge 2012 - July
Posting Rules

You may not post new threads

You may post replies

You may not post attachments

You may not edit your posts

---

HTML code is Off

---