Tzeentch laughs at likely
Join Date: Dec 2009
Location: Inside my Head, Bristol, UK
Posts: 8,558
Reputation: 44

Army Painting Challenge - June 2012
---
Presented for your painting pleasure, the June thread.

Good luck all.
---
@Dave - thanks for getting the thread started.
War Walkers for June - more pics in my Plog.
Good luck to all this month.
By
reavsie1
at 2012-06-05
---
My Saim Hann PLog
"You can have everything in life you want, if you will just help enough other people get what they want." ~ Zig Ziglar
---
My 'Venom' for my Mechanicus - as-yet-to-be-determined pattern of transport speeder...
---
PDC Gaming Webstore Now OPEN!
---
Well, it seems like I´ve been struck with the Blues again, so I´m switching army. I will continue to work on my Ultramarines from now on
To start with I´ve got a Land Raider Reedemer
---
There are no friends in the real world, just less hostile enemies
---
Well all. I flubbed it last month and had to use a RL ticket. My 20 model unit of Sauran Warriors did not make the "Done" list. So I am going to finish them this month.
Here was the starting pic last month as well as the status today....
If I get them done early in the month I may try to do either a special character or a Chameleon this month as well BUT I intend to get that 20 model unit finished!
---
---
Last edited by apidude; 06-09-12 at

02:41 AM

.
---
I did paint a handful of my orks but i forgot to post them. . . . . so i am going to paint the trukk is this pic for this months entry, and prob something else but not sure what yet, maybe the looters. . . . .
also where can i get one of those sigs guys? :D
and also can you work in advance of the comp
---
Dave,

Can i enter my terminator assualt squad into this one as at the moment i've got three primed and two with there first base coat applied, if i can i'll post proof pics with the date showing (also i've not fitted the heads to any or the storm sheilds to the thunder hammer carriers), only asking as i plan to finish these boys this month.

If not i'll choose something else to do.

Cheers
---
Col
My Blood Angels.
---
Dave,
Thank you for starting off the post!
I will be starting on my second cult of Wyches.
Here is my entry
Good luck to all that enters.
Zero Effect
Senior Member
Join Date: Oct 2010
Location: In the basement, surrounded by Woodland Scenics packages.
Posts: 614
Reputation: 5

---
I'll be adding these 12 Halberdiers to the unit I painted in March.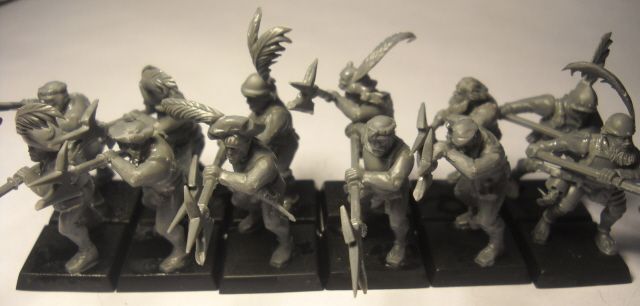 ---
---
I'm being cheap this month, as I'm going to be really busy at work and running over the place at conferences
A unit of Spore mines
I'll also try and get a second unit of spores painted when they arrive in the post.
These are getting basic quality 101
Lower Navigation
Army Painting Challenge - June 2012
Posting Rules

You may not post new threads

You may post replies

You may not post attachments

You may not edit your posts

---

HTML code is Off

---