---
If we decide it's yours, then it's yours...
---
Though I take your life, I promise you the stars...
---
Great looking engineer Midge, the shading on the skin is incredible
Heres 6 of my genestealers, the others have scenic bases moulded and I haven't painted those yet, guess I was stupid for choosing yellow for the broken marine parts! Hopefully they will re-emerge when I paint the next unit of genestealers in a few months time
Member
Join Date: Sep 2011
Location: Smyrna, TN
Posts: 80
Reputation: 1

Fire Warriors w/ Pule Carbines
---
Work has had me slammed this month, but with the holiday weekend here I thought I'd give it a go and not resort the the RL card I was going to pull.
Here they are ... Full unit of 12 Firewarriors with Pulse Carbines.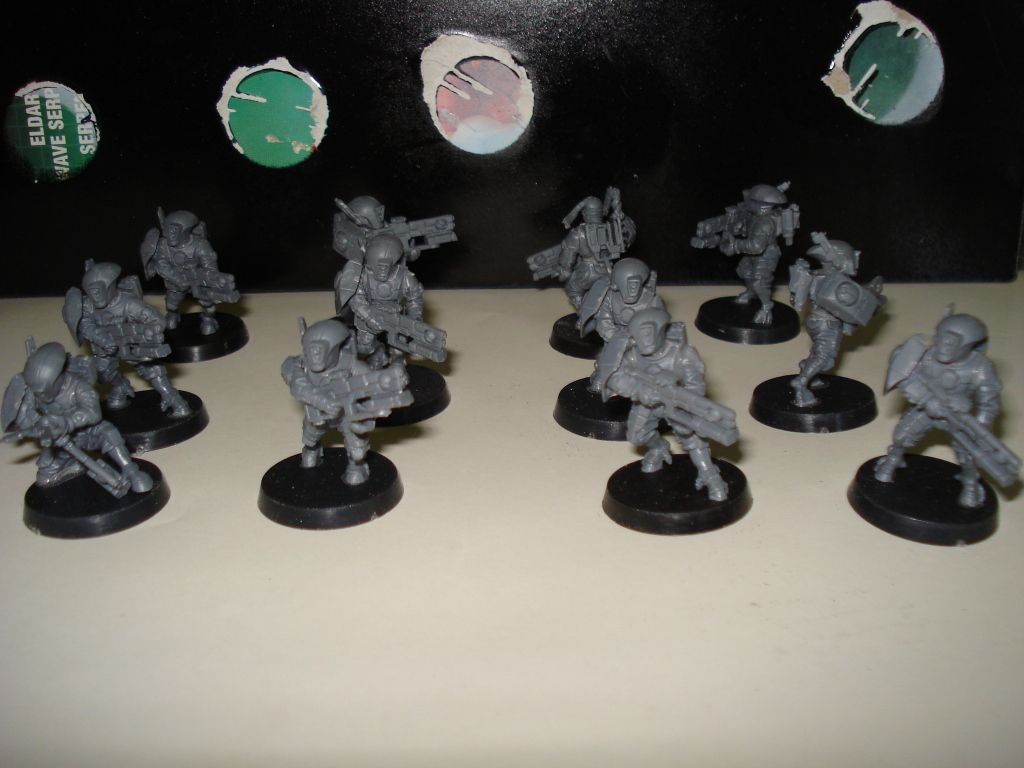 I do have them primed now.
Wish me luck.
Critique for da CriticGod
Join Date: Aug 2010
Location: Philadelphia, PA USA
Posts: 3,350
Reputation: 43

---
Good luck!
Senior Member
Join Date: Oct 2010
Location: In the basement, surrounded by Woodland Scenics packages.
Posts: 613
Reputation: 5

---
You can do it thumper!
---
---
Quote:
I am limiting my involvement so I am stepping out of this contest. I wish all the others a good year of painting though.
Sorry to hear that!
Critique for da CriticGod
Join Date: Aug 2010
Location: Philadelphia, PA USA
Posts: 3,350
Reputation: 43

---
Quote:
Wow, things are already shaping up nicely for May!
I'm going a little smaller this month, 2 heavily converted Obliterators.
Alrighty, finally done!
I'm pretty happy with how these guys turned out. They were a cheap eBay find missing pieces and stripped of paint, but otherwise ready to go.
The left Oblit started with legs, arms, back, and chest - no head, no gun attachments.
The right Oblit started with legs and back - everything else I converted, built, or sculpted. I happened to have matching Dark legion guns from a Warzone weapons pack conversion kit . . . from the 90's and they formed the inner basis of both arms, along with armature wire, and the guitar string+green stuff.
I think need to work on my sculpting. It isn't bad at all but my work still isn't anywhere near as delicate or refined as as GW's, and I think it really show's on the shoulder pads. They aren't bad but the trim is comparatively thick and that still sort of bugs me when the two models are side by side at this magnification.
I was happy with the chest as well. All the organic edging is my sculpting, and the tubes running vertically are varying sizes of guitar string next to each other.
I didn't manage to get a good detail shot, but the power fist hand has the nozzles and fuel tanks of 4 hand flamers built into it. (For those of you who
Remember
Hand Flamers!)
In previous threads discussing custom obliterators a number of people here decried their low sitting squat - it might be hard to tell but I built up the ground under each of their leading foot to help elevate their gaze and re-angle the models perspective up.
All comments and criticisms welcome!
[Edit - the heads are all from the previous generation fantasy chaos warriors, the one with the horns is the champion head, and the double heads are two of the same head trimmed of its ridiculous top-spike. I realized the double head was a good solution, because the shoulders I sculpted sat a bit wider and away from the torso than the original ones GW made - and these two heads are both a bit smaller than average for 40k (and fantasy for that matter) so they looked about right when doubled up.]
---
Last edited by Kreuger; 05-27-12 at

07:38 AM

.
---
Hand Flamers still exist, they're in the BA Codex. :p

Those Oblits look great, +Rep!
Lower Navigation
Army Painting Challenge - May 2012
Posting Rules

You may not post new threads

You may post replies

You may not post attachments

You may not edit your posts

---

HTML code is Off

---