Warhammer 40k Motivational Posters
---
I made this one today, post your favorites.
---
~ Engelus
---
Where's the site to make said posters?
---
We live in fame, or go down in flames!

This is a game like real war, played against time, and played under circumstances of considerable excitement, and it is remarkable how elastic the measurements of quite honest and honourable men can become.
---
I made this one for fun.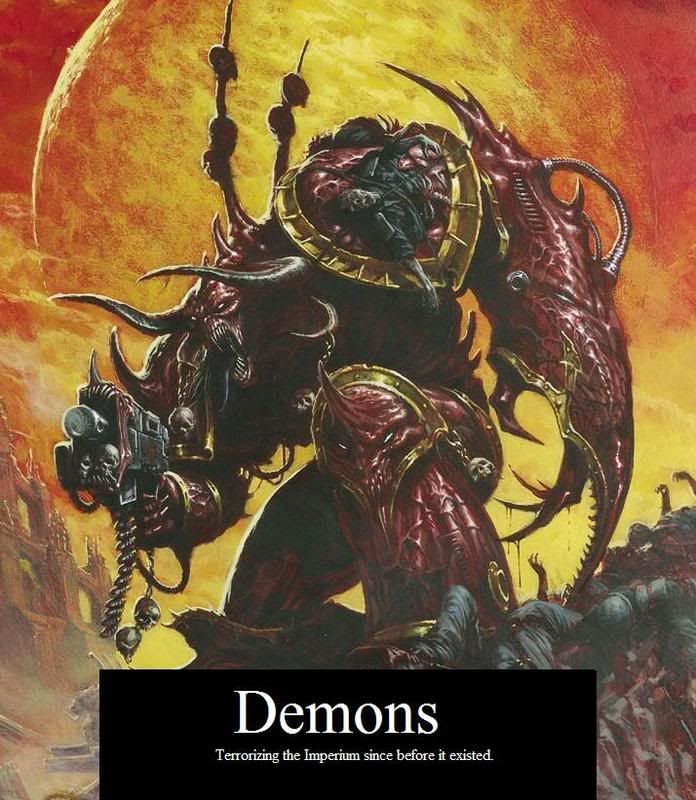 -Dirge
---
You'll forgive me, but you must be mistaken. I've
met
your makers, and they don't even know your name...
GIVING CHASE- ORDO HERETICUS FIC
(Updated Mar. 19)
Hat in the Ring
Join Date: Jan 2008
Posts: 1,210
---
Join Date: Jan 2008
Posts: 17
---
Someone should make a recruitment poster for the different factions of Chaos...like for Slaanesh: Join the Slaaneshi today! We've got whores! ...plus you can grow, like, ten more arms.
Join Date: Sep 2007
Posts: 599
---
there is sites for them, best one i saw was "Baneblade" for when your sick of holding the line.
Join Date: Jan 2008
Posts: 17
---
That's pretty good...scary tanks them
Join Date: Jan 2008
Posts: 103
---
http://diy.despair.com/motivator.php
Here ya go.
They've got some great ones for sale too.
Ex) One I just made.
---
Last edited by Nosotros; 01-15-08 at

05:06 AM

.
Lower Navigation
Warhammer 40k Motivational Posters