---
powered armor and drop capsules, they are vague descriptions of a ton of sci-fi work, not just starship troopers. the point is, its also not something completely ripped off, especially when talking going from a book to a visual game.
To be honest Col. schafer, you cant compare useing vague terms like powered armor and drop capsules as gw "ripping off" starship troopers. by calling their armor power armor and giving them drop pods. because a description is just that, a description. sure the ideas may have come from something like starship troopers, but that does not reflect ripping off since its 2 different kinds of media. BUT starcraft, warcraft, and such are visual rip offs of warhammer 40k and fantasy. the terran marine is almost a direct replica of a space marine. and the Zerg are, oddly, very very close to nids. can someone say overmind = hive mind? and the way both races have similar looks is uncanny.
Also go look at this Battlefield gothic ship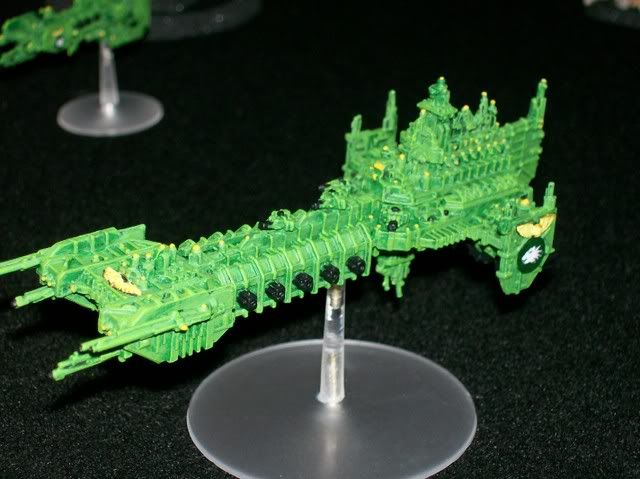 look familiar?
I think they look pretty similar, dont you?
---
No actualy, I see a structural simalerity, but the only ships in sci fi history I think ever diverged from the big engines at the back, bridge at the fron were the KFalcon and enterprise (and the enterprise was just a variation) (I'm sure there are others, but my point is a lot of sci-fi ships look like that).

I'm not saying that 40K is compleatly copied from SStroopers, I'm saying that they borrowed ideas from it (ie-riped off ideas) witch starcraft then did. They took the ideas, and then changed them to fit their ideas, The mobile infantry were badass soldirs in badass armor that got droped in via orbit, the space marines were crusaders in badass armor that sometimes droped in from orbit, The Marines were badass soldiers in crappy armor that looked like the prievious badass armor, who got crapped out by a flying box.

I'm not saying either warhammer or starcraft deserve to be penalised, I'm saying that they all "riped off" ideas from the prievious encarnation of an existing idea, and changed it to make a unique variation.
---
"A true king is never alone, his will is equal to the will of all of his followers."
-Alexander the Great, kind of
---
Last edited by Col. Schafer; 04-04-09 at

07:18 AM

.
Senior Member
Join Date: May 2008
Posts: 128
Reputation: 1

---
Quote:
Originally Posted by
KhainiteAssassin
View Post
Sir you are wrong Starship Troopers was written by Robert Heinlein in 1959. I have read the book, and I love the book.
There are similarities, yes it is probably where they got the idea for marines and nids. I mean seriously other things have used both power armor, drop pods and giant bugs, but non come to mind in that combination. There are differences though such as the MI in Starship Troopers are just normal every day humans in power armor that kinda skates along the ground IIRC, and all have jump packs. The drop pods are shot from a spaceship and fire away debris to draw fire from AA weapons. The bugs and nids are a lot alike. Yes the match up in someways, but there isn't game out there that doesn't borrow or flat out steal from somewhere.
---
Quote:
*Keep the pimp hand strong brotha*
---
Last edited by Darktheos; 04-04-09 at

07:12 AM

.
---
*chuckles* Yeah, because a movie from 1997 was in no way, "inspired," by pulp scifi or an adapted screenplay from a book (for all you youngin's out there, books were things that had words in them that didn't require electrity to access...mumble...damn kids and there new fangled gadgets...where's my goddamn'd cane!). Good lord...
But, the reality of it is this... People make shit up. People *like* making shit up. People draw inspiration from other people's made-up shit to make their own made-up shit even cooler. Hell, if we could go waaaaaay back in time and give intellectual property rights to the first guy who thought a big ass lizard that breathes fire and has wings would be uber kick-ass, we'd all have breached IP somewhere down the line, me thinks.
Besides, most of the current fantasy genre is based off Tolkein's work, which was based off previous author's work, as well as various mythologies from around the world, etc...
I've found people in three camps:
1.) These are the people who swear that Blizzard have ripped off GW and should be sued back into the dark ages of coding...
2.) These are the people who believe GW are the idea-stealing ogres and shouldn't be allowed to market any further ideas and should fold as a company as a whole...
3.) These are the people who could give two shits and a fuck less, play the games that they want to play, and laugh *openly* and *mockingly* at both numbers one and two.
Hey, I'm a three.
Join Date: Aug 2008
Posts: 23
---
I'm the fourth party. It's a combination of Party Three, and all the people who facepalmed... SO HARD... at Khainite Assassin. You sir, just failed. I also think it needs to be said, that I was told by my father that (at least at one point) you were only allowed two books in bootcamp. One was the Bible. The other was Starship Troopers.

He may have been full of it, but I honestly believe it.
---
Quote:
Originally Posted by
KhainiteAssassin
View Post
oh my god, really!
wow, i am shocked at the undereducated kids now-a-days, and you call yourself a nerd/geek.
Quote:
Originally Posted by wikipedia;[url
http://en.wikipedia.org/wiki/Starship_Troopers]Starship[/url] Troopers is a science fiction novel by Robert A. Heinlein, first published (in abridged form) as a serial in The Magazine of Fantasy & Science Fiction (October, November 1959, as "Starship Soldier") and published hardcover in 1959.
so he was right, you were wrong, and do better research, like wiki for Christs sake.
Edit; ok so i jumped on the slam the moron bandwagon, sorry, i just couldn't stand it.
---
Last edited by jaren; 04-05-09 at

01:40 PM

.
---
1. i was not counting the book, since the change of media (visual vs descriptive) makes it hard to tell whats really "ripping off" or not. Especially since almost everyone can relate to the words power armor, and drop pod.

Though i would agree that marines vs giant bugs does sound starshiptrooper like, you have to think of this aswell, its not just marines vs giant bugs in 40k so for all anyone knows, someone just thought a buglike race would be a cool alien race, which once again, is one of the more popular sci-fi sterotypes.

where-as, starcraft, in which we are talking about mainly, has taken direct visual reference from 40k as can be seen in the armor their marines wear, along with other visual representations that I have posted above.

Of coarse, yes, the two ships dont look exactly alike as I posted above, but the general shape of the ships are. a large block at the front, a thinner neck and large engines at the back.

And once again, i know perfectly well this idea is not a new idea from GW in any case. just saying that the 40k universe seems to have ALOT in common with the starcraft universe for it to be only a few ideas they took.
Join Date: Aug 2008
Posts: 23
---
I think we're looking at this the wrong way. Someone didn't read Starship Troopers and say, "Hey, this is cool, let's use this in our game!" Somebody saw that people read Starship Troopers and enjoyed it, they saw it becoming popular, and you know what they said? "Oh, yeah. We can totally sell this." Not that that really contributes to the discussion either way, but I think that some people are losing sight of the fact that we're discussing two companies, not two writers or film makers. In my opinion, though all three will have agendas, usually with selling their respective production as much as possible, writers and film makers can be expected to create something new, even if they don't. Companies don't have to, or at least, no one expects them to.

I guess the real question here is, do you really expect companies like Blizzard or GW to pass up on a huge marketing opportunity? Because as far as I see, that's really what the genetically enhanced soldiers vs. giant bugs is. The idea can't be ripped off, because all the idea is, is an evolution of knights versus dragons. Now, the knights have guns and better armor, and the dragons are split into hundreds of little guys. That's pretty much it.
---
I do belive the good marshal just poned this argument like a trafic cone. I'm satisfied. +rep
---
"A true king is never alone, his will is equal to the will of all of his followers."
-Alexander the Great, kind of
Lower Navigation
What is with Starcraft FANS?!