Senior Member
Join Date: Mar 2009
Location: The place where Gods and Mortals meet...
Posts: 131
Reputation: 1

Share your made up Space Marine Chapter!
---
Hello!
Have you made up your own Space Marine chapter?
A new sucessor Chapter to an existing legion?
A new Chapter based on an exixting one?
Or something completely original?
Post your made up chapters here, tell us:
The Chapter name
Fluff
Any cool characters you have made up
The organisation of the Chapter
Any pictures you have
Etc.
I have made a thread for IG regiments if you want to post stuff there, here it is
https://www.heresy-online.net/forums/...ad.php?t=32621
---
Last edited by Emporers Champion; 03-31-09 at

07:07 AM

.
---
Does it have to be SM's? I have a made up guard regement.
---
"A true king is never alone, his will is equal to the will of all of his followers."
-Alexander the Great, kind of
"The Redeemers of Iron"
This an army idea that I came up with on my own.
The fluff I came up with for it:

There is three star system's that where very close together that where cut of by a warp storm dating back to pre-Heresy and now diminishing.
The first world was a Iron Warriors fortress world, the second world was a forge world that they ran, and the last world was a agricultural world.
So think of them as Iron Warriors that are loyal to the God Emperor.

The Chapter Master is "Marcus the Mercurial" he is Warsmith.

This all I can think of right now I will add more later.
---
"Baka ni tsukeru kusuri ha nai."
It means: There is no medicine to cure stupidity.
Quote:
They deal, I buy. It's a plastic crack/junkie sort of relationship. *chuckles*
---
I made up a CSM warband called the unaligned. Kind of like a small black legion. Squads from every power in every army whatever size. It's in a WIP thread, sorry can't link.
---
Cabbage, just go to that page, and copy/paste what is in the bar that has th http:// at the begining. I dont know what any of it is called but it works for me.
---
"A true king is never alone, his will is equal to the will of all of his followers."
-Alexander the Great, kind of
---
Mine is "Crimson skulls" I don't really have alot of fluff just that they are a crusading fleet based chapter going around kicking all those butts that need kicking!
I based the composition of the chapter around codex marines.
I haven't really come up with any names yet it took me long enough to come up with the colour scheme i actually liked.
This is all i have painted so far, i have a long way to go.
---
(If its ok mines Chaos!) My Thousand Sons warband is known as 'The Covenant' (
Link
)
And heres a picture of my sorcerer:
---
Quote:
I do love how we don't even need CotE to comment anymore, chances are he has already said something intelligent before that can be re-applied to the current situation.
Heresy's Background FAQ.
(Fluff Project)
CotE Reviews:
Prospero Burns
(HH Review),
Age of Darkness
(HH Review).
Great Unclean One
Join Date: Jun 2008
Location: cavorting among Grandfather Nurgle's entrails
Posts: 2,611
Reputation: 42

posting from work
My Death Guard warband is called
Pandemic
.
Here's the very brief fluff thumbnail description I have for them:
"Comprised primarily of Death Guard who chose to leave Mortarion's Daemon world to more actively spread disease and destruction through the Galaxy, the Chaos warband known as Pandemic is led by the hulking, hideously disfigured form of Kothaar the Putrescent. Kothaar leads his Terminator squad and those who have flocked to the banner of the Lord Of Decay on an endless campaign of destruction and disease. Specialising in close-quarter combat and recognisable by a ghastly tumourous bloating that has spread throughout their ranks, these footsoldiers of Nurgle were instrumental in spreading plague throughout the Agripinaa Sector during the Thirteenth Black Crusade and earned a fearsome reputation for brutality during the fighting on Amistel Majoris."
Since I'm a fluffaholic, I've also started writing some extended fiction for them in the form of a story called
Incursion
...
...and here are selected shots of some of the more notable members of Pandemic:
Lord Kothaar the Putrescent
Quorthon, Sorceror of Nurgle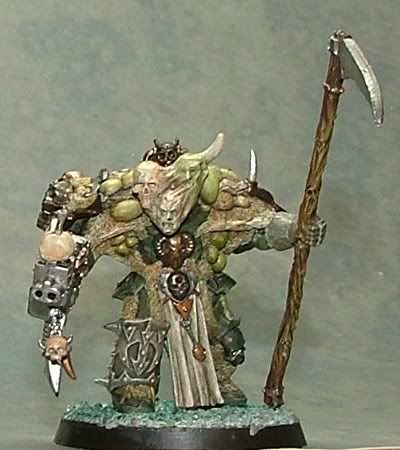 Morsh-Hâl the Butcher, Possessed Champion of Nurgle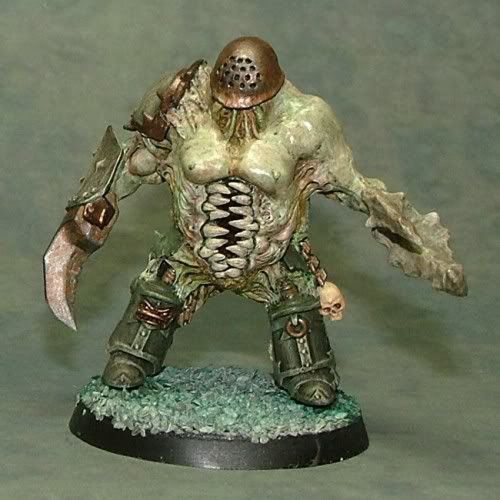 Plague Champion Kharzhâl, leader of Squad 'Pestis'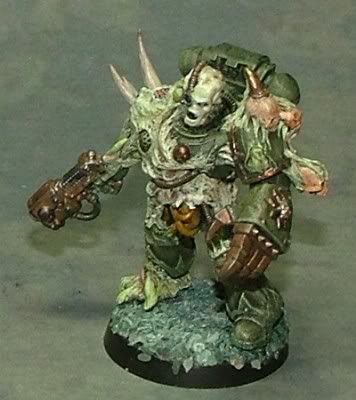 ...and Dreadnought Vvornth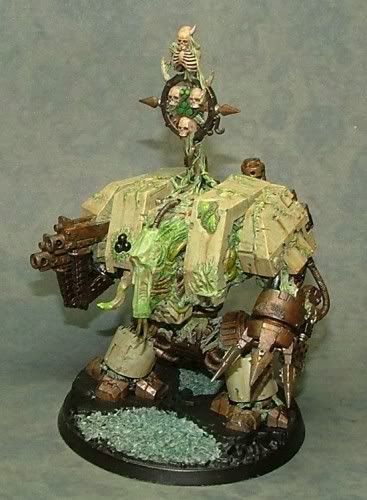 ---
This is Commander Sarafan Of the Sanguine Spectres Chapter. A second founding Blood Angels chapter.
They are situated on a Mountainous, dark world Near the Barghesi System called Sleipnir. They often assist the Storm lords in The defense of Imperial planets from the Barghesi.
Their company composition is somewhat different to the standard as the 2nd company is made up entirely of assault Marines and the 5th comapny is made up of 4 devastator squads, 4 tactical squads and 2 assault squads.
They got their name for being famous for their stealthy approaches and fear tactics. Striking from nowhere and then vanishing like ghosts...
---
If you shit in one hand and wish in the other we all know which one will fill up faster.

And as I walk in the valley of the shadow of death I will have no fear For I am the scariest mother f*cker in that goddamned valley!

Damn nature, You Scary!!!
---
THE BLOOD MONGERS
'His Fang, My Gun, His Guts'
Ivan The Truthful
Fluff:
A veteran tactical marine squad from the space wolves chapter were lost on the ork infested planet, Tarkith. Led by great fang, Ivan they ten men squad fought for survival and everyday they managed to make through put a hard earned smile on their face. That was how hard their situation was. The marines tried and tried to re establish contact with "any" scouting crusiers/ships and dispatched several "Black Ace" tracers along the way, an attempt to catch the gazes of any campaigning fleets. But it was destined that none would even stumble upon thier bread crumbs. They didn't lose faith in the emperor, however, they took a twist, knowing that they were assumed killed in action the surviving men decided to rid the retarded orks of this planet. The campaign was deemed a failure and so the foul race was let allowed to flourish on this perfectly habitable planet. It was a suicide attempt, every man knew it, but Ivan established hope in their hearts, they might just be able to do it, a tribe at a time, they had an eternity.They managed to destroy all orks they came to face with and soon built up a little town that was called home to the surviving civilians Ivan and his men found. Protected by scraps of metal, bark, rock anything you could think of. A completely unaware space marine would think that was inhabited by orks. The numbers were few but the ten brothers managed to live through it for years to come with the surviving men,women and children. But peace in the humble little village would not last more than a decade, tragedy struck when a whole legion of orks came tumbling down and massacred all who were not genetically enhanced, and those who were unleashed everything they had. Using their fangs, blades, the blood drunk warriors of fenris ripped apart the 50k invading orks and were left yet again, to bath in xeno blood. They became nomads yet again on a never ending planetary crusade on ridding the orks and shadowed the lands of Tarkith. They walked and walked, killed and killed until they stumbled upon a battered looking communications array. Ivan's walked towards it to find an aquila on its doors. It was imperial. They quickly broke in for a last ditch attempt to re-establish contact with anything imperial but instead located a distress signal sent not far from where they were by a six imperial shocktroopers. they hurried to rescue them but arrived only to see two left, standing on a pile of bulky green bodies. They were the Sirens, and the brothers were the mongers. It was then, they realised they were not alone, the Blood Mongers were born, and the Black Sirens were raised.

Important/Prominent characters:
Ivan The Truthful - Chapter Master - Deceased
Esteban Luft - Master of the Forge
Lloyd Yonsen - Chief Librarian
Tayth Rexon - Grudge Bearer
Archs Hailien - Successor of Ivan
Efton Zebado - Crox Eye

Black Sirens - Notable Characters:
Tyroth Sigg - Veteran Sniper - Commander of the UNDYING cohort
Igzai Belts - Axe-Bo -equivalent to a comissar-
The Undying Cohort - Spotters of the Covrinthian Hive Fleet
Nark Le-hastiex - BR - Specialist

ORGANISATION:
Mongers -
Chapter Master
Master of Forge / Librarian
Grudge Bearers
Crox Eye
chaplains
Techmarines/apothicarians/ Needle Heads
A 100 Blood Sworn ( 1 blood sworn equals to 150 men)
300 Bloodied ( men on trial)

BLACK SIRENS -
Axe Bos
COHORTS.
---
Altruism is bullshit, and you know it.
Lower Navigation
Share your made up Space Marine Chapter!