Junior Member
Join Date: Jul 2014
Posts: 25
Reputation: 1

White scar bikers
---
Well, basically I've never used bikes before and I have no idea what to use them for and what to equip them with. I think that anti-tank might be a good idea(2 melta and a power fist) but I'm not sure so help please?
Junior Member
Join Date: Jul 2014
Posts: 25
Reputation: 1

---
Oh yeah and should I take kor'sarro Khan and if so how do I get him on a bike.
---
I like to set my bikes up as versatile units, I usually operate them with a melta and plasma (or grav-gun) and a Assault Bike with a Multi-Melta. I like to max the unit size and then combat squad the units...often putting the meltas together for anti-armor and then use the other squad with the light armor weapon separately.
Another good way to use them is in minimum size units (3 man) and spam like weapon sets for different missions.
As for "how" to use them. That really depends on the rest of your army. I run a pretty mobile "mechanized" force, with Razorbacks, Rhinos, and Bikes. The bikes tend to be my first strike units...either charging forward to destroy key threats (heavy armor pieces, etc), to harass and pick apart the enemy's least mobile units, and to shape the battlefield. With the Mission Objective cards they also work well to capture objective points since they can really motor across the battlefield.
I know other people use them differently, especially if they are deployed in a all bike army.
As for Khorso...he makes White Scar bikers very good with the scouting move, even more value if you plan on doing Razorback or Rhino spam as well.
If you want to make a Khorso model you will have to do a conversion.
Here is the one I use (as part of my custom chapter...and I still need to get him painted /sigh):
here are a few other good conversions: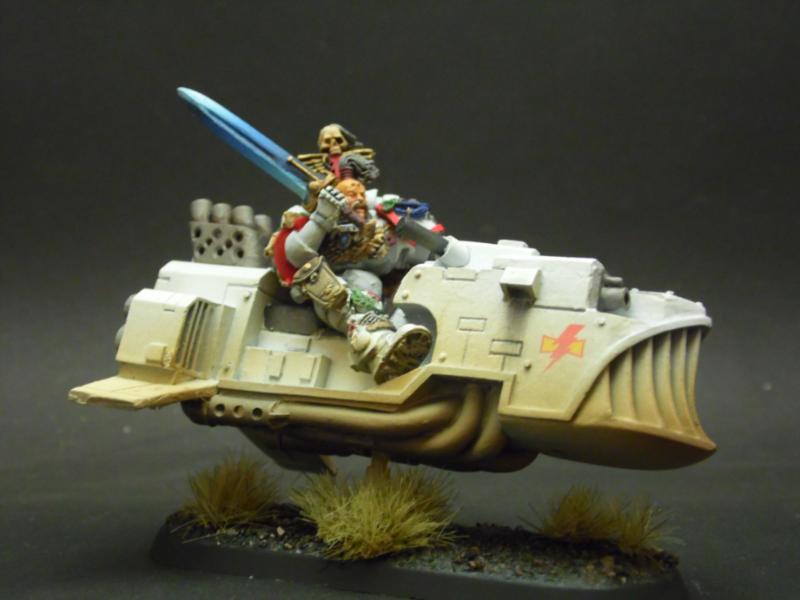 ---
Servants of the Laughing God
(Harlequin Themed Eldar Army)
First Eastern Mirage Corps
(C:SM)
I am the Evil Project Log
(All my work since restarting the hobby)
The Crusade of Morr
(WFB Empire Battle Reports)
Dem Bones
(Dice Rolling Program)
---
For kor'sarro it might be an idea to take a biker bike/legs and mount a space wolf torso (with chapter master backpack?) as the space wolves share that ...tribal... appearance with the White scars, just paint them different. That's how I'd do it- simple and you can get the bitz cheaper off the internet if you don't have a friend willing to let you pinch half a space wolf.
---
..
..
..
..
Through temptation and horror
I have held to my faith
As a drowning man grasps at a rock
Judge me not by my weakness
Remember not my sins of late
Junior Member
Join Date: Jul 2014
Posts: 25
Reputation: 1

---
Cheers I guess I better start building and converting.
Lower Navigation
White scar bikers