---
Quote:
Further to the point about dual Boneswords I've found some mileage in using Deathleaper to lower a targets leadership. With a bit of luck you you can be forcing those 3D6 tests against LD 7 which is much more scary. That said, it starts to be a large investment of points to take down one character.
As to a gun to give them, I'd go for Deathspitters myself. If you're dishing out the guns, screw it, get the good ones.
If that is the only use, sure. I have found using him as a late game objective marker contester to be well worth the points. Often, even when I win first turn, I give away first turn if I am using him. It can be a game breaker to have that ability.
---
Quote:
are the deathspitters the really big guns?
and yea the leaper looks cool and what not but like you said its lots of points and then you have to hope it doesnt get killed in order to pull that off.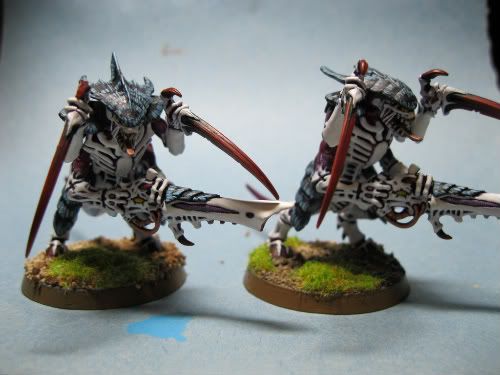 Those are deathspitters. The weird conical shaped ones are Devourers, the big one with the sack underneath is a Barbed Strangler, and the other long one is the venom cannon.
---

Commissions, Project Logs, and Galleries
Follow me on Twitter: @MidgesWorkshop. You can aslo follow me on face book Here
---
I actually have one more question! Do the scything talons along with dual swords give him more than 4 attacks? or does it just let him reroll 1s to hit?
---
No additional attacks. They used to do that in the last edition of the codex, now one set allows you to re-roll ones and 2 sets allows you to re-roll all misses.
---

Commissions, Project Logs, and Galleries
Follow me on Twitter: @MidgesWorkshop. You can aslo follow me on face book Here
Lower Navigation
Best Way to Outfit a Tyranid Prime