---
A blob of summoned lesser daemons. Made of crap, but there are occasions they have been surprisingly good. Raping mobs of boyz, and gaunt swarms. And just tarpitting the scary stuff.
---
Quote:
I'll update from Prisoner Cell Block Nerd when they extradite me.
Angryman
Join Date: Aug 2009
Location: A wretched hive of scum and villany. Actually PNG. Goddamn this place is a shithole.
Posts: 4,304
Reputation: 22

---
I have an entire list based around the following unit.
Chaos lord, mark of tzeentch, deathscreamer, combimelta. Attached to a squad of 7 chosen with 5 plasmaguns in a rhino. I know that chaos is not meant to be shooty, and that with this much plasma and a demon weapon there will be quite a bit of self inflicted injury. But when a rhino pulls up near a demon prince or a mc or a squad of oblits, and fries the whole lot with one salvo, it makes the game worth it even if i still loose.
---
Sanity is for the weak.
'Evil will triumph because good is dumb.' Dark Helmet,Spaceballs
According to LUKEVALENTINE's test i am a diciple of khorne. Figures really.
Senior Member
Join Date: Jan 2010
Location: Somewhere between the Warp and a Craftworld
Posts: 2,063
Reputation: 1

---
Quote:
This. I enjoy using them alot, mostly because the vast majority of players at my FLGS are mEQ, and they're one of the best squads I've painted. Those headdresses take for.ever. Got any pics up dawnstar?
Sadly not
I picked up some Marines someone had done as Thousand Sons and reclaimed them with new Bolters and a new paint job. I'll have to take some pics if I get a chance
---
Quote:
Mate, bacon can do anything.
---
When people go to the army list section its because they want to argue about that stuff, the fluffy lists usually aren't put up there, people just use them.
---
with IG I refuse to use Valkyries/Vendettas/ or Vets.
I know, its supposed to be about what I should take, not what I don't take.
Instead I use platoons. With Grenade Launchers. Effectively. (I get to combine them now, with commissars for an extra plus. )
-Comrade, still playing like its 3rd edition with 4" Separation between squads
---
My stupidly equipped BW.
Here is a picture.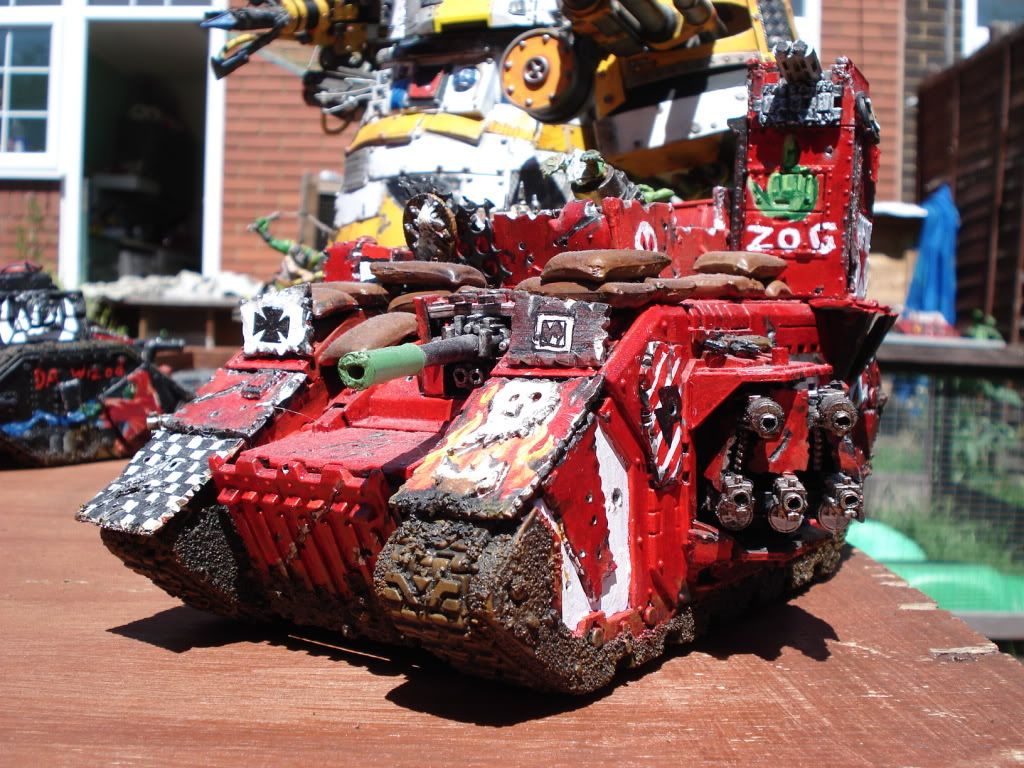 Yes that's right it has 4 big shootas and a lobber, somehow that lobba never fails to kill something though. it's getting especially good at spalatting devestators.
Coming in at about 155 points and having no meq ability it's pretty pants.
I tend to field it in anything upwards of 1500 points.
---
Last edited by GrimzagGorwazza; 10-28-11 at

04:17 AM

.
---
Tau Sniper Drones.

They are just too damn cool! I love the idea of a guy sitting in his little cave looking and listening for targets, then telling his drones to fire rail shots across the field, and puncturing the poor soul who thought he had good armor.

Plus they look cool as hell.
---
Vendettas. Against good armies, they just get shot down too early to accomplish anything, but the model is so pretty I have to use it.
---
two words...... drop...... pods....... i built an army that does nothing but drop pods and love it! its only a 1000 pointer, but i just love the random effect i have with the list. and its just plan fun to boot!
---
"Our creed is this. We are ready, at any moment, to sacrifice all for victory."
-Colonel Cseke, 15th Krieg Siege Regiment.
( Imperial Armour vol.5 )
Lower Navigation
Units You Just Take Anyway