Powered by Squig Tea
Join Date: Jan 2007
Location: In da Toolz cupboard in da Mekshop
Posts: 7,589
Reputation: 53

August 2011 Member of the Month.
---
Member of the Month
August 2011
August 2011 rolls by and it is once more time to give the Member of the Month award to one of our dedicated members.
This time round the awardee is one of those from the four way draw in the last batch of
Request Award
results.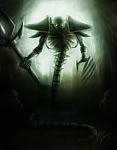 Serpion5
Serpion5
has been a member of the community since the 19th of March 2010.
As you can see from the amount of posts and awards Serpion is an active member in many areas of the forum, but is probably most active in the Fiction sub boards.
Here is what he said when a selection of questions were thrown in his direction.
Quote:
Originally Posted by Serpion5
Real name: Adam Flynn
Heresy Online user name: Serpion5
Main Army: Tyranids
Location: Western Sydney
Personal Website: None, thus far there has been no need. Heresy is probably the closest I`d call to home.
What motivates you when choosing to buy or build an army? I`ve been called the xeno guy before, and that suits me just fine. I love playing xenos armies, simply for the fact that they`re not boring humans or whatever. I`ve tried building marine and guard armies in the past, but it just doesn`t hold the same appeal for me.
What motivates you to keep playing or participating in the hobby? The art and creative side of it. I enjoy writing fiction, and 40k has a fantastic well of lore to draw upon and refine my technique. Also, the models these days are simply fantastic.
Do you play for fun or victory? Fun. I have deliberately lost friendly games before simply for the sake of a cool visual or amusing ending.
What is your all time favourite Game System? 40k. I admit that WotR has a better mechanic and Fantasy is a more refined system, but it all keeps coming back to the awesome background for me. Sci Fi Grimdark does it for me every time.
What are your thoughts on the Grand Tournament scene? IS it good for the hobby? Cannot really comment, never been interested and never attended.
What are your plans for the future? Currently I work as a benchtop fabricator. In my free time I write and hobby. One day I hope to have my own work of fiction published and maybe be working as a designer.
What gaming clubs do you belong to or have you been a member of? The Battle Pilgrims.
Which Race is your toughest opponent to face on the game table? I have a pretty good success rate against most of my opponents. Probably Imperial Guard, though Eldar get an honourable mention.
What do you do when you're not online? Either work or hobby. Or sleep.
Favourite sports team? I still have hope that one day the Cronulla Sharks may win a premiereship in the Rugby League...
What armies do you play? Xenos, one and all. Tyranid, Necron, Eldar and Dark Eldar, Tau, Orks and Daemons of Tzeentch.
Which system do you prefer and why? 40k, though I have played WHF in the past and have recently been dabbling in more specialist games such as Mordheim and D&D.
How long have you been playing GW games? Eight or nine years? Maybe? I`m honestly not sure.
What's your favourite movie, book and song? Eragon, Brsingir, and Numb.
Occupation? Fabricator.
Any pictures you'd like to share? (40k, family, work etc) Nope.
What is your greatest achievement that you're proud of? I`m literate and can feed and burp myself. Oh, and I`m also qualified to operate a toilet. (Sadly I have little to really be proud of. Unless you want to count all I`ve accomplished on Heresy?)
How did you come up with your username? Serpions are actually a type of enemy in the Final Fantasy video games. I later adopted the name as a working title for one of my writing works due mainly to the fact that it sounded like an amalgamation of serpent and scorpion. I based the alien antagonists in my story off this principle and have been using the name ever since. 5 is my birthday.
How did you find out about Heresy? What made you stay? I googled 40k forums. Of all the ones on the first page, Heresy left the best impression, so I joined straight away.
You can take three things with you to a deserted island, name them? A boat, an oar and a harpoon.
Other Usernames we may know you by? I am Serpion5 here and on deviantArt. You may see me elsewhere as Ishtar5.
If you could change something about heresy what would it be? What needs to change?
Favourite mini of any range ever?(pic if possible.) The humble Tyranid Warrior.
What was the first ever model you bought or were given? The humble Tyranid Warrior. Ah, nostalgia.
---
Last edited by Commissar Ploss; 09-03-11 at

02:49 PM

.
---
Congratulations!
---
[Flerden] 9:05 pm: Why the hell can't he just go offline if he goes to watc tv?
[dark angel] 9:06 pm: It is Doelago, we will never know
---
Congrats mate, well earned.
---
Grats! only a year and already Member of the Month, well earned
---
Aw they grow up so fast
---
Quote:
Aw they grow up so fast
rofl.
Congrats serp. Good job
---
Happy day for you dude. Give youself a pat on the back - I cant reach from here.
---
"I refuse to prove that I exist," says God, "for proof denies faith, and without faith I am nothing."

"But," says Man, "the Babel fish is a dead giveaway, isn't it? It could not have evolved by chance. It proves you exist, and so therefore, by your own arguments, you don't. QED."

"Oh dear," says God, "I hadn't thought of that," and promptly vanishes in a puff of logic.



Visit my Tower Terrain Plog here.
---
Congradulations!
---
---
Congratulations Serpion
SGMAlice
---
---
Congratulation Serpion5. You truly deserve it
---

Have You Hugged Your Dread Today ?
Lower Navigation
August 2011 Member of the Month.
Posting Rules

You may not post new threads

You may post replies

You may not post attachments

You may not edit your posts

---

HTML code is Off

---